I'm pretty sure that the vast majority of smartphone owners don't know that their devices can now identify plants, flowers, even books, and famous landmarks directly from the Photos or Gallery apps! We're used to the phone replacing our cameras but still think of it as a shoot-and-share device, rather than a sophisticated AI-based image analysis system with a lot of secret superpowers. Google has been at the forefront of this with Google Lens, actually, offering image analysis for many years, including the ability to search for images that match the one you see online.
It's no surprise then that Android, a Google-developed operating system, includes Google Lens as part of its feature set. The real question is whether people notice and experiment with that "Lens" button at the bottom of their photo gallery or not…
Since I have a mysterious vine growing on my back fence, let's use Google Lens on my Android phone – a Google Pixel 6 Pro – to identify it and find out if I should be worried or delighted that it's doing so well hanging on my back fence!
TAKE A PHOTO WITH AN ANDROID PHONE
Everyone's already mastered this step. Find something interesting, tap on the Camera icon (typically on the home screen), then tap on the circle to take a photo. Here's what I'm going to ID:
Do you know what it is? I don't. But my Android phone can figure it out. Here's how it looks when I'm in the Camera app, poised to take the photo: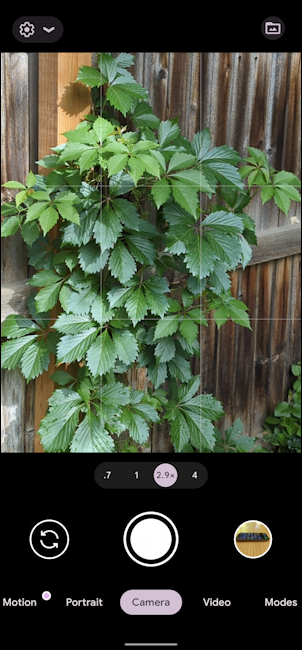 I can change zoom, switch into other modes like Portrait or Video, or just tap on the white circle to take the darn photo. I take the darn photo. 🙂
Now I can tap on the most recently captured photo preview circle (the rightmost of the three circular icons in the Camera app view) or just go into Photos app to view the image…
HOW TO ID A PLANT OR FLOWER IN PHOTOS ON ANDROID
Here's how that photo appears in Photos:
Lots of options, including sharing, editing, making it a favorite, etc. But at the bottom there's also an oft-ignored button "Lens". A tap on that and Google Lens goes to work analyzing the image and comparing it against what's online. In just a few seconds, it shows the results: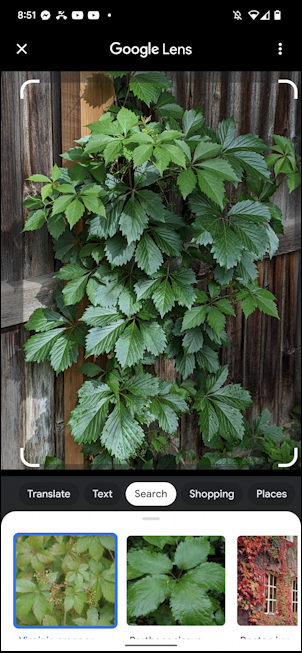 I don't see any names without scrolling up, but those photos definitely seem like a good match. Notice also that Google Lens does more than just search for matching images, it can Translate, turn information on the photo into Text (that you can copy and paste into other apps!), shop for something that matches what you're viewing, identify the location of what's in the image, and more.
I'll stick with Search, however, and just tap and drag to pull the white window up to see more…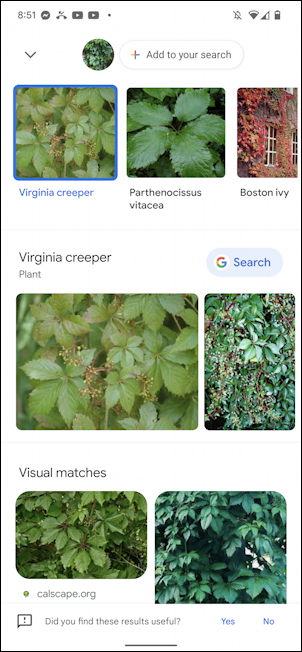 Ah, so what I have on my fence in Colorado is a Virginia Creeper. It's a long way from home, that's for sure. But can I learn even more? Yes. A tap on any of the images and you can see a bigger image to ensure it is a match:
You can also, of course, tap on an image and move to that Web site to learn more about the plant, flower, or similar. Here's what I learned about Virginia Creeper from GardeningKnowHow.com:
So it's a win, win! Not sure how it got into my backyard, but I'm quite happy to have it growing on my fence, that's for sure.
Pro Tip: I've been writing about Android and Google tools forever! Please check out my extensive Android help and Google tools help areas while you're here, for lots more useful tutorials and guides! Thanks.