I know that there are third-party apps for my iPhone that can supposedly identify plants and flowers, but can I just do that with the Camera app, similar to how Google Lens does on an Android phone?
There's no question that the engineers at Apple have been watching Google's vision AI system Google Lens and planning for something similar on the iOS side for iPhones and iPads. What people might not realize is that it's now implemented and integrated into the Photos app, even for screen captures you take on the phone. It's included in iOS 15 and was added with remarkably little fanfare, perhaps because they felt it was a bit of a catch-up feature rather than something new and groundbreaking?
Anyway, it's really easy to work with and there's a lot more than just plants and flowers that can be identified through the Apple photo AI system. But I'll let you discover those features once you get the hang of things.
IDENTIFY PLANTS AND FLOWERS IN IPHONE'S PHOTOS
To start out I'm going to take a screenshot of a flower photo a friend posted on Facebook. When I view that screenshot in Photos it looks like this: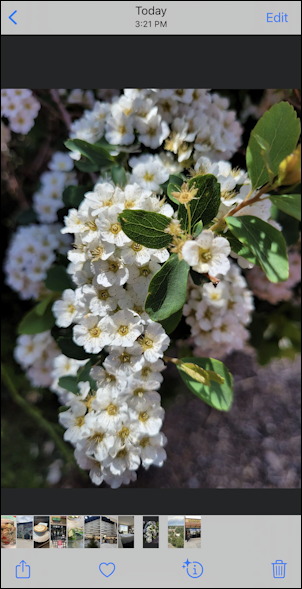 Beautiful, right? But what actually is this flower? Well, the eagle-eyed among you might notice that the "i" icon on the bottom row has picked up some stars and is a bit twinkly. That's a sign that this image is suitable for identification through the Photo Information view.
Tap on the "i" to see and here's what is displayed: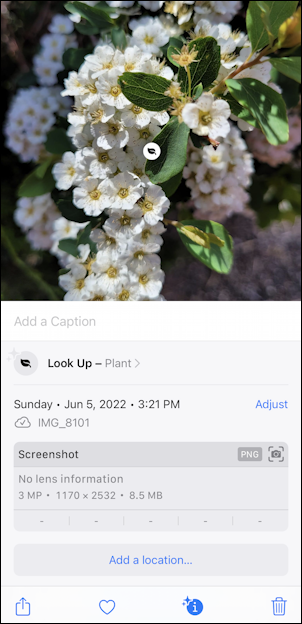 You can see it, smack-dab in the middle of the screen. "Look Up – Plant". Since it's a screenshot, note that there is no lens or exposure information. No surprise there, but if you did take the photo with your own iPhone, you would instead have a lot of interesting camera-geek type information on focal lens, f-stop, exposure, etc.
HOW TO USE LOOK UP IN THE PHOTOS APP
Easy enough. Tap on "Look Up – Plant". If it's the very first time you're using this feature, you'll get this information screen: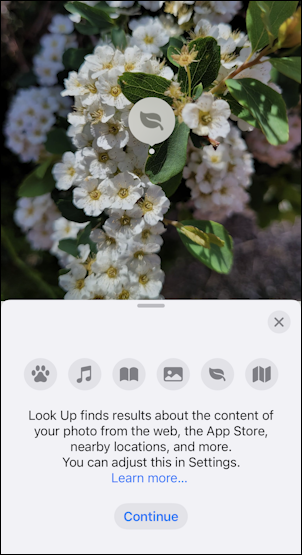 Seems reasonable – and the icons along the top are a clue as to the various categories of photos that can be analyzed through Look Up – so let's tap on "Continue" to proceed.
Ah, there we go, it's a flower called "Spirae". That first entry is from Wikipedia, so one more tap and we can learn quite a lot about the flower, which is formally known as Snowmound Spirea:
Way more information than I would ever have learned otherwise and it's just two taps away from the photo view in Photos on your iPhone or iPad. Nice! And it's a solid competitor to Google Lens, even if "Look Up" is a bit blander as names go…
Pro Tip: I've been writing about the iPhone and iOS since the very first iPhone was released. I've also owned every major iPhone model! Please check out my iPhone help articles while you're visiting. Thanks!