I read that there's a new privacy feature in the latest version of iOS that offers an app privacy report for everything running on my iPhone? I want it! How do I enable this feature?
As the Internet grows ever more sophisticated, what we think is happening when we visit Web sites and run apps becomes further and further from the reality of the software's interaction with its servers and services. Generally speaking, we're left in the dark and if you launch Reddit and see Reddit posts, or launch Venmo and see your balance, most people figure all's good. But some companies have been adding new features and tools that allow greater access about what's really going on, notably including Apple Computer.
As of iOS 15.2 – check for an update if you're not sure you've got the latest – iPhones now have the ability to track every sensor an app accesses and every site that app visits or accesses, all then shared in a neat data report. You do, however, have to manually enable this additional level of tracking, but boy, is it interesting!
Before we do that, however, since you're interested in iPhones and privacy, there's one other setting you want to tweak…
DISABLE AD TRACKING ON THE IPHONE
A first and necessary step is to disable "Ad Tracking" on your iPhone. Launch "Settings", then tap and drag downward to reveal the hidden search box. Now type in "tracking".
You want the one near the bottom, "Tracking / Privacy". Tap on it and you'll jump straight to the Ad Tracking setting:
Not sure why it's so confusingly worded, but if you enable this feature, you'll allow apps to track your activities within other apps that seem to be otherwise unrelated. Disable this feature and each app only has access to your activities while within that specific app. My suggestion: disable it.
Now, tap on the word "Privacy" on the top left and you'll go back to the main Privacy area in iOS 15.2 Settings.
HOW TO ENABLE APP PRIVACY REPORT ON THE IPHONE
Swipe down to the very bottom of this screen and you'll see:
Tap on "App Privacy Report" and you'll get an informational message about what App Privacy Report tracks and why it's a pretty smart idea to enable this:
It says: "App Privacy Report shows how often apps use the permission you've granted to access your data, like the location or microphone. It also includes a breakdown of each app's network activity, website network activity, and the most frequently contacted domains." Tap on "Turn on App Privacy Report" to enable it.
The result is underwhelming: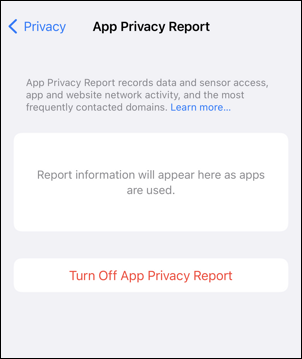 But come back after a day or two of using your iPhone as you normally do, with apps, Web sites, etc, and the results are quite a bit more fascinating:
Okay, no huge surprises with what data and sensor access is happening (Regal theater app, for example, accesses Location to calculate my closest theater), but what's going on with Venmo in the "App Network Activity" area? A tap reveals:
Venmo is a part of Paypal, so it's not surprising that it's accessing that domain from the app, but braintreegateway.com? branch.io? app-measurement.com? Did I opt in for all of this and does Venmo even tell users that it's banging on the Internet every time we run the app? Not so much. And that is exactly what App Privacy Report is all about. Enable it. Study it. Axe those apps that are sloppy or sneaky.
Pro Tip: I've been writing about the iPhone and iOS since the very first iPhone was released. I have quite a few iPhone help articles here on a wide variety of topics, so please check 'em all out while you're visiting. Thanks!