I am excited to try some of the new animoji on my Apple iPhone XS and want to force the iOS update that just appeared. How can I make the phone update instead of just waiting for it to decide it's time?
Generally speaking I like to give updates a few days "in the wild" before I update my devices just in case there are any last minute issues or problems. I'm fine with other people finding those glitches rather than having it adversely impact my productivity! But at the same time, there are updates from Apple this time that are worth pushing and trying to install as soon as possible, so I get where you're coming from too. And that shark animoji is pretty sweet… 🙂
The trick with updates is to prep your phone (or iPad, of course) beforehand: Make sure you have free space, make sure it's at least 50% charged and (ideally) have it on a Qi wireless charger or otherwise plugged in. Then make sure you have a good wifi connection because you can't update it over the cellular network — and even if you could that's not a great idea due to potential reliability issues.
Finally, if it's a big update, a lot of people swarm to the update servers within the first 12-24 hours so it might be really slow. Even with a fast Internet connection.
Anyway, okay, let's do this! Go into Settings on your iPhone, then go to General. You'll see this:
No big surprise here: Tap on Software Update and the phone will check with Apple to see if there's an update to your iOS system. Curious what version you're running? You can find that out by going to the About section (along with how big your storage space is and how much is in use currently, among other useful snippets of data).
But back to Software Update…
A ha! There is indeed an update available, iOS 12.2. As you can see, the big addition is support for the new Apple News+ service, though there are some other useful things – including four new animoji. You can always learn more by tapping on "Learn More", which I do because I'm always curious what changes are going to be applied. In this case, here's what's new: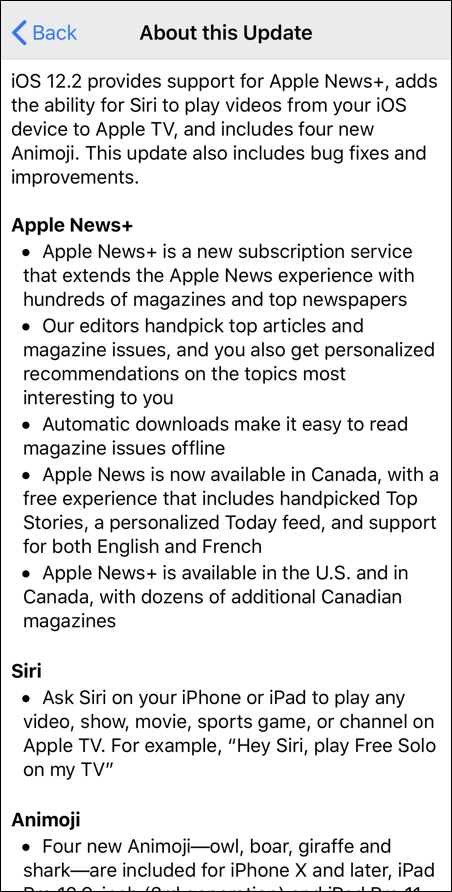 Now I want to test "Hey Siri, play Free Solo on my TV" too!
Done reading? Tap on "< Back" on the top left and now tap on "Download and Install". And go get a cup of tea…
Time estimates are based on a quick analysis of download speed, so it can be off by a significant margin. I definitely see remaining time decrease far faster than wall time, which is good news.
Once it's all downloaded, you'll see this for a while too:

And we still have quite a ways to go. Rule of thumb: Don't do an iOS update five minutes before you need to leave or get that really important phone call. I would say 30min total is a reasonable estimate for the update process. And I probably should have said that at the very beginning, right? 🙂
Interestingly, I got something new this time: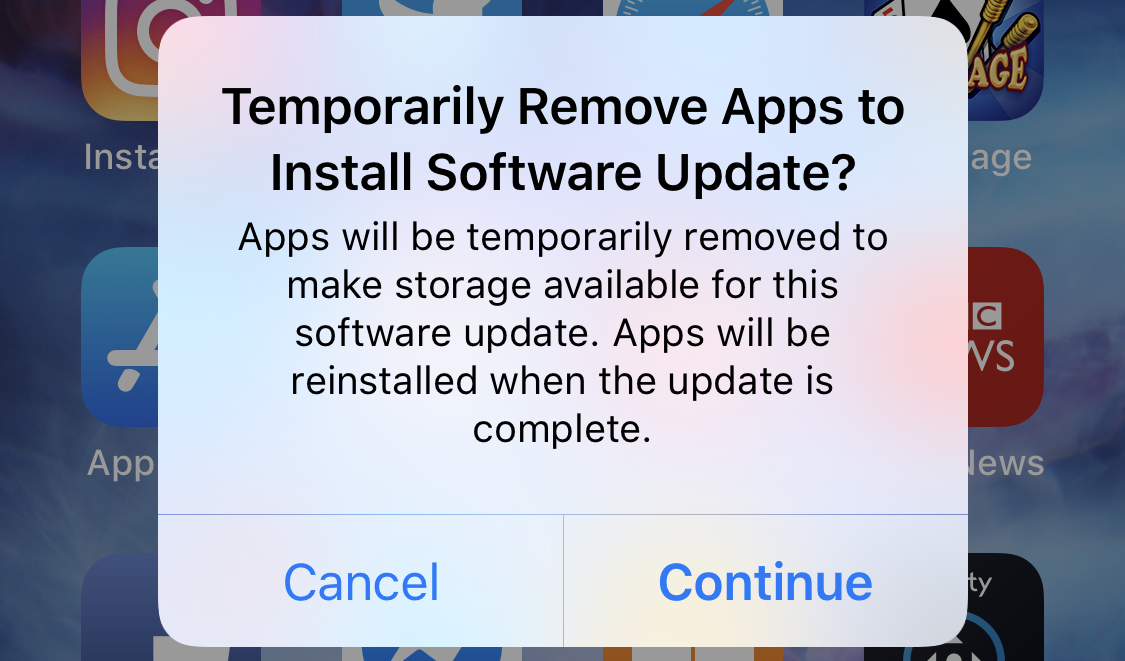 I'm guessing that it's related to the fact that my iPhone XS is filling up and the device determined that there wasn't enough free space to proceed. Not a crisis, the worst case scenario is that I'll have to log in to a few apps afterwards. I proceed by tapping on "Continue"…
Again, wave b'bye to your phone for at least 10-15 minutes for the actual update process. Ready? Tap on "Install Now".

Your phone will go black, you'll see the Apple logo, you'll get a progress bar, it'll go dark again, it'll restart more than once, and finally, after much excitement (alright, it's not very exciting), you'll be at the login screen, phone restarted, and there'll be an update notification:

Which also means, yes, you have the shark animoji available too!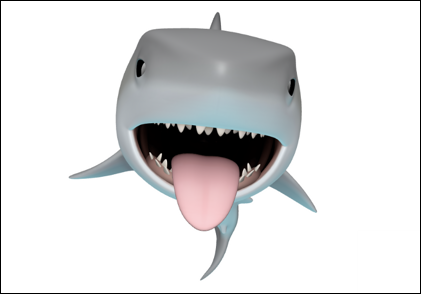 That'll get you going. Now remember all those great likes from the thriller Jaws when you're using the shark animoji, and that the town harassed by the Great White was "Amity". 🙂
Pro Tip: I've been writing tutorials for the Apple iPhone since it was first released. Please check out my extensive iPhone help area for lots and lots of useful content.