I've switched completely over to the new Microsoft Edge on my Win10 PC and it's great. Except I keep getting Windows desktop notifications from sites I visited day or even weeks earlier. How can I stop this and gain control of my MS Edge browser notifications??
Like so many other technologies, notifications make a lot of sense if you have two or three favorite Web sites and would like to stay up on breaking news about new content they publish. A few notifications per day can be quite useful, but when it's a dozen an hour or it's companies that have announcements you don't actually care about, then it's just spam and upsetting because it's burrowed into the Windows 10 notification system! Fortunately, Microsoft Edge allows you to fine tune what sites have permission to deliver notifications to your desktop, and it's just a few clicks away. In fact, every Web browser that works with notifications also allows you to delete 'em.
What's interesting is that Edge is built atop Google Chrome (well, Chromium, to be precise, the open source core of Chrome) but it's Microsoft that has made adjusting this setting easy far more than Google ever did. You can spin your own conspiracy theory based on that if you're so inclined. 🙂
SIGN UP FOR NOTIFICATIONS IN MICROSOFT EDGE
Let's start by showing you the pop-up I'm talking about here by visiting another one of my sites, GoFatherhood.com. On that site, subscribers like to get new article notifications because I publish about a half-dozen posts/month so it's not a huge notification stream. In Edge, when visiting GoFatherhood, a click on the bell icon on the lower right of the page pops up this window: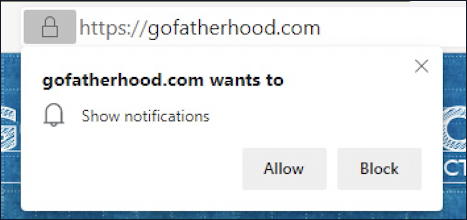 You can close the window by clicking or tapping on the 'x' in which case nothing shows up in your settings later, or you can allow to receive notifications or block to prevent notifications. I'll "Allow" them, after which a demo notification shows up on the lower right in the Win10 notification area:
Notice that the app producing the notification is identified as "Microsoft Edge". That's helpful if you get other notifications and aren't sure what program is generating 'em!
Other sites just pop up the window without you having to do anything at all: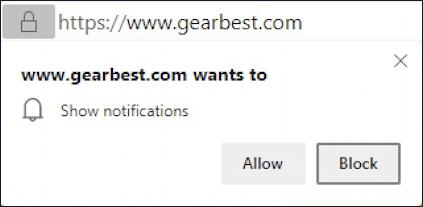 After some time, you'll likely have a bunch of notifications, so how do you check, delete, block and otherwise fine tune your experience? I'm glad you asked!
MICROSOFT EDGE NOTIFICATION SETTINGS
Fortunately not only does Microsoft Edge keep track of all the sites you've blocked and granted permission to share notifications with you, but it's easy to find and work with too. Indeed, Edge has a completely redesigned Settings area that makes adjusting your experience to work well pretty darn easy. Start by clicking on the "•••" link on the top right of a browser window and choosing "Settings":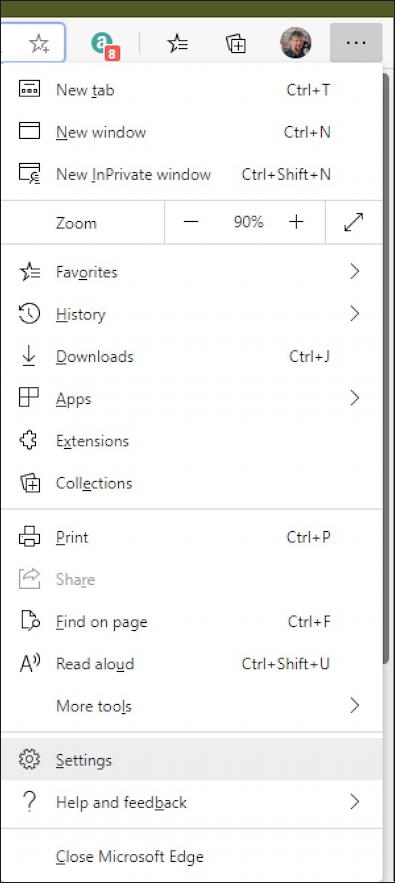 Lots to notice before you proceed, however, notably including the easy ability to open new tabs, windows, InPrivate windows and zoom to make the text on a page larger or smaller. Once you're in Settings you'll see quite a few categories on the left side:
For our task, you'll want to choose "Site permissions" which lets you really understand how individual Web sites you visit can interact with Microsoft Edge, and, by extension, with your computer itself:
Notice that I have the default settings and just about all of them are "ask first" for settings that a site might seek to impose. For notifications choose… you guessed it! … Notifications. Now you can see exactly what you have enabled and blocked: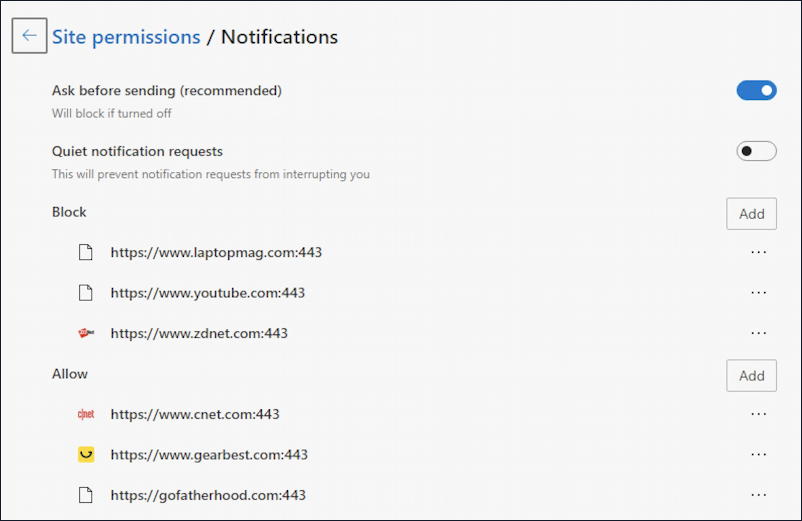 Notice that the first two options change behavior for all sites you visit. Then there are the sites that are blocked — laptopmag, youtube and zdnet — and the sites that are allowed — cnet, gearbest and gofatherhood. For some users these lists could be dozens of entries but the basic layout will be the same. A click on the "•••" adjacent to any one entry will also give you three basic choices that mirror the three choices when that notification permission request popped up in the first place: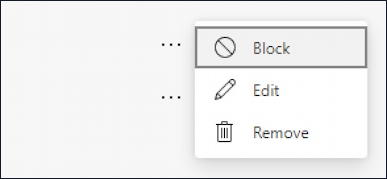 An allowed site can move to blocked, and a blocked site can be moved to allow. Not sure why you'd want to edit an entry, though!
In any case, that's how you can get a handle on the notifications coming from Microsoft Edge on your Windows system. Not too hard once you know where to look.
Pro Tip: I've been writing about Windows 10 for many years. Please do check out my Win10 help area for lots more useful tutorials while you're visiting. Thanks!