Okay, so you're obsessed with the Netflix South Korean series "Squid Game". I get it. I've watched it all too. But you're wondering; how much is that transparent piggy bank of cash worth in US Dollars? Here's how to figure it out on the Mac or PC…
Poor people trying to survive increasingly violent children's games to be the last person standing and win a prize? It's a clear metaphor for the rat race of life where we all have to work, earn a living, and pay those darn bills, even if it's not the best thing for our friends, neighbors, community, or the planet itself. It's no wonder so many people are finding the rather sadistic Squid Game on Netflix so engrossing. It's one of the most successful shows ever on the global streaming service, and it's mighty hard not to be pulled in and watch all nine episodes.
But there's a question on a lot of American minds related to Squid Game: How much is that enormous piggy bank of South Korean Won actually worth? We learn early in the series that every time a player dies 100,000,000 won is added to the prize fund. With 456 players, that adds up to an impressive 46 billion won. But how much is a billion won actually worth?
Without debating the value of a human life, which is waaayyy beyond the scope of things here at AskDaveTaylor, let's do the currency conversion.
EASY MAC CURRENCY CONVERSION WITH CALCULATOR
One way you can do the conversion is with the Calculator program on the Mac. Let's stick with millions instead of billions since it's easier to accurately type in the correct number of zeroes. Open up Calculator and enter 1,000,000:
Now choose "Convert" from the menubar: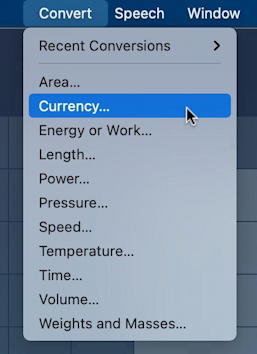 Select "Currency…" as shown and a small window pops up asking for the starting and resultant currencies you'd like to work with:
Calculator automatically updates exchange rates so you don't have to worry about updating anything to be up-to-date. Choose "From" "South Korean Won" "To" "US Dollar" and click on "Convert".
The results are shown as an unattributed number:
In other words, 1 million won = $856.54 USD. Multiply that x 100 and each player in Squid Game is therefore "worth" about $85,600, with the total prize being… well… let's do a bit more calculation to find out.
CONVERT CURRENCY WITH SPOTLIGHT
Prefer to eschew Calculator? No worries, Mac user! Utilize Spotlight on the Mac to convert currency instead. Just type in the conversion you seek: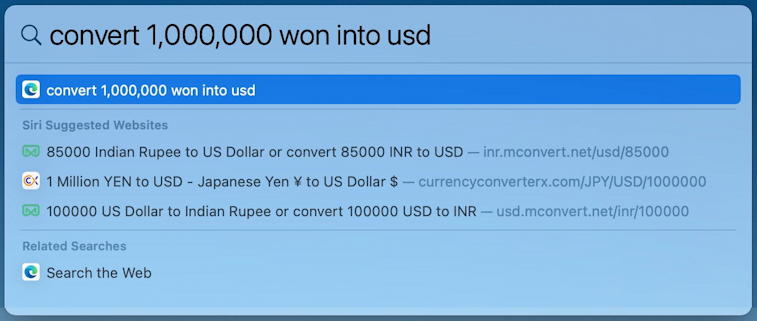 Spotlight just hands off the search to your favorite Web browser, so it's actually Google.com (within Microsoft Edge, my default Web browser on my Mac) that answers the question:
Interestingly, they're off by $0.01 since the currency exchange in Mac Calculator gave us a value of $856.54 and Google indicates that it's $856.55. Close enough for this equation, though, right? That's 1 million won.
ASK GOOGLE TO EXCHANGE CURRENCY VALUES
If you want to know the value of the full prize pot on Squid Game, simply ask Google about 45.6 billion won using the same basic approach: "convert 45.6 billion won into usd".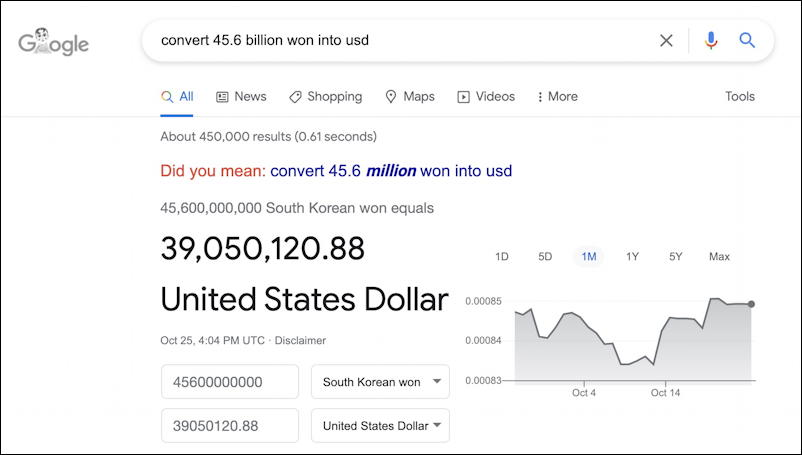 There's your answer: $39 million dollars. Let me show you one more trick before we wrap up, this one for Windows users…
CONVERT CURRENCY IN WINDOWS SEARCH
If you're on a Windows PC, don't feel left out that the Microsoft Calculator isn't quite as featureful or that you don't have Spotlight, because you have something that's at least as good, if not better: Windows search.
Check it out, you can type in the exact same currency conversion directly into the search box: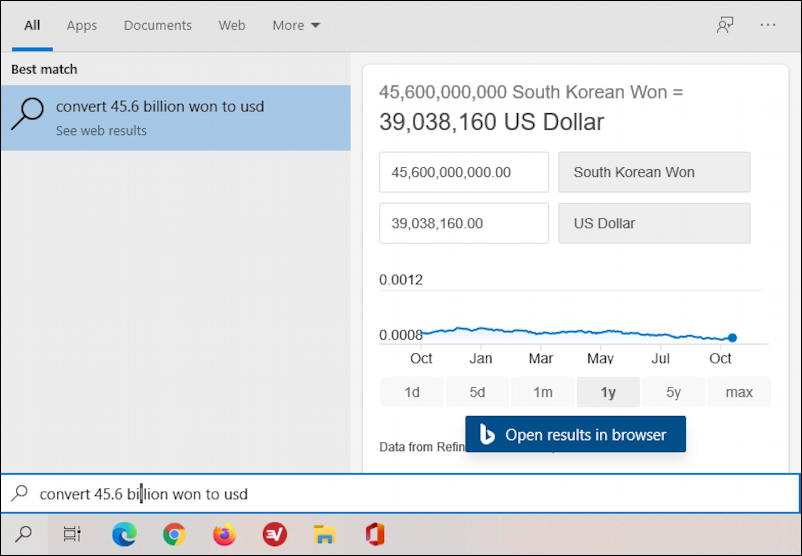 The important thing is that you now know a number of ways to convert currencies and that the grand prize in Squid Game is $39 million US dollars. A substantial sum, but not maybe quite as alluring as "billions" of won in terms of visceral impact.
Squid Game
is a 9-part South Korean
Netflix
series. It's described as "Hundreds of cash-strapped players accept a strange invitation to compete in children's games. Inside, a tempting prize awaits – with deadly high stakes."
Pro Tip: I've been writing about MacOS since the days of MacOS 9! Please check out my huge Mac help library for hundreds of useful tutorials and how-to guides while you're visiting. Thanks.