I notice that when I get directions in Apple Maps on my iPhone that there's a "Favorites" section. How do I add favorite addresses to my Apple Maps so getting driving directions is easier?
While iOS gracefully supports Google Maps for driving directions and much more, a lot of people still prefer to use Apple Maps. It's more tightly integrated into the iPhone and iPad experience, including Calendar, mail, even Messages, so it's no surprise. What people don't realize, however, is that you can save specific addresses into your Apple Maps Favorites to make them easier to specify in the future. It offers shortcuts for work and home, but if you're like me, you have a half-dozen or more addresses you visit on a regular basis.
There is one weird limitation with the system, however, and that is the fact that you can rename specified addresses (like 1234 Main Street) but if you just "Mark" a location and save it, you cannot then rename it to be more mnemonic. Seems like a bit of an oversight to me, so perhaps that feature will just show up without any hoopla in a future iOS update. In any case, here's how to work with Favorites and fine-tune it to be exactly what you want.
HOW TO REMEMBER AN ADDRESS IN APPLE MAPS
First off, if you are at a specific location, you can "Mark" the address to remember it in the future. That by itself can be quite helpful. For example, here I am at a spot in Kansas City, Kansas: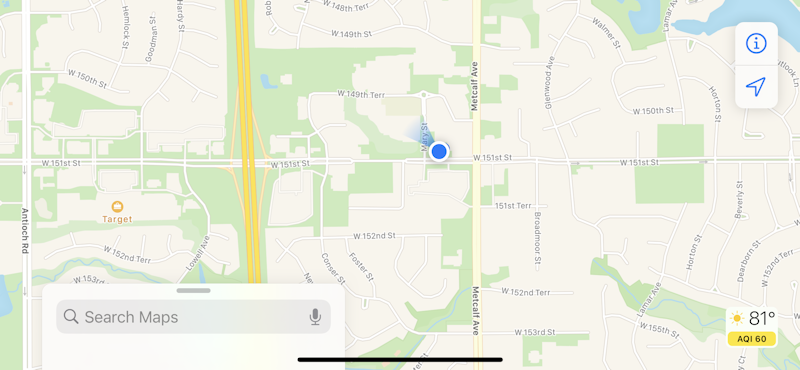 Tap on your current location (or any location on the map) and the lower left panel will slide up with more information:
Tap on "Mark My Location" and Apple Maps will forevermore remember this address. In this case, it's 7230 W. 151st Street.
But where this really gets interesting is if you swipe up to move down just a bit on the displayed info panel…
APPLE MAPS "ADD TO FAVORITES"
Swipe up and a key additional option appears:
Yes, that's the key: "Add to Favorites". This will also show up for known addresses (a restaurant, a friend's house, where you moonlight as your second job). A tap and the star changes from blue to an outline and you've added a favorite address. Congrats.
Now what can you do with these favorite addresses? Well, every time you go to enter an address, they now show up as tappable buttons:
You can see that I have Home, the Marked Location (which I just added), and 1617 Lin… which just a few miles away. You can't rename Marked Locations, as I said earlier, but other locations that you've favorited after entering a specific street address are able to be renamed, which you can do by tapping on "See All" to the right of "Favorites" on that panel.
Now, for any entry, you can swipe left. Share and Delete options appear. But if you tap on the "i" circle, you can rename things too. Here's what my Favorites looks like:
If I wanted to rename 1617 Lindo Street to be "Joe's Coffee", I could do that by tapping on the circle "i", or delete it by swiping it, as shown immediately below it with the Marked Location.
That's it. With just a few minutes of tapping and fiddling, you can have a great Favorites row on your Apple Maps that will make getting directions to your favorite places ridiculously easy!
Pro Tip: I've been writing about the iPhone and iOS since the very first iPhone was released. Yes, I've owned every major iPhone model! I've also written quite a few iPhone help articles on a wide variety of topics, so please check 'em out while you're visiting. Thanks!