Just got a new Google Pixel 3a and want to ensure that I have "find my android" enabled in case I ever lose it or forget it somewhere. Can you please walk me through the steps?
Generally speaking, having your location tracked through your devices is a negative thing. Do you really want the government, law enforcement, your insurance company or even your spouse or parents tracking every move you make? Turns out that the one time that this is a really beneficial feature, however, is if you lose one of your devices. Did you leave it at the store? The doctor's office? The library at school?
That's where smartphone location tracking turns out to be your friend. Cellphones are constantly reporting their location to the network, whether it's to check in with the closest cell tower, via wi-fi to check for new email or any of a dozen other reasons your location proves important to the network.
Because this is such a privacy issue too, however, location tracking has layers of protection so you aren't spied upon too much, and it's all those layers that you have to tweak and adjust to enable the terrific Find My Android feature on your new Google Pixel 3a.
Most of the settings are on the phone itself, but not all of them. Let's start with your phone, however. Go to "Settings" and search for "security":
It's the first match you want to choose: "Security & location". Tap on that.
Now you'll need to swipe down just a little bit because there are two settings on this screen you need to confirm: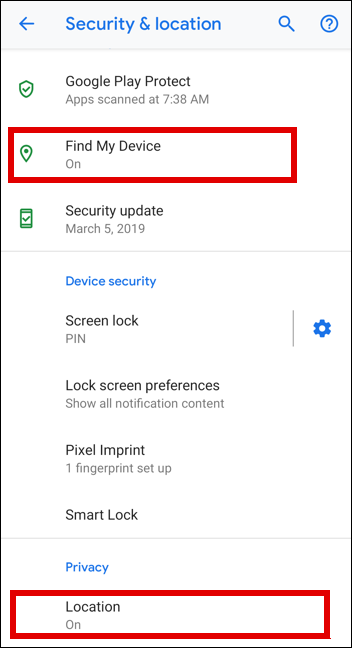 As highlighted, you want to ensure that you have both "Find My Device" and "Location" enabled on your phone. If they aren't, tap and change them to match what's shown above.
Now grab a computer and with the Web browser go to play.google.com/settings and log in to your Google account as needed. You'll see something similar to this:
As a product reviewer, I have a lot of devices. Over 25 Android devices, in fact, But what you want to focus on is your new phone – the Pixel 3a – and then you want to confirm that the "Show in menus" checkbox of the third column "Visibility" is checked. It is enabled in the above, so you can just mirror those settings.
Now you can check and confirm that Find My Android works by going to google.com/android/find. When I visit that page, it shows a variety of device options along the top and when I click on the Pixel 3a, it shows up on the map!
Notice you can remotely play a 5-minute tone (annoying, but great for finding it in the house!), secure your device by remote locking it or, if you are afraid someone's stolen it, erase the device remotely, all from the left menu options. More importantly, hopefully you can look at the map, say "Oh, yeah, it's at José's house!" and find it again.
Pro Tip: I've been writing about Android features and functions forever. Please check out all my Android help while you're here!