I just got a shiny new Blackberry 8100 Pearl phone and it's all working fine, except I am hitting an error when I try to use Google's Gmail mobile app: "net.rim.device.app.systemControlledAccessException: Missing RCC signature. Not allowed to access Certicom functionality." What the heck does that mean and what do I need to do with my Cingular Pearl to get it working with Gmail?
I know exactly what you're talking about because I had exactly the same problem with my own Blackberry Pearl when I first got it hooked up to the data network. Here's the message you were doubtless seeing:

I spent a lot of time digging around on the net and talking with the people at Cingular wireless and finally learned exactly what the problem was and how
you
can fix it without calling them.
First off, for clarify, we're talking about the
Google Mobile Apps
suite, which includes Google Maps, Gmail, Google News and Google Search applications. When I couldn't get Gmail to work, I also had weird problems with Google Maps complaining that I wasn't online or that there wasn't a data connection too. I believe that the problem was identical because it all works now…
The missing piece is what Cingular calls a
service book
, which is apparently some sort of collection of data encryption and phone identity keys that are bundled together. There are two service books associated with the Blackberry Pearl, an email service book (which gets the Blackberry mail app working properly) and a separate Internet service book. What Gmail's complaining about is that the Internet service book on your phone isn't properly activated, though the message is far scarier. 🙂
You can call Cingular to get them to activate it but by the time you find someone who knows what you're talking about, you'll find that it's easier and faster to do it yourself. Fortunately, it's easy, though you'll already have had to go through the Pearl setup wizard on the phone itself, including signing up for an account.
Now, start by going to
Cingular.com/blackberrystart/
and scrolling to the bottom so you can click on
Create or log in to your BlackBerry Internet Service account
[you can also try my link, but be warned it might change and thence be incorrect].
Now just log in with the account you created during the setup process of your Pearl, and you'll see a set of different options, including the following navigational options on the left-hand menu: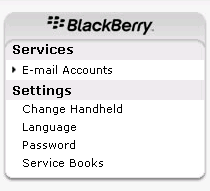 You'll want to click on
Service Books
at the bottom, and now you'll see:
Click on
Send Service Books
and, if your account is indeed enabled for full Internet access, your phone should just magically fix itself and work fine. It might take a few minutes, and you might want to power down and start up your Blackberry Pearl again, but generally, that should fix the problem: it worked for me!
Good luck, and enjoy your new phone. They're sweeeeet!