Gift cards are a huge business and almost every business offers them for sale, but cards can get lost, stolen or even just forgotten. Not good for the consumer. Which is why GiftYa is a very interesting alternative…
I have hundreds of dollars laying around in my house and car. Not piles of cash, though that'd be nice, but gift cards I forget to take to stores, gift cards with just a few dollars left on them, or gift cards I'm intending to gift to someone else when the situation arises. While the idea of a plastic card that stores value and can change hands safely is terrific, the actual reality of gift cards is a lot more problematic, not to mention the huge fraud issues surrounding gift cards too. And did I forget to mention that people just plumb forget that they have gift cards and shop at the stores without ever accessing that stored value?
That's why when GiftYa started telling me about how its digital gift card system works, I was definitely intrigued. Rather than have the value ever in a physical form, they work with Visa and Mastercard to essentially transfer the gift card value from the gifter to the recipient. Except it doesn't actually appear in the recipients transaction history as a credit until there's a matching transaction at the designated store.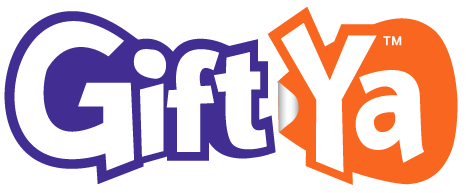 Yeah, it's a bit confusing to figure out. But imagine this: I gift you $10 at Starbucks. Nice, right? But you leave the Starbucks gift card in your car and blithely go to your favorite 'bux and buy a cup of coffee. Instead, with GiftYa I would digitally send you that same $10 gift card (well, an image of it) and you would then associate the received gift balance with your favorite credit card. GiftYa then watches your transaction history for that card and when it sees a matching merchant ID, it immediately deposits the balance into your account. Spend $6 and it'll be smart enough to credit $6 and hold off on the other $4 until you've gone back for another cuppa.
Wait a second, are you saying that GiftYa is monitoring the recipient's credit card transactions? That's what I thought too, but the company assures me that "the recipient only links by entering in their Visa or MasterCard 16-digit number, and when doing so, we ONLY receive the transaction of the merchant the gift was for from Visa or MasterCard." In other words, if you do 50 transactions, one of which is at Starbucks, it's only the Starbucks transaction that they'll be notified about, and only that because you have a remaining gift card balance for that merchant. Pretty slick, actually, because the balance can sit for weeks or months and you'll never lose it.
Enough chat, though, let's look at how you gift someone through GiftYa. To do this, I'm going to send my daughter a $10 gift to Natural Grocers, a store near her that she likes to frequent. I'll use the GiftYa app [iOS or Android]: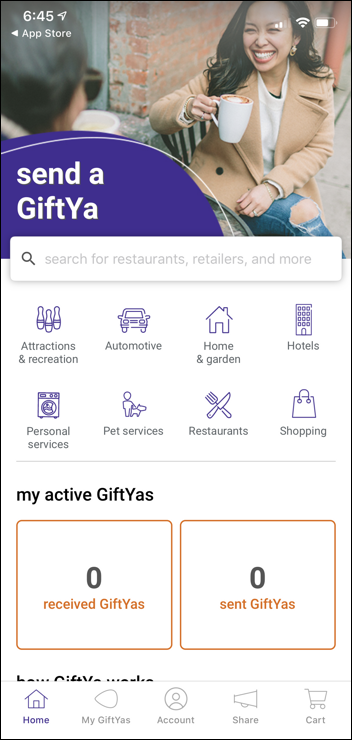 As you can seem there's a lot going on with the app, but there's also a remarkable range of different gift cards you can share for a wide variety of products and services. I'm aiming for a grocery store so I'll tap on "Shopping" and search for "Natural Grocer":
Is it #3 or #4? Hard to say. Or maybe #5? This is something that the company's working on fixing in the app, making it easier to confirm you choose the correct company. I choose #4 — "Natural Grocers" — to proceed.
Now it's time to specify the recipient. You'll notice it supports choosing multiple recipients too:
I haven't quite figured out exactly how multiple recipients work, actually: Does each person get a digital gift card for the same amount or is it a "whoever uses it first gets it" sort of competition? Not to worry, I'm just sending this to Ashley.
A tap on "Next" to continue and it's time to enter the amount of the card:
$10 isn't going to change her world, but it will cover a few basics at the market. Most of all it's quick, fun and easy.
Just about done on my end. There are two steps still required. One is to specify the associated graphics with the gift, then specify how I'm going to actually pay for the amount of the gift card. The graphic design is basically a peeling guitar pick. You specify the 'top' part and then can choose a photo to be underneath. Let's do it!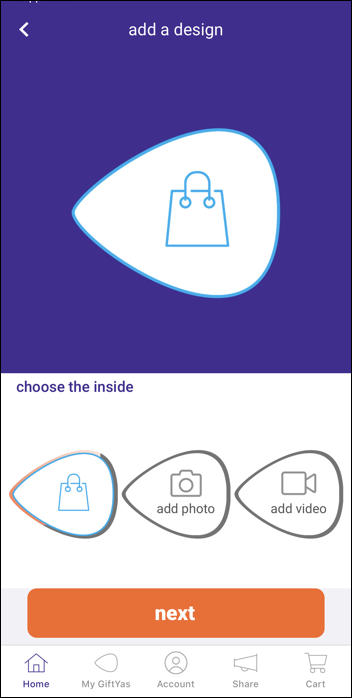 You can skip this step, but hey, I have a photo of my daughter's cat somewhere on my phone. Easily selected:
A tap on the orange "next" button and it's time to specify the top sticker graphic. For this you choose from one of their library of images: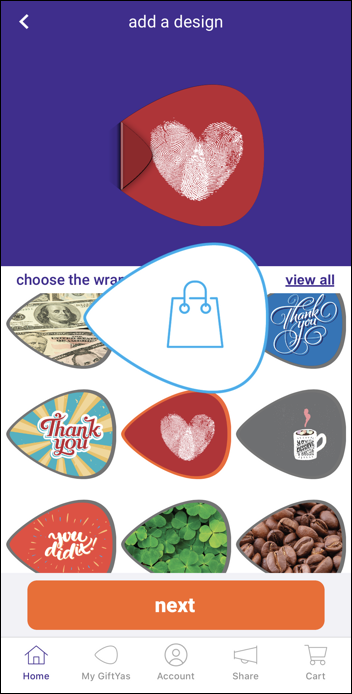 Lots of choices, but I'm going to just go old school and use the heart graphic, as you can see.
And that's just about it. Just need to specify how I'm going to pay that $10:
Once the payment is made – via credit card, naturally – my side of the transaction ends with a cheery purple confirmation:
That's all I have to do on my end. Seems like a lot of steps but it's pretty straightforward and, dare I say it, kind of fun.
A few minutes later, my daughter got this text message:
A tap and she gets all the details and can see the graphic I created for this transaction too…
She opted not to download the app and instead just popped over to the Giftya Web site with the "Use the website" button. That then revealed:
Being a shrewd online citizen, she was wary about linking her bank account, but when I explained to her how it would work with her credit card (matches transactions, but only sees transactions from that specific merchant, and automatically stops even that minimal monitoring once the card is spent) she hooked things up and, for all I know, is at the store right now!
That's it. Easy. The $10 I sent my daughter is sitting in GiftYa's bank account, and will do essentially forever, until she completes a transaction at the store with that credit card. Otherwise there was a $1.95 transaction fee I paid, making my total gift card cost $11.95 for a $10 Natural Grocers GiftYa. Easy and straightforward. If you want to check it out, you can grab their app from the Google Play or iOS App Store, or just go to giftya.com.
Disclosure: I wrote this article in close cooperation with the GiftYa team. They have also paid a nominal fee for this article too. Not, interestingly, as a gift card, however. 🙂