My mom's computer seems to constantly have problems, so I'd like to just run a quick virus scan each time I visit. What's the fastest and easiest way to do that? She has Windows 10 and I make sure it's up-to-date.
Great to know that you're keeping an eye on your Mom's computer system, a whole lot of people don't have the benefit of someone else making sure things run smoothly! Since she's on Windows 10 — probably Windows 10.1 — there's even better news because as of Windows 8.0, Microsoft includes an anti-virus system with its operating system. If you ask me, that should have been included at least a decade earlier, but that's another story.
What she has on her PC system is Microsoft Windows Defender, and it's easy to keep it updated and work with it as an antivirus scanner both. In fact, since you're keeping her Win10 system updated, you're also simultaneously keeping Windows Defender updated too, both the app and its virus and spyware definitions. Neat, eh?
As with everything in Windows 8 or Windows 10, the easiest way to launch Windows Defender is to simply type in the name of the program into the Cortana search box. It shows up and you're running the program: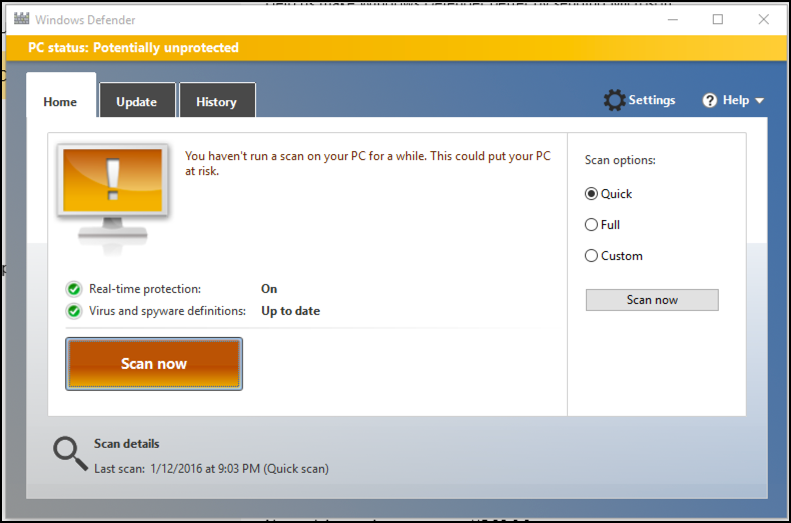 Since the Windows updates are keeping Windows Defender updated too, it's quite likely your Mom's system will look exactly the same, with all virus and spyware definitions marked as up to date. In case it's not, however, click on the "Update" tab to double-check: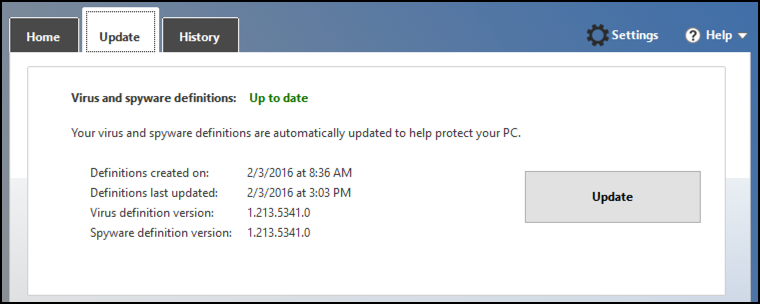 If Windows Defender is out of date, a simple click on "Update" will fix everything.
Go back to "Home" once it's updated and click on the big "Scan Now" button. Easy enough!
Now the PC will have all its most risky files quickly scanned by Defender…

It took about 3 minutes on my Windows 10 system to run a complete quick scan, a scan of over 127,000 items: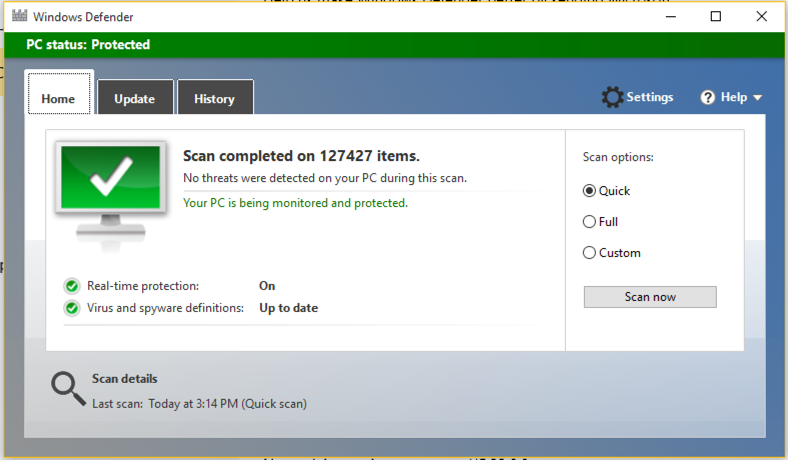 That's all there is to it. Microsoft Windows Defender for the win. And I hope your Mom is grateful for your help! 🙂