I was looking at a friend's Windows 8 screen while at a meeting and saw that he had a ton of additional tiles on his startup screen that offered quick access to administrative tools of various types. As a Windows IT guy, I'd love to have that too. How do I enable these admin tool tiles on my own Win8 startup screen?
As more people use Windows 8, I think we're going to see some really neat innovations on the Start screen, actually. Already if you experiment, some apps do a nice job of keeping their own tiles updated with weather, time, and other information. Makes the screen a ton more useful than just having a bunch of labeled boxes. That's too much like some geometry puzzle. 🙂
As an administrator, you've already realized that for the most part Windows 8 is really just Windows 7 with a new layer that offers a more touch-friendly interface. Dig down far enough — and in some places it ain't far at all — and you're in familiar old dialog boxes and options. Most of the admin tools are that way, which is good since that makes it easier to administer.
Getting to the admin tools, however, is a bit of a pain if you have to flip the cursor to a corner to get the Charms strip up and all.
So let me show you how to enable (and, of course, disable) the administrative tools in Windows 8. And we'll start with the Start screen: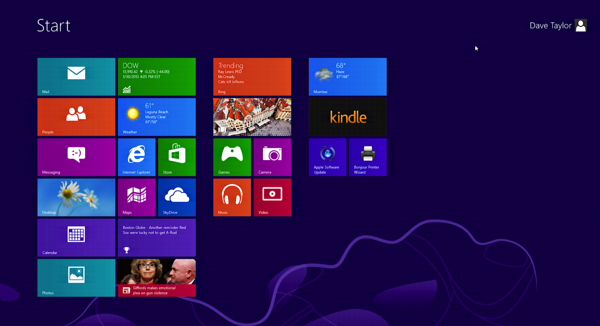 You can see that there's still screen real estate after apps like Kindle reader and Apple's iTunes have added their own tiles to the mix. To enable the administrative tools, press Command-C or move your cursor to a corner.
The "Charms" bar comes up, and on the bottom is Settings:
Click on it and look along the top to see the three options (Start, Tiles, Help):
Click again, this time on … can you guess? "Tiles"!
Now it's easy. Just slide the slider over so you have the black square at "Yes" under the option of "Show administrative tools".
Click anywhere else on the screen to close the charms bar and your Start screen now has a boatload more tiles on it (and yes, "boatload" is a technical term):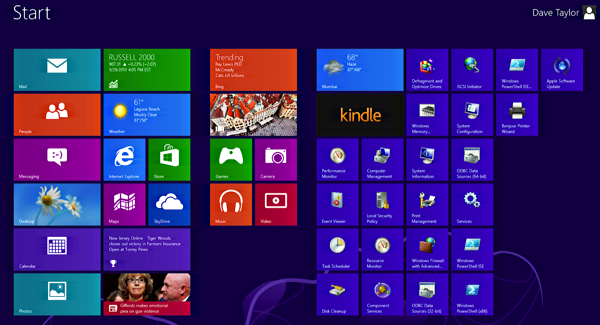 Look a bit closer and it's quite a useful set of utilities that show up:
Want to remove all the administrative tools from your Windows 8 start screen? Go back into Settings off the Charm bar and move the slider to "No". That's it. Good luck!