I have a new Apple iPhone and have been greatly appreciating all your iPhone help, but am still a bit baffled by one thing: when I send mail from my iPhone, I can see how I can Cc myself, but then I see my own messages in my [Microsoft] Entourage mailbox. That's daft. Is there some smarter way to set things up?
I've been looking at the very same issue, actually, because I also want a copy of all my sent messages on my main Macintosh system, but I really don't need to see my own missives each time I grab new mail from the server.
The solution? A mailing list rule! I'll demonstrate how to set this up in Microsoft Entourage, but it will work in any mail program you're running, whether it be Apple Mail, Thunderbird or even Mailsmith.
The key is to recognize that all mail sent from your iPhone is going to have the same set of criteria:
From is your address,
Your address also appears in the recipient list as a carbon copy (cc) if you're running the original iPhone software.
If you've upgraded, however, your phone is automatically Bcc'ing you, which means you won't see your own address in the copies of your sent messages you see in Entourage. Instead, you'll want to check for your iPhone email signature instead. Let me show you the Cc check, however, and I'll explain how to do that if you need it.
In Entourage, you'll start by going to Tools –> Rules:

(yes, I have a lot of rules!)
Click on "New" in the top left corner and you'll have a new filter window which you can then fill in as I show here: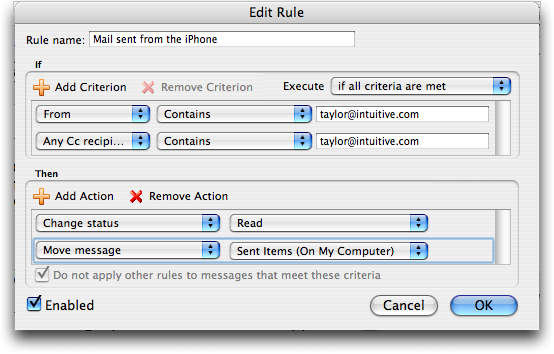 Key to notice is that you want to specify "if
all
criteria are met" and then mark the message as read when the program automatically files it into the "Sent Items" mailbox. You can see that I have this set up for when I am carbon-copied on the outbound messages. If your iPhone isn't automatically sending you a copy of your outbound messages, go to
Settings
–>
Mail
on the iPhone and scroll down to the "Sending" area, you'll see that you can enable/disable "Always Cc Myself".
Actually, if you've upgraded your firmware from the original release, the option on your iPhone says "Always Bcc Myself" and that means you'll need a slightly different second rule in your email program: instead of an email filter rule that specifies "Any Cc recipient" "contains" your email address, you choose "Message body" "contains" "Sent from my iPhone." and you're good.
Now you can test your rule if you have a message in your Entourage mailbox that should now be automatically squirreled away in your "Sent" folder. Select the message, then choose
Message
–>
Apply Rule
and select the new iPhone rule you've created:
That should promptly slip your sent message into your "Sent" message folder in Entourage, as you desire. Now, the real question is: how do you create a mailing list rule of a similar nature
on the iPhone itself
so you don't have to see your sent messages there either. That's beyond what I can figure out right now, however, so I'm afraid you're on your own with that one. 🙂
Hope this helps you get more enjoyment out of your Apple iPhone.