I'm getting used to the new Facebook interface but I still feel a bit frustrated by how it's changed, yet again, and things aren't where I expect them to be. One thing that I've always wanted to change, for example, are what shows up in my Favorites section on the top left. Can I add things to that list like groups I'm in, Pages I manage, etc?
Ah yes, the never-ending entertainment that is Facebook. I've come to the conclusion that it's actually some sort of twisted video game and that our challenge as users is to be able to find our way through the shifting maze that is its interface so we can reach the areas that are of most interest to us. I envision the shifting staircases of Hogwarts School of Witchcraft and Wizardry from the Harry Potter series.
Whether it's an interface that only He Who Shall Not Be Named can appreciate or not, however, the fact is that we're all fans and we're all trying to figure out how to make it work for us. If there was an API we'd have third party tools — a la Twitter — and could ignore changes in the interface, but so far that's not arisen in the Facebook ecosystem and instead we get to spelunk.
What you're asking isn't actually too difficult in the latest interface updates, actually, and like much on Facebook, success comes from being willing to experiment and poke around to see if you can figure things out. But I'll show you instead. 🙂
I've already done a bit of customization of my Favorites, as you can see in this first illustration: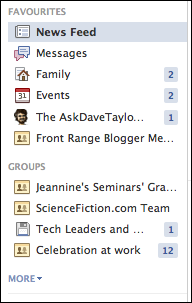 (Notice also that I'm using "English(UK)" which is why it says "Favourites" not "Favorites")
Below the groups section notice where it says "MORE" with a small downward triangle. Click on it and it opens up a couple of additional sections, including "APPS":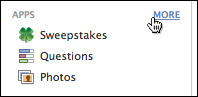 Move the cursor to the right and another "MORE" shows up (fun, eh?). Click on it and you'll actually have a big display of the various Facebook applications you've used in the recent past, organized by most-recently-used to least-recently-used:



Find "Photos" or whatever App you desire to add to your Facebook Favourites. Uh. Favorites, and move the cursor just to the left of the app icon, where there's a tiny pencil graphic. Move the cursor over the pencil and – surprise! – a little menu pops up:



To add the App to your Favorites click "Add to Favorites", as shown, and, voila! it's now on the list: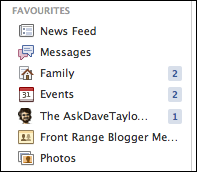 Not too thrilled with the order of entries? Here's another useful tip: You can reorganize your Favorites by moving the cursor to the left of any of the icons and having the invisible pencil icon appear again: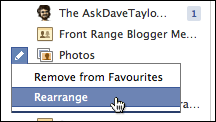 Choose "Rearrange" and a new icon appears on the right side of each Favorite: click and drag the icon and you can reorganize things to your heart's desire: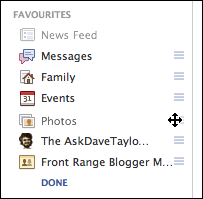 Done? Click "DONE" and you've just tamed the wild Favorites list. Congratulations!