I recently purchased a new computer (It was built for me) I need to know how I can find out if my dvd burner burns dvd+ or – Do you know a way to this on Windows XP?
First off, this is exactly the kind of information that your vendor should have given you when you purchased the computer. At a minimum, knowing exactly what devices you have would be a great help and help answer this sort of question.
However, you didn't get that information so we're going ot have to pull it out of Windows XP itself, which, fortunately, isn't too hard.
You need to launch your System control panel to start: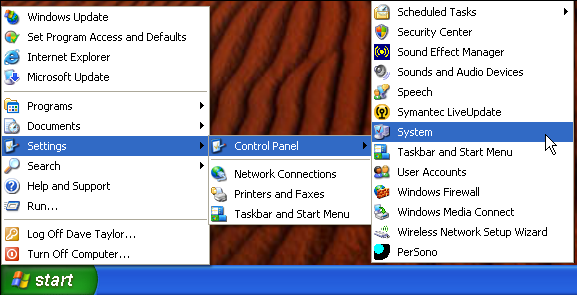 That'll launch in a second or two, then click on the
Hardware
tab to look at a list of all the devices plugged into or built into your computer: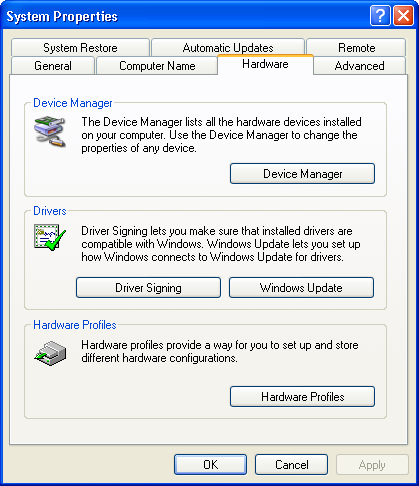 The list of hardware looks like this: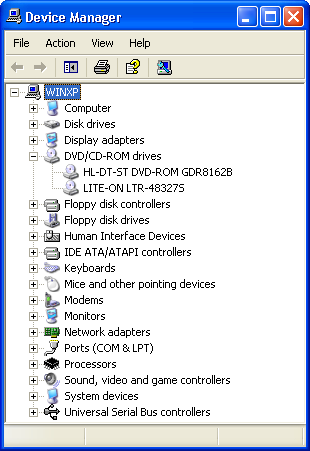 You can see here that I've clicked on the little ~ez_ldquo+ez_rdquo~ next to DVD/CD-ROM drives, and can now see what I want, the exact names of the CD and DVD drives on my PC. I have an HL-DT-ST DVD-ROM GDR8162B DVD drive and a LITE-ON LTR-483275 CD drive.
Armed with that information, you can now use Google to search for your specific drive and get the specifications directly from the vendor. I'd suggest that you pick the last word of the drive information (I'd choose either GDR8162B or LTR-483275B, for example) and add "specifications" as your search pattern.
I hope that helps you ferret out the information you need to use your DVD burner!