I just got an iPhone 4s. Yeah, two days before the iPhone 5 was announced. Thanks, Apple salesperson for not bothering to mention I might want to wait a few days. Anyway, I have it now and am trying to figure out the easiest way to get photos off the iPhone and onto my Win7 laptop. What's your solution?
Ah man, it's tough when you buy new hardware just to find that there's an upgrade released a few days later. Then again, if you already have an iPhone or iPod, the new Lightning connector might well prove a big problem to you working with your existing speakers, cables, etc. Regardless, it's one of the inevitabilities of the technological hamster wheel we're all on: nothing stays the same, everything gets updates, things get faster, smarter, smaller, thinner, brighter, and more. Sometimes makes me want to stop buying gadgets at all, actually, but… not really. 🙂
In terms of what you're asking, there are a number of ways to get your photos off your iPhone 4s and they're all exactly the same ways you could accomplish the task with a shiny new iPhone 5 too.
The thing of it is, on the PC, it's easier to not have iTunes involved.
When you plug your iPhone into your Windows 7 PC laptop, here's what you'll see: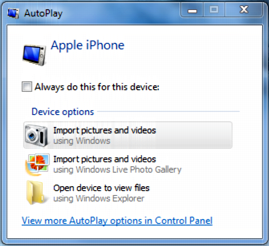 Since a lot of people stick with iTunes, they're usually not aware that this window pops up, and when the iPhone's removed, it generally just vanishes, never having been visible to the user. If iTunes pops up and that's all you see, minimize it or quit it entirely to find this Windows alert window.
Notice the options let you import the photos and videos off the phone into Windows, Windows Live Photo Gallery or the option we'll use: "Open device to view files".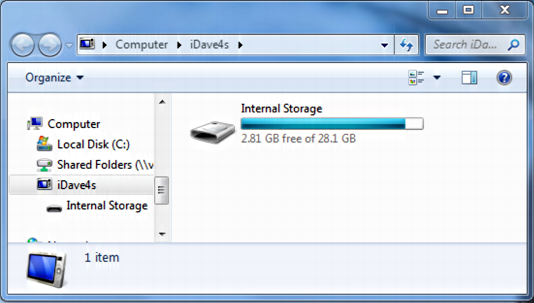 Surprise! The Apple iPhone shows up as just another device, with its own internal storage. You can see I have a 32GB iPhone (which means it has 28.1GB available for use). Double click on the Internal Storage area and it'll open up as an external drive:
Just like a digital camera, the iPhone images are stored within a "DCIM" folder. DCIM, in case you're curious, stands for Digital Camera IMages, rather an awkward acronym!
Again, double-click and you'll end up looking at a folder full of photos and videos that you've taken with your cellphone:
The first two icons suggest that there's additional storage but they're non-functional. Ignore them and focus on the photos. As you can see, just like a regular digital camera, the phone uses "IMG_xxxx" for image names.
Find one you'd like to copy and click on it once. Now as is Win7's wont, you can give a star rating to your favorite photo, see its size, etc:
Now double-click on it and the image will be displayed in Windows Photo Viewer:
Since they're shown as image files in a folder, you can also drag and drop them individually or en masse onto your Windows Desktop or open them up directly from within your favorite photo management software (including Web based apps. Heck, you can even upload them directly to Facebook or Google Plus if you're inclined).
Easy enough, isn't it, once you know the trick of sidestepping iTunes entirely.