How do you adjust the size of the screen view on Windows 8 ? When I go onto anything it takes up too much space and I can't read everything! Thanks.
Microsoft put a lot of effort into making Windows 8 (aka "Win8") into a completely different experience from all previous Microsoft Windows systems, axing the start menu and the task bar in favor of the full-screen tile page. Which is all well and good if you want a completely different experience. If you don't, Win8 can be frustrating and baffling both!
The key to remember is that while there's no start menu, there is now a terrific search system, one that lets you just describe what you seek and that instantly shows you all the matches it finds, even in Control Panels.
For your query, simply type "screen res" to start a search for screen resolution settings. Don't know how to get to the search box? Either swipe in from the right side to get your Charms Bar, or simply use the Windows-S command sequence.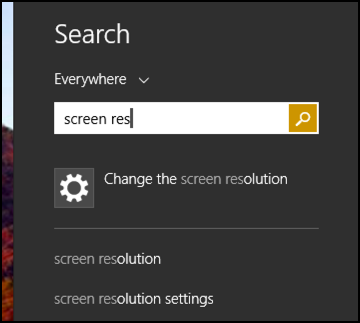 As you can see, the #1 match is exactly what you seek: "Change the screen resolution".
Click on that (or tap on that if you're on a touchscreen system) and…
On the lower left, it's the "Resolution" that you want to tweak. When I read "takes up too much space" I think that you've set your screen resolution too low. To change it, simply slide the little black mark on the resolution graph towards the right. As you go, you'll notice that the width x height numeric resolution will keep changing.
You can experiment with screen resolutions, but below this is another option worth examining:

Here you can change the size of apps, text, etc, which might also be exactly what you seek.
My recommendation, try varying both to see what happens, and take comfort in knowing that you'll have a chance to change it back if things are messed up, as shown:
Well worth experimenting with different combinations to get the screen resolution to be what you prefer.
Good luck!