I love my Amazon Echo but am tired of calling it "Alexa". I hear you can call it "Computer" like in Star Trek. That's for me. How do I change it?
What you're talking about is the Amazon Echo "Wake Word", which is not to be confused with the very, very different "safe word" that some adults use. Tooooooootally different concept. 🙂
It would be fun to be able to set any word or sequence to be the wake word that starts the Amazon Echo reacting to what you're saying, but because when it's waiting for the wake word the Echo is running in standalone (e.g. offline) mode, that'd be harder than having one or two standard words. Don't believe it's offline? Try it: next time your Internet is out, say "Alexa, what time is it?" or similar and you'll see, it wakes up from its name then reports that it's offline and can't interpret the rest of your request.
Amazon keeps expanding the features and capabilities of the Echo too and you're right, there are clearly some sci-fi nerds on staff up there in Seattle because one of the wake words you can choose is indeed "Computer". Now, will it answer "yes, dear?" in Majel Barrett-Roddenberry's voice? No. But maybe something close…
To change your Echo wake word, launch the Alexa app on your smartphone. I'll show an iPhone 7 screen, but it'd work the same with an Android phone too. Now tap on the "hamburger" (three horizontal lines) icon on the top to bring up the main menu:
From there tap on "Settings" to get to a list of your device or devices. Us? We have a lot of the various Amazon Echo family members on our home network, from Dots to a Tap to an Echo:
Let's change the first one, "Kingdom" (short for My Daughter's Kingdom, if you're curious!) by tapping on it in the list.
Now all of its settings will be displayed:
Notice here you can update the wifi connection, add a device remote, tweak the sounds and notifications and even update the device name from "Kingdom" to whatever else you'd like. You could name yours "Majel", though it'd be a tribble, uh, trifle weird. 🙂
Swipe down a bit to see the rest of the choices…
There's the setting you want, right in the middle: "Wake Word". You can see it's set to the default of "Alexa". Boring.
Sorry, Alexa!
Tap on that to change the value…
You know how to do these menu options, right? Tap on it and the lower portion shows you all the choices, then swipe up and down: the one right in the center is your choice: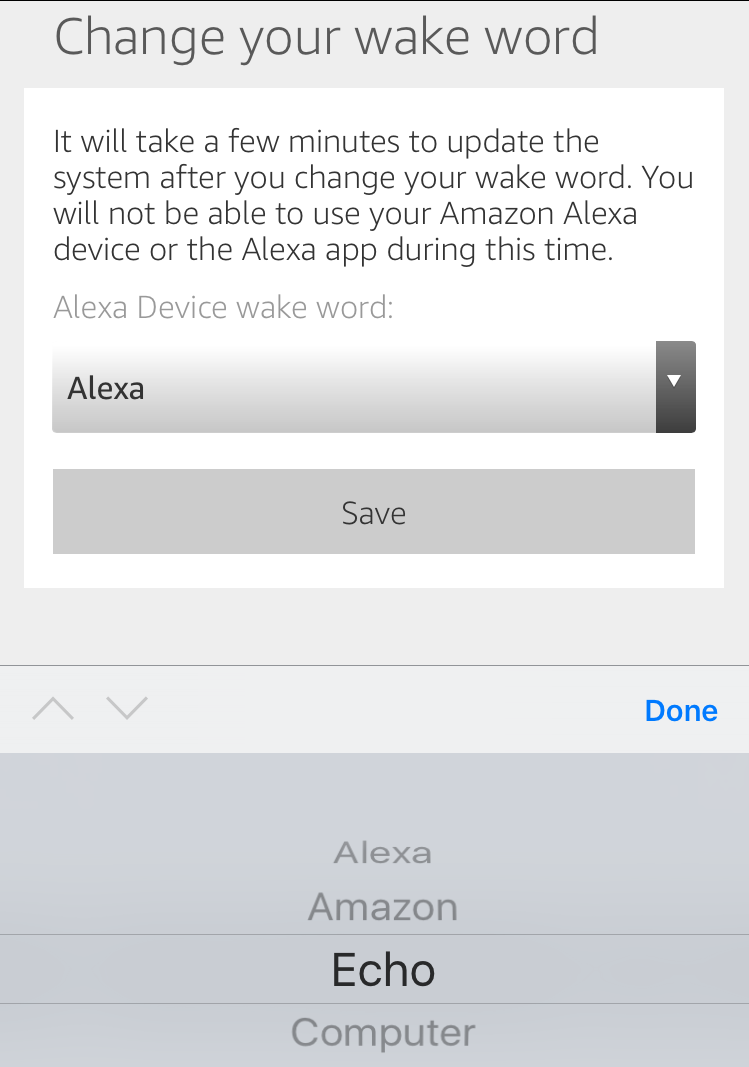 There you can see the four choices: Alexa, Amazon, Echo and Computer. Pick which one you'd like, and tap "Done". Then Save your choice and give your device a few minutes to resync with Amazon HQ and… you're done!