Now that I have both an Amazon Echo Dot in my kitchen and an Amazon Echo in my living room, they fight over who gets to respond to my queries. Which is actually annoying! Can I change the wake word on the Dot?
This must be the very definition of the phrase "first world problem", right? I mean, I have the same thing, only worse, because we have four Amazon Echo units in the house, a Sonos One (which works just like an Amazon Echo) and a Google Home unit too. It's amazing how many devices are listening!
If you have them too close together, however, or have weird home or office acoustics then it definitely can be quite a problem with them basically arguing about who gets to answer your question or request. There is apparently an internal protocol, however, so you should never hear two units simultaneously answering your query, but the wrong one? Definitely a distinct possibility.
You've hit on the solution, however: Simply change what's known as the wake word on one of your Amazon Echo or Amazon Dot devices. And that's all done in the smartphone app, whether you have an iPhone or Android device. I'll go through the steps on my iPhone…
To start, find and launch Amazon Alexa. My home screen looks like this:
My daughter's been listening to the Peter and the Starcatchers book series on her Amazon Dot – Audible works great on these devices! Try "Alexa, read me a book" if you have it all set up.
But we're getting sidetracked. You want to tap on the three horizontal lines "hamburger" button on the top left to proceed. That brings up the main Alexa menu:
You'll want to choose "Settings" from that menu, which then brings up a list of your Alexa devices. As I said, I have rather a few: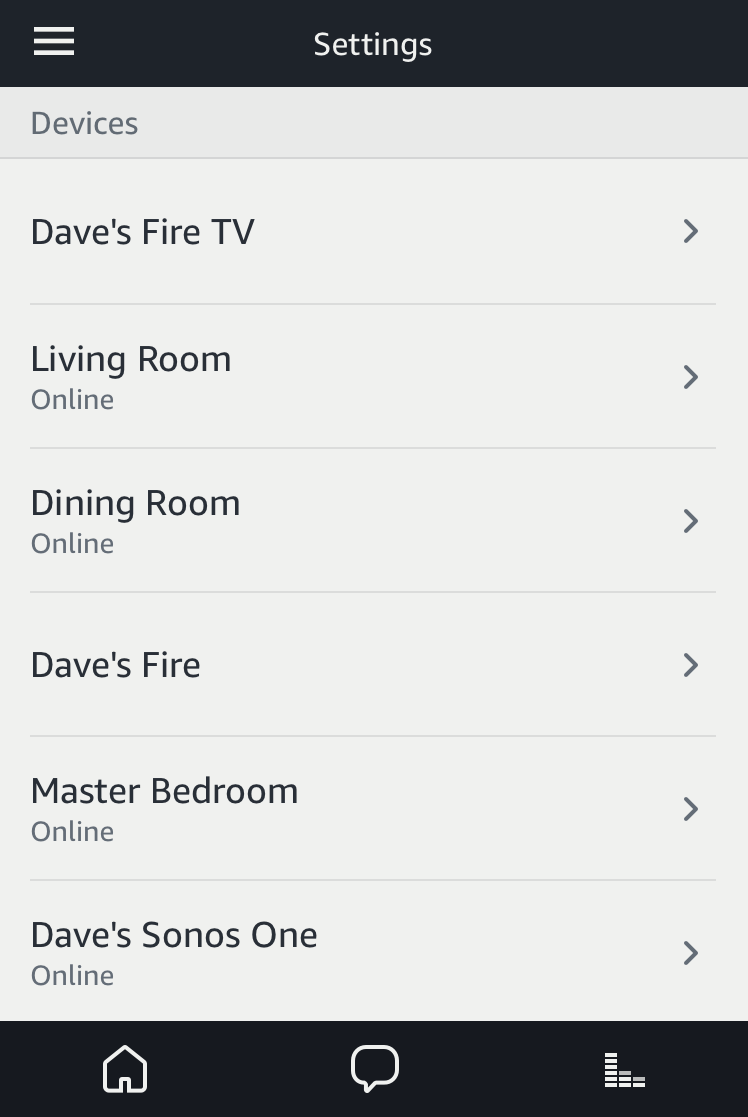 In this instance, I'm going to be changing the wake word of the Dining Room Amazon Dot, so that's the one I'll choose. You will need to pick your own Dot, obviously 🙂
Lots of different settings here, though most of them should be the same across all your devices.
Swipe down as needed; you want to find where it says "Wake Word". Notice above this is set to the default of "Alexa".
Tap on it to change the wake word…
Tap to change, then swipe up and down on the bottom options to pick the one you want. Your four choices at this point in the evolution of the Amazon Echo product are Alexa, Amazon, Echo or Computer.
I changed mine to Computer, so it's quite a bit different from the Alexa wake word on the other unit. Tap to save and it'll need to restart the device:
Once it wakes up again you should be good to go. Now, say your new wake word and you'll be happily speaking to the correct unit every time!