Now that the Sony PSP has a Web browser along with its existing wireless capabilities, is there any way at all that it's possible to actually listen to my iTunes music library on my PSP, even though the library's actually on my Macintosh and I'm not even at home?
Amazingly, this can indeed be done! You'll need to make sure that your Sony Playstation Portable (PSP) has been updated to the 2.0 firmware release (if you have problems updating, please see Network Update on my Sony PSP doesn't work? for specific details of the upgrade process), that you have a Mac and that it's running Mac OS X 10.3 or newer, and you need to download a copy of the application Dot Tunes.
Ask Dave Taylor guest expert "digiKID" can pick it up from here…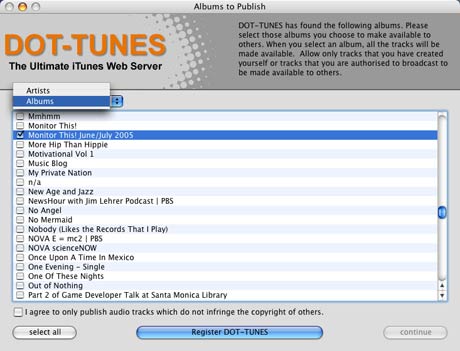 Dot Tunes looks at your iTunes library and generates a simple web page based on Album or Artist listings that can be accessed across the internet. Once you have generated the web page, it's a simple matter of bookmarking the page in Safari and syncing that bookmark to your web browser on your PSP. You can then access your itunes library with the Dot Tunes web interface and easily navigate to a specific song by artist or album listing. Dot Tunes' simple web based interface is ideal for navigating to a song from the tiny screen of your PSP's web browser. You can then download the song to your Music directory on your PSP.
Here is the catch. The PSP is picky about what media is in what directory on your PSP. When you select a song to download it will ask where to save it. If you want to play the song you're downloading you will need to save it in the Music directory under a pre-existing playlist folder. So simply navigate to your music folder, enter into a pre-existing play list folder and hit save. You will also need to rename the extension of the file from .m4u to .MP4 for the PSP to recognize it. You do not need to rename the extension of a .MP3 file.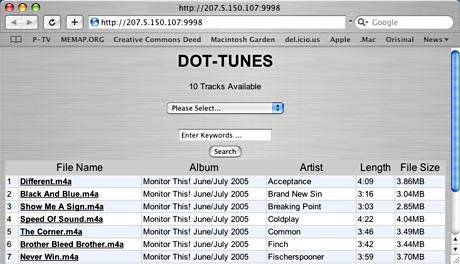 Now you can delete old songs and ad new ones on the go, anywhere you have access to a WiFi connection on your PSP. An interesting feature is that if you subscribe to podcasts in iTunes 4.9, you can include the podcasts in Dot Tunes sorted by the Artist (creator) or Album (name of the show) and they will appear in the listings in Dot Tunes on your PSP.
Keep in mind that your Mac will be acting as a web server, to serve your Dot Tunes page to you across the web. You will need to make sure that your Mac will 'Wake for Ethernet network administrator access' under your Energy Saver preferences if you have it set to sleep after being idle. You will also have to make sure that the port your Dot Tunes page is being served on is on an open port, not blocked by your ISP, and not blocked by your Mac's or your router's firewall. You may also want to password protect the connection to prevent anyone from helping themselves to your non-DRM protected iTunes libraries.
That's all there is to it!
Many thanks to DigiKID for figuring this out and allowing us to share it with you on this blog. You can read his original article here: How to serve your iTunes library to your Sony PSP using WiFi internet.