I get a lot of music from friends via email and it's a huge pain to have to download them from Yahoo Mail, save them on my computer, then launch a player to hear them. I heard that Google's Gmail service has a better solution. Do they, and if so, how does that work?
Great question: I didn't realize that Gmail had the ability to play audio files within the Gmail system itself, but your question provoked some investigation on my part and, well, you're absolutely right!
To show you how it works I've emailed myself a music file, Django Reinhardt's splendid rendition of Limehouse Blues as an Mp3 file. When I view the message in Gmail, here's how it looks: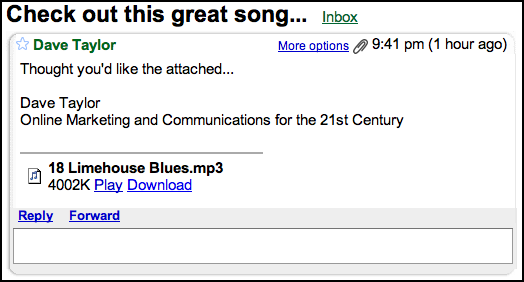 Normally, with an attachment you see "View" or "View as HTML" and "Download" as the two options adjacent to an attached item, but here you can see that we have a cheery little music file icon and "Play" shows up.
Since I rarely miss a chance to listen to Django, I'll click on "Play" and a new window pops open:
Simple, elegant, and it works like a charm. So your suspicion is indeed correct, Gmail does a splendid job of handling Mp3 files, and my kudos to Google for this unsung additional feature to an already state-of-the-art web-based email system.
Rock on!