This is almost too hard to believe, but a pal of mine told me he's gone into the local Apple Store, scanned gear with his iPhone and paid for it directly on the phone, never having to interact with a salesman. When he's done, he walks out without a receipt, without a bag, or anything. This has gotta be a joke, otherwise what's to stop someone just walking out with thousands of dollars worth of gear?
You're talking about something called EasyPay and your pal's right, it's integrated right into the helpful Apple Store app that you can get for your iPhone. Once hooked up to your iTunes Store account, it does indeed let you walk into the local Apple Store, scan things, and pay for them directly, without ever interacting with a salesperson. It's also a bit weird and the first time I did it, I have to admit I kept waiting for someone to ask for proof that I'd actually paid, rather than going through the motions with my phone while secretly just playing Words with Friends.
The secret is something that seems the opposite of modern consumer experience: trust. I believe that because Apple trusts shoppers that we then act in an honorable and ethical manner. You see this in other stores too, sometimes, where there's a jar with a label "$2 coffee, serve yourself" and people do so, paying as they proceed. Indeed, there's some very interesting psychological research that shows if you tell people you trust them not to cheat and to instead act honorably that way few people cheat — even on a test — than if you say nothing and just assume they know how to proceed.
Let's have a look at how you proceed with the transaction, then I'll share some additional thoughts on why this isn't the world's biggest invitation to steal stuff from a popular gadget store…
If you have the Apple Store app on your iPhone and you have location services enabled, rather like magic when you walk into an Apple Store it'll launch and even know where you are, as you can see: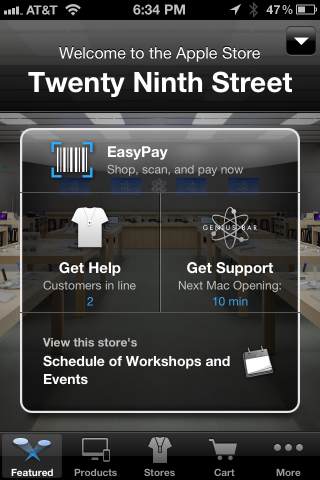 Turns out, I needed a new HDMI (sorry "Digital AV") adapter for my iPad, having given mine to my sister a few weeks ago. They're handy for us nomads, letting you hook up your iPad or iPhone to an HDMI-friendly TV and watch Netflix, iTunes movies, etc, on the big screen, along with any videos you've recorded, photos you've taken, etc.
To purchase the adapter, I found it in the store, then tapped on "EasyPay" on my phone.
Okay, that's pretty easy. To take the next step, I held up the packaging to the phone's camera: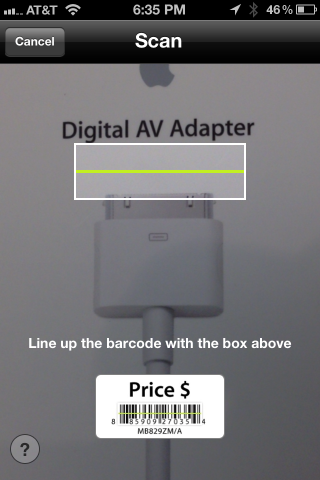 Not quite. Needed to move the box up so that the green line was directly across the scan code on the package itself. Once I did that it almost instantly identified it and looked up the product, showing me this information:
$42.20 for an adapter? Jeez. Expensive. But I needed it, and as you can see, the reviews on the Apple Store site are pretty darn positive. To proceed, I tapped on the green "Pay $42.20 Now" button.
That's good. I'd hate for my kids to grab my phone and run through the store buying things left and right! I enter my iTunes Store password and click "Sign In" and…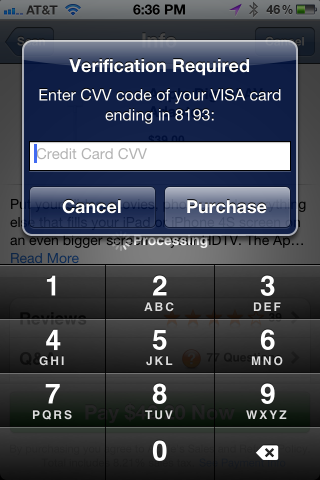 Even better. I not only need my iTunes password, but I also need to know the three-digit Card Verification and Validation code (you'll also see this written as CVC too). I enter that for the VISA card ending in "8193", click "Purchase" and I'm done.
It also emails me a copy of the receipt, which is handy for accounting, but let's have a look at what's shown if you tap on "View Receipt":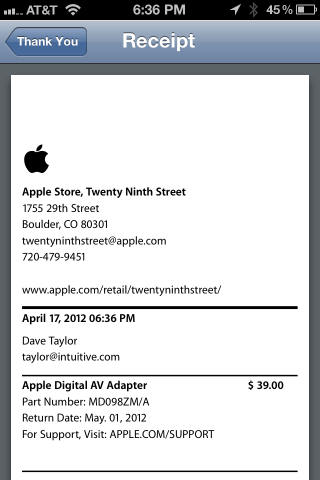 That's all the critical data from the purchase. If I had bought more than one item, they'd all be listed on this receipt page.
So why isn't this an invitation to scan one thing and walk out with twenty? Because, as I said earlier, an assumption of trustworthiness breeds trust in people. Of course, it's not like you can do this to buy a half-dozen iPads or a new MacBook Pro (those are kept in the back and require a salesperson to obtain) but nonetheless, I believe this is a harbinger of things to come, and once it's coupled with near-field transaction systems and RFID tracking, it could be as easy as you picking up what you want and walking out the store. As you get to the exit your phone beeps and it confirms that you want to buy everything that's in your backpack / pockets / hands. You say "yes" and it bills you. Say "no" and a salesperson will walk over to take the things you don't want off your hands. Simple, elegant.