I bought a new Yeti Pro microphone and while it looks very cool and probably sounds great on recordings, I can't get it to work on my Microsoft Windows 7 system. When I check the system status it shows "This device cannot start (code 10)" and when I plug it in, it fails. On some discussion boards they say that I should just keep unplugging/plugging and it'll eventually work, but that's driving me crazy. How the heck do I get this to work??!
I also have a Yeti Pro from Blue Microphone and I have to say that I really like it. It's big and feels like real audio gear, not some cheap $20 product from Radio Shack, and the sound I get is terrific. On the other hand, that's my experience plugging it into my MacBook Pro. When I plugged it into my Dell Win7 laptop I saw the same darn error you did and even trying to reload audio drivers, etc, never caused it to show up as a known device in Windows.
Fortunately the solution is pretty straightforward and involves downloading the proper driver from the company. You can shortcut and just do that, or you can read my entire tutorial and see how it works and avoid the surprise part-way…
Still here? Okay…
Let's start by confirming that your computer sees the microphone, it's just the OS doesn't know how to mount it and make it an available device. To do that, go to "Control Panels" from the Start menu. Look for the Hardware and Sound section and click on "Hardware and Sound". Below you'll see I've highlighted "View devices and printers", but we'll come back to that. For now, just click on "Hardware and Sounds", as I've said:

You'll move to a section with a ton of options related to devices and sound. You want to look for "Manage audio devices":

Click on the "Recording" tab and, alas, you don't see the Blue Microphone device: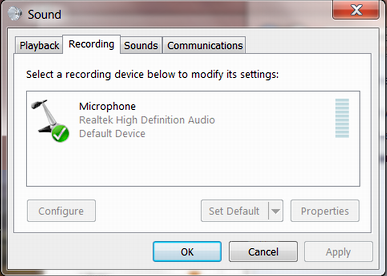 Now back up to the first set of Control Panel controls, where we clicked on "Hardware and Sounds" and this time click on "View devices and printers" instead. Now you'll see all the devices and peripherals hooked up to your PC: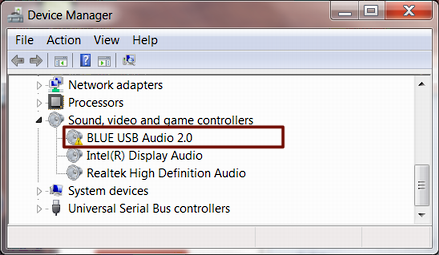 There's the problem, the tiny yellow warning symbol next to the Blue USB Audio 2.0 device. Click on it and you'll get even more detail: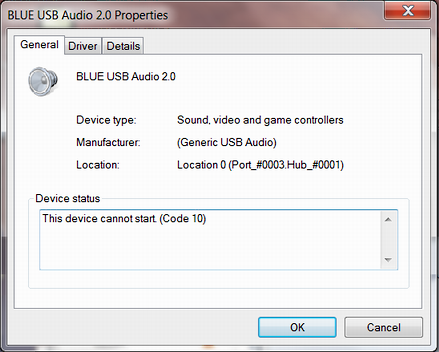 There's the problem. The default Windows audio driver can't handle the Blue Microphone Yeti Pro (and quite a few other Blue Mic products, but it's no sweat, we just need to install the driver, so don't worry) so we see
This device cannot start (Code 10)

To fix it, you need to
download the driver
from the bluemic site.
Got it? Excellent. Now make sure you do
not
have the mic plugged in and launch the installer…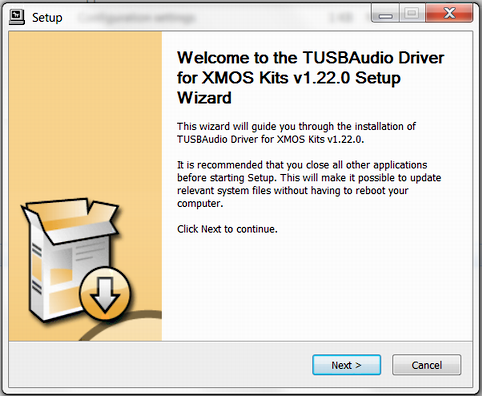 Nothing unusual so far, just click on "Next >".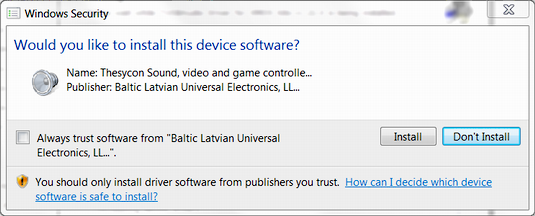 This, I have to admit, threw me for a loop! Baltic Latvian what? My first thought was that it was a neatly packaged virus or spyware or something. Not good.
Inquiring of the company, however, I learned that "Blue" stands for
Baltic Latvian Universal Electronics
and that this is indeed the correct device driver for the Yeti Pro.
Phew!
Click "Install" to install the driver and a number of new files will be added to your Windows 7 system: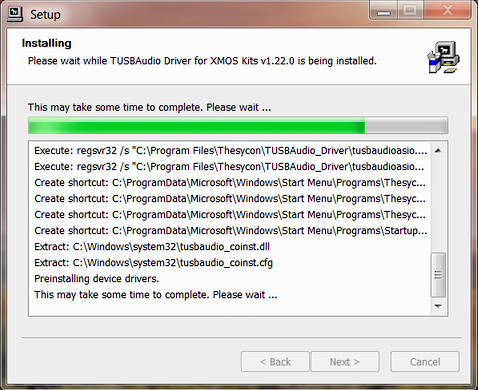 After a moment or two, it's ready to connect and configure the mic:

When I plugged in my Yeti Pro the PC immediately saw it and connected properly:

Looks good! A click on "Next >" and we've succeeded!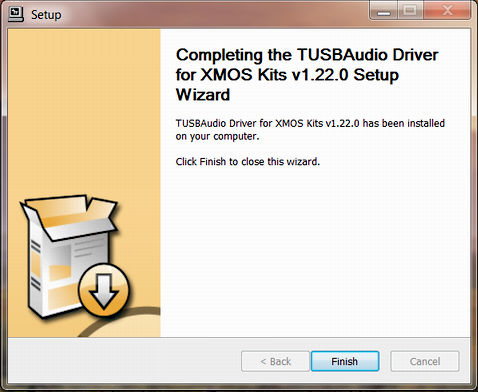 Now when the microphone is plugged in it shows up, albeit as "Line", but still, it's alive:

Finally it's all good and the microphone will work as desired. Not too bad!