I have the iPhone 5 and I can't figure out how to add a person (friend or not) to my favorites list. It used to be ( from the iPhone only, not my computer or iPad) that you could tap on the arrow icon on a person's page (top right) and one of the options was, add favorite or something like that as well as block and poke. Now it's just block and poke.
Not sure that anything's changed since the previous update to the iOS system, and I'm sure that there's nothing new or unique about the iPhone 5 in terms of adding someone to your Favorites list, but let me go through the steps and perhaps you'll remember that this is pretty much as it's always been on the iPhone.
The only wrinkle is that I don't know that you can add a number that you haven't added to your Contacts list, whether you want a name associated with it or not. But then again, my Favorites list includes names of people, organizations, institutions, businesses, etc, so that when I glance at it — or ask Siri to dial for me — that it's fast and easy.
Let's jump in.
First off, find the "Phone" icon on your computer:


I'd say "look for the green icon" but "Messages" is also green so look for the little handset picture instead. On the above pic, it's on the left.
Now along the bottom tap on "Contacts", then find the person you want to add. For this example, I'll tap my friend "Alex Houg" to demonstrate the process: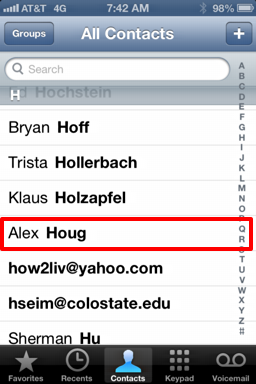 Tap on their name and you'll find their entry with phone number, email address, and whatever else you have on file for them: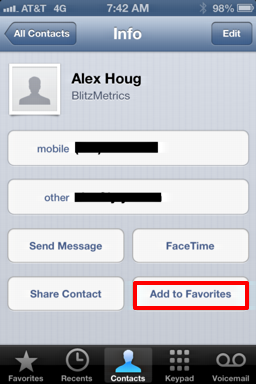 I've highlighted the button you want to tap: "Add to Favorites". Tap on it and the iPhone will query which of the phone numbers and email addresses you have on file for that person you want to actually add to Favorites:


For purposes of privacy, I've blacked out Alex's contact info. 🙂
I want to add his mobile number, so I tap on it and now iOS has one more question for me: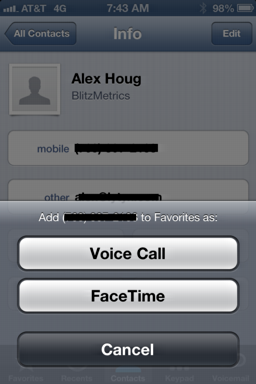 By default, do I want to make FaceTime calls with Alex or just regular voice calls. I choose Voice Calls, tap it, and I'm done. He's now in my Favorites list.
Easy enough!