Every time you walk away from your laptop, every time your computer bag sits on a chair while you go to the bathroom, every time you turn away from your backpack or briefcase, you're putting not just your computer, but your data at risk of theft and misuse.
Which is why I signed up for Absolute LoJack, a security program that not only offers the ability to track and remote-wipe my computer, but has a dedicated team of investigations and recovery experts to help recover it without me playing vigilante.
I'm as bad as the next person, or perhaps even worse. I constantly walk away from my laptop computer, and it's a $2000 MacBook Pro, fully tricked out.
But even that price pales compared to the value of the data on the laptop. Tax information, account passwords, financial data, and a vast array of personal information on family and friends. Not to mention book manuscripts, confidential documents from clients, contracts, and so much more.
Theft = bad. That's easy. But what about data theft and what about recovery?
To learn more about the rather alarming world of computer and data theft, I jumped on a webinar with Doug Lubahn from the Absolute Investigations and Recovery Team.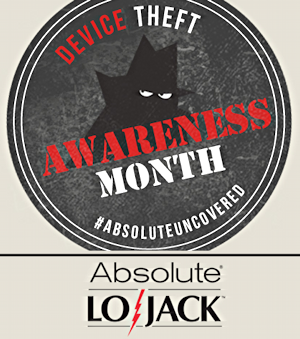 Doug worked with the Michigan State Police for almost 30 years before joining Absolute Software and he heads a group of 40 professional investigators who work globally. In fact, they've even recovered stolen computers from places as far away as Afghanistan.
Even just sticking to smartphones, in 2012 there were 1.6 million smartphones reported stolen in the United States, and in 2013 that jumped up to 3.1 million. That's a huge increase, and part of the consequence is that your chance of having the police recover your device decreases as the number of crimes increases. Absolute LoJack also has a solution for smartphones, btw, if you're worried about yours vanishing.
Me? I'm all about computers and am far more worried about my laptop than my phone. And there are way too many of those stolen too, and the most likely place for you to have your laptop stolen? The airport. Yeah, that's why I'm paranoid about those TSA security checkpoints and never have a nap while waiting for my flight to board.
Doug's team has tackled some big cases too, including one where an organized group of thieves stole almost 1000 computers from the Detroit Public School system. The Absolute LoJack investigation team were critical to the arrests and the leader of the gang was not only convicted of the theft but of two murders too. A very bad group of guys, for sure.
Which is why one of the things I hate to read are stories about how average citizens turn vigilante and take the law into their own hands. It might be tempting to knock on the door of the place where you can tell that your laptop's being used, but thieves are criminals and you really have no way of knowing what you're about to step into. Knives, guns, or just a direct physical assault. Me? I'll rely on the professionals.
And then there's the data on the device, whether it's a smartphone or computer. Turns out that thieves are not only getting more and more tech savvy for circumventing passwords, encryption, access PINs, etc, but there's so much information available online — just do a Google search for "bypass security password windows 7" or "jailbreak android phone" and you'll see — that it's foolish to rely solely on these security measures.
Data turns out to be surprisingly valuable too. For example, Doug highlighted a situation where a dentist had his laptop stolen, gaining the thief access to almost 1000 patient records. Records that have a street value of $75-$100 each. That's worth a lot more than a computer.
Finally, be leery of Craigslist and eBay. Both are now commonly used by thieves to pawn stolen goods and if a deal seems too good to be true — like a $900 laptop for $100 cash only — then it is, and it's probably stolen. Not good!
I'm running Absolute LoJack on my system and I've shared a few screen shots too. Notice in the map image earlier that the device is reporting in its location once/daily without any way for the thief to know that the software is installed (a critical element), and that if it is stolen, I can initiate the recovery process directly from the Web interface, including giving the Absolute team information so they can talk to the detective in charge of the case, since I'd need to file a report with the local police department as part of the process. That looks like this:
This is serious stuff, dear reader. You may figure that it's someone else's problem and that you work in a good neighborhood and that everyone at your favorite café is trustworthy. Those people working airport security? They're not going to steal your gear. But forget it on a taxi ride or the bus, go to the bathroom while those ne'er-do-well kids dash through your favorite workspace and it's suddenly way more real than you're bargaining for.
This month is Device Theft Awareness Month and this post is part of the campaign. The good news? Sign up for a year of Absolute LoJack protection for your PC, Mac, tablet or smartphone and you can get 30% off by using UNCOVER30 as the special code. Check it out: Sign up for Absolute LoJack before it's too late.
Disclaimer: Absolute LoJack gave us an Absolute LoJack for Mac account to try the system out and is paying us to participate in the Device Theft Awareness Month campaign. #AbsoluteUncovered