When I connect to Facebook I get these delightful "notifications" that people have added comments to my status, left comments following my own comments on photos, etc. Nice. But every time I click to learn more about ONE of the status updates, I then lose the page that has all the status update notifications and can't find it again. Where the heck IS this crazy page in Facebook if there are no new notifications to make it appear on the home page???
Oh, man! I know exactly what you're talking about. I get tripped up with this each time I connect to Facebook too, and it drives me bonkers!
The problem is that Facebook tries to be smart and instead of it recording a notification as new until you view the related page, it only records it as new until you view the notifications summary page itself. Hence them all being marked as not-new once you've visited the page, even if you wanted to go back and see some of the additional notifications you'd received.
My workaround is to simply open each notification target page in a separate tag by doing a Cmd-click rather than just clicking on each. (by "notification target page" I mean the page that has the status comments or the photo page with the comments, etc, not the notifications summary page itself). It works, but I'd say it's not optimal.
Fortunately, after a bit of digging, I figured out exactly where the notifications page vanishes once you no longer have new updates to bring it onto the home page.
First off, here's what you're probably used to seeing on the top right of your Facebook page:

You click on it and get to a list of notifications, including those that are new, which are denoted with a little blue circle on the left:

To find this page without having any new status updates, you need to, rather unintuitively, go to your mailbox first (click on "View Message Inbox"):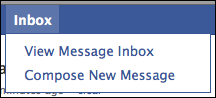 Then once you're there, you need to click on the "Notifications" tab:
Finally, here are the same list of notifications, but they're no longer marked as new (notice the little blue circle has vanished from each when you compare this screen capture to the earlier one):
Now you know where to find the list, I hope you can ensure that you keep up-to-date on all the status update notifications, photo comment notifications, group event notifications, etc etc etc that you receive!
What's that? Looking for more help? You're in luck. I'd also like to let you know that I have quite a bit of Facebook help here on the site and that I also have an Ask Dave Taylor Facebook Fan Page that I invite you to join.