My Win10 system is taking longer and longer to start up. I want to figure out what programs are launching on boot, and ideally remove some of them. How can I do that?
You ask about one of the great questions in the Windows world, whether we're talking about Windows 10, Windows 8.1 or even Windows 95: what programs and utilities are launched when you boot up a Windows PC? You'd think that'd be an easy question to answer, actually, but programs have a way of sneaking their way into the process and even Microsoft itself can't quite decide where that information should be stored.
Windows 10 is no different, with the Microsoft help documents telling us to use the System Configuration Tool to ascertain startup programs, but the app itself telling you to go somewhere else in the system to figure out – and control – these potentially annoying programs.
Let's have a look, shall we?
To start, launch System Configuration from your Win10 system with a quick search:
I've mentioned before how much I like the Windows 10 "Cortana" search, right? Use it. It's very good.
Anyway, launch the System Configuration app check out the controls it gives you related to system startup and boot:
Useful and an easy way to diagnose startup problems without secret keystrokes or boot sequence tricks!
Click on the "Startup" tab, however, and…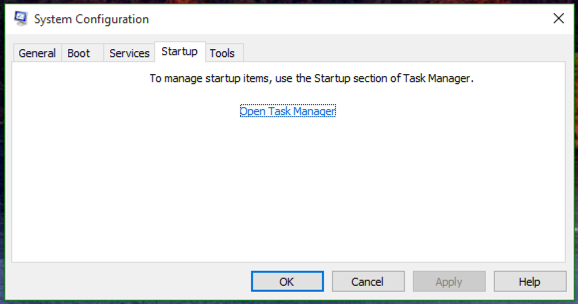 Oh, okay, so we are actually now supposed to go to Task Manager for this.
On the bright side, at least there's a link, right? Click on it.
From its interface, it appears that Task Manager is an even older program, maybe circa Windows Me? 🙂
In any case, here's the information you want, a list of all programs and utilities that are being launched when your Windows 10 system starts up. Notice in particular the "startup impact" column and check those marked "High" first. On my system notice that some of the high impact programs are disabled (like Ask Toolbar Notifier).
What surprises me on this screen is that I have iCloud Photo Stream enabled. Did I set that up?
And trying to disable this is a great example of how things are still rather more DIY than they should be: Instead of disabling it here, I'll go into the iCloud configuration program to do so, since that should be better, right? I do that by simply searching for "icloud" in Cortana and launch the program: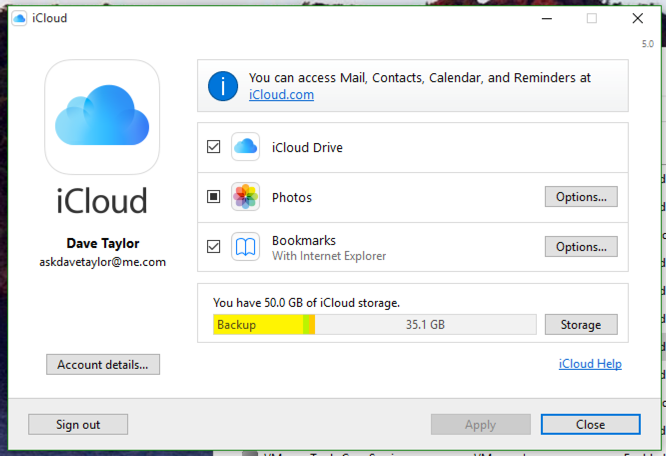 A click on the checkbox next to Photos and I've disabled iCloud Photo Stream. Which is then reflected in Task Manager, right? Wrong. I had to disable it there too. Ah well, at least now you know to pay attention to all these details, right?
And while we're at it, check out the running tasks window in Task Manager, sorted by CPU usage. It's a smart way to figure out what else might be slowing down your system:
Now it's up to you. Run Task Manager to figure out what's going on and good luck getting your system boot back to normal!