I've been trying to sell some stuff on eBay and always seem to price things too high, I guess. At least, I rarely get a bid on my sale items. Is there some technique for figuring out how much something is commonly selling for on eBay?
There are actually two ways that you can use eBay to figure out the going price for something: the average "Buy It Now" price on auctions still running (people who use those are usually pretty confident that they've pegged either the going market price or just a wee bit lower than the going rate) or looking at just completed auctions.
Let's check out the Edirol R-1, a nice little Mp3 recorder that I'm interested in selling on eBay myself. A quick search for Edirol R-1 reveals that there are just a couple for sale:

As you can see the first one is current bid up to $304 and the second has a Buy It Now of $349.99, so it's a reasonably safe first guess that about $350 is the going price for this item.
On the left side, however, there are additional search options that are well worth checking out: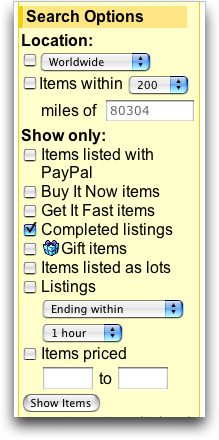 As you can see, I've checked "Completed listings". That's all there is to digging up auctions that have already finished up on eBay. Just click "Show Items" to do the completed items search, and we find:
This is darn useful: the average completed item sale price was about $250, though the price varied dramatically with a low of $254 and a high of $438 (which included a spare 1GB card). That last one is worth examining closely because in fact a 1GB Compact Flash card at Amazon.com is only $29.95, so if adding a $29.95 item can result in the auction closing for over $100 more than the typical value of the device, I'd say it's a smart step to add it!
At this point, I like to actually review the items that had the highest sale prices, to see what categories they used, note the key words in the title, and even examine the picture. Whatever they've done, that's what you should do too to maximize your sale value!
Finally, to come around to your original question, you can see that if the average item closes for a certain price, you want to have your opening bid for your own item below that point. In this case, if the opening bid were $350, say, we'd be pretty unlikely to get any bids and the auction would likely close without a winner.
You might also consider starting your auction quite a bit lower than what you believe is the going price, trusting that the auction process itself will bid the price up to the going rate in the marketplace. Indeed, when you're looking at a completed auction, you can see the bidding history by clicking on "XX bids" in the top section, like the "28 bids" in this auction:
Here's just a small subset of the entire bid history:
Notice the opening bid?
$1.00
. And this auction ended at
$307.00
.
Kinda makes me think of Dirty Harry: "D'ya feel lucky, seller? Do ya?"
This interesting article was original written by Chuck Eglinton, contributing editor to AskDaveTaylor. Thanks for your help, Chuck!