I noticed that there's a green arrow that's shown up on the right side of my address bar in Chrome. Since I have had lots of problems with malware and viruses, I don't want to click it. How can I figure out what it means or get rid of it?
Google puts a lot of effort into ensuring that its uber-popular Chrome web browser is safe from malware and other bad software that could show up on your system, whether you're running Android, Windows, MacOS X or even Linux. If you're not adding third party extensions and plug-ins, you should be pretty darn safe, and if you are adding extensions, make sure they're from reputable developers and, worst case, delete the ones you aren't sure about by going to More Tools > Extensions from the "•••" menu. That's a good idea anyway, just like toolbars; don't just add 'em because you can!
Now, if the green arrow is the one I think it is, that's actually part of Google Chrome itself. Really. It denotes that there's a system update available for the browser and that you're now running an obsolete and potentially dangerous older version. Generally speaking, Google does a really seamless job with upgrades too, so every tab you have will re-open once you've updated so there's really no reason not to do it immediately.
Let's check it out, because as you sent this in I also got a green arrow icon and was darn curious what it was about. You can see it on the right side, below…

The red icon is ExpressVPN (handy having it on the browser toolbar) but that green circle with the white arrow? No idea, I certainly have no memory of installing an extension that has that graphic. So what is it?
Turns out if you move the cursor over one of the little icons, it'll pop up a window that tells you what program or extension is responsible for that particular element. Like this:
At this point if you're super skeptical, you could ask "but is that really what it is, or is this some sort of scam trick to get me to click on it?" My answer: Yeah, that's what it is.
I'll find out by clicking!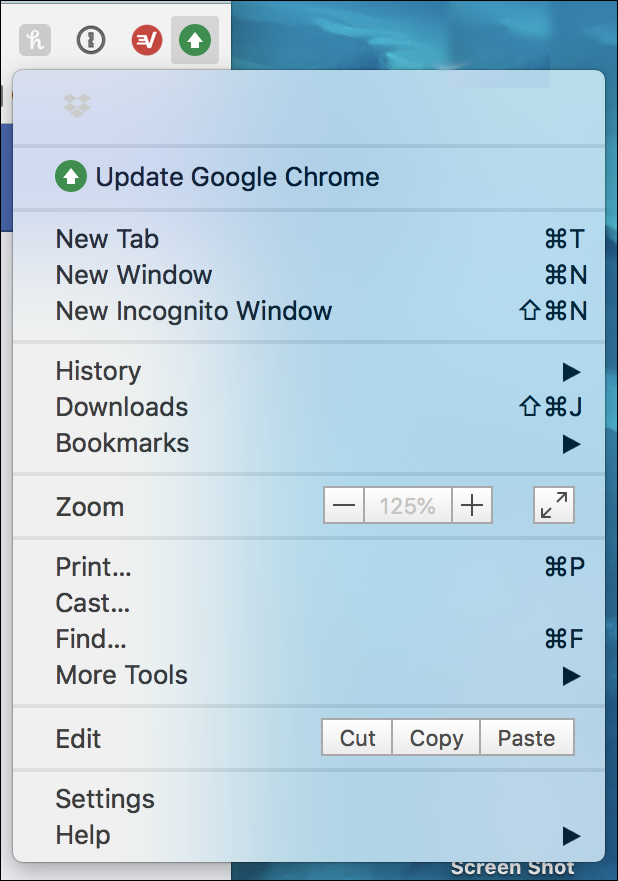 And it's only now that I realize that it's replaced the usual "•••" icon, which is clear when the regular Chrome menu pops up, as shown above.
Of course, it's the first line in the menu that's important: "Update Google Chrome". Okay, let's do it.
You can remain skeptical, but it'd be quite a hack to have this be something that's going to actually install malware rather than do what it says, update chrome and relaunch it.
Trust. Let's retain it. 🙂
Click on "Relaunch" to proceed. One of my tab has an unsaved blog draft, so here's what I see next:
In your case, probably it'll just relaunch. For me, I have to decide whether I want to cancel so I can save the unsaved work, or just dump it by clicking "Leave". Either way, Chrome quits and restarts with every tab restored. But now, the eagle-eyed among you will notice that the green arrow has gone back to the usual menu icon:
So there ya go. That's what the green arrow (alright, white arrow on a green background) means. Not too scary at all…
Pro Tip: I've written a lot of Google Chrome help on the site. Please take the time to explore!