It seems like not a day goes by without news of another online security breach. In fact, there were over 4.5 billion records compromised in 2018, and big names like Adidas, Under Armor, Panera, and even Facebook suffered from serious data scrapes.
With hackers running rampant and vulnerabilities likely at some of the biggest website authorities, trying to secure your data can seem like a lost cause. For many users, VPNs- Virtual Private Networks – seem like the perfect answer. Your data is secured, and you can browse freely with safety, anonymity and privacy.
But, what about speed? Since all of your traffic has to be encrypted on the VPN's server, does that security tunnel siphon resources and ultimately slow down your internet speed?
What is a Virtual Private Network (VPN)?
A virtual private network is a service that secures your internet browsing experience by routing your traffic through an encrypted server. So, instead of your router merely connecting with other servers on the internet, your router just sends all your Internet traffic to a single server that encrypts your queries before it sends that out to the Internet at large. By doing this, all of your traffic is secured via encryption, and you gain complete anonymity and security.
So, let's say you're in McDonalds browsing your favorite websites. If you're browsing without a VPN, your router is sending your traffic directly to that website. With a VPN, all of your traffic is sent directly to your VPN server — which encrypts your data — and then sent to the website. So, from the website's end, all of the traffic is coming from the VPN — not your computer.

How Secure Are VPNs?
All of your traffic is being routed to a server that acts as an intermediary between your computer and whatever website you're visiting. But how secure is this connection? How safe is your data?
That depends on a few factors. Each VPN provider will offer different services, have different servers, and use different technology. The blend of tech that your VPN provider uses will have a massive impact on your data's safety.
Let's go over a few of the variables that can impact VPN security.


1. Which Protocol Your VPN Uses
There are a few protocols that your VPN provider can use.
These include:
Point-To-Point Tunneling Protocol (PPTP): PPTP is one of the oldest protocols. Unfortunately, that also makes it one of the least secure VPN protocols available. We highly recommend avoiding any VPN using this protocol as it's considered "insecure" in today's digital ecosystem.

Internet Key Exchange, Version 2 (IKEv2): IKEv2 is one of the fastest, most reliable protocols on the market. It's new, and it packs a secure punch. We would recommend using a VPN that uses IKEv2. Some VPN providers — like

Surfshark

— use a blend of IKEv2and OpenVPN for additional security layers.
Secure Socket Tunneling Protocol (SSTP): While SSTP has great encryption methods, but it's limited to Windows and most other platforms/OS have poor support at best. While SSTP does offer some decent security, it doesn't have the speed or ability to maintain connections like its new-and-improved sibling IKEv2.

Layer 2 Tunneling Protocol (L2TP): L2TP is slow, and its security is questionable at best. Most VPN providers steer clear of this protocol, and its usage has dropped significantly since it was hinted that the

NSA could decrypt

this protocol.

OpenVPN: Finally, there's OpenVPN, which is the most robust protocol on the market. It's open source, well supported, and hyper-secure. It also has excellent speed, and it's incredibly secure (only uses two keys.)

2. What Encryption Technology Your VPN Uses
One of the critical components of a VPN is the ability to encrypt data. When you send your data to the VPN server, it encrypts that data and sends it back out, ensuring that your information is secure and cannot be traced back to you.
To do this, VPNs can utilize a multitude of encryption techniques. To be fair, trustworthy VPNs will pretty much exclusively use AES-256 (or higher) encryption. It's approved by the NSA, and it's the only encryption level significant enough to ensure data security.
3. Your VPNs Policies
A good VPN will never share your data. It's that simple. There are some confounding factors that could force your VPN to hand over data to law enforcement. But, the primary issue is whether or not your VPN is willing to hand over your data to marketers or big data think tanks. Reputable VPNs will never share your data willingly.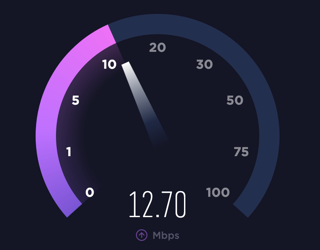 4. The Legal Limitations of Your VPN
Each country has its own legal limitations that they place on VPNs. Countries like the United States have relaxed VPN laws, and you can pretty much secure anonymity outside of significant legal issues.
In other countries (e.g., China, Russia, Iran, etc.) it may not be legal to use a VPN at all.
5. The Scope of Your VPN's Server
Finally, how much your virtual private network server can handle will impact your experience. While it may not directly influence how secure your data is, robust servers will ensure a faster browsing experience.
What About Speed?
Now that we've touched on what a VPN is and how secure they are, let's get to the point. Does using a VPN impact internet speed?
The answer is yes, sort of.
To be fair, all VPNs will slightly reduce your internet speed. But, for some users and some VPN services, the speed drop won't be noticeable. It depends on which VPN you use.
Here are a few factors that will impact your speed when it comes to VPNs.

Distance to the Server

: How far away you are from your VPN's server will definitely impact your speed. Let's say you live in the United States, but your VPN's nearest server is in the U.K. — that's a substantial distance that your data packets need to travel. If you're using a nearby server, most of these speed issues are mitigated. We recommend choosing a VPN with tons of servers available. Or, at the very least, use a VPN that has servers in your country. For example, Surfshark has

500 different servers

in over 50 countries. So, when you use the VPN, make sure that you connect to the server located in your country.

Encryption: There's a tradeoff for data security. The better the method of encryption, the longer it will take to send data back and forth between you, the VPN's server, and the destination. Really, these encryption times are minimal, but they do exist. We heavily recommend sticking with AES-256 encryption. It's secure, and the speed impact is minimal.

Server load: This is a problem that's more common in free VPNs. But, a VPN that has too many users on one server will likely cause speed issues. To mitigate this, most VPN users choose to use a paid service to minimize the chance of server capacity issues. Most reputable VPN providers will have enough servers to mitigate speed risks associated with server capacity.

Your ISP

: The most obvious issue when it comes to speed is your ISP. If your ISP is fast and reliable, you probably don't need to worry about VPN speeds. The speed impact of reputable VPNs is minimal (often unnoticeable,) so your ISP will be the first place that you should be looking if you're noticing speed issues.
Final Thoughts
Virtual private servers are a fantastic way to avoid data leakage in the digital world. They help protect your data by encrypting it and ensuring that your destination only sees the VPNs traffic — not yours.
Using a VPN doesn't have to slow your internet speed down noticeably. Usually, any impact on speed is minimal if you're using a good VPN service. Free or untrustworthy VPNs may be slow or inefficient due to server capacity issues, location issues, or poor server infrastructure.