I am trying to pin pictures from my photos on my iphone to Pinterest. I can click on the add, upload pin but am not able to select the file. Do you know how I can upload my pics? Thanks!
I know exactly what you're doing wrong because I was doing the same thing wrong for a few days trying to figure out how to get Pinterest to work on my own iPhone and how to add photos and pictures from my smartphone to the Pinterest site. I mean, on the computer, it's a breeze: click "Add", click the "Upload" option, select the picture, and you're good to go.
On an iOS device, however, it doesn't work that way because it has a completely different kind of file system, one where we mere mortals aren't allowed to peruse data file by file. Want to look at a picture? You need to be in the Photos app. This is true for the iPad as well as the iPhone, of course, so I'm going to show you the general solution for both devices, though more likely than not most people who read this will be iPhone users.
The first — and most important — step is to download the Pinterest app. Yup, you can't actually get the Web interface to upload images however you try because Safari, the web browser, doesn't have the ability to access the files and photos on your iPhone.
Here's the link: Download Pinterest for iOS.
Now with that installed, log in to your Pinterest account and when you start up the app, you'll see the most recent pinned image from the boards and people you follow. Here's what I see, a delicious recipe pinned by Jennifer Sikora: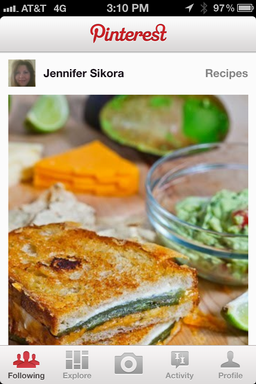 Look along the bottom, though, at the different icons. To post your own photo, tap on the camera icon. You'll move straight into photo mode: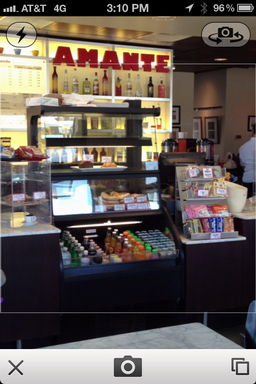 I don't want to post that picture, however, but one I already took earlier (and used iPhoto on my iPhone to edit and crop). To do that, I tap on the double square icon on the lower right corner. Now I'll see this: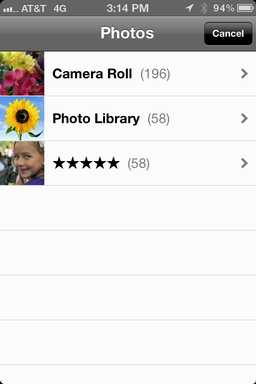 To get to my most recent photo, I'll tap on "Camera Roll", which puts me at a familiar spot: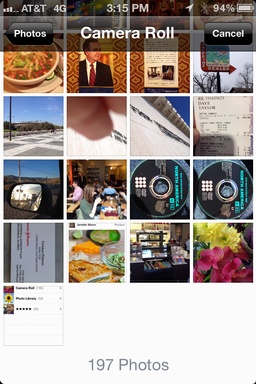 Yup, 197 photos. I take a lot of pictures with my iPhone! The picture I want to use is the one of the flowers, so I'll just tap on it, at which point I am invited to move and scale it (pay attention to this point, otherwise Pinterest will automatically crop the photo in a way that can end up pretty ugly):
Ready to proceed? Tap on "Choose" and it'll show it again, with a "Tap and Drag" prompt:
This time tap on "Use" and…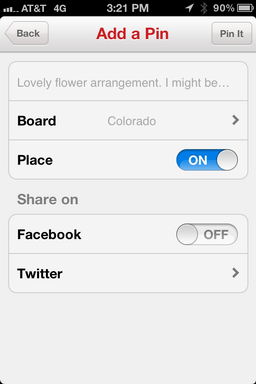 Now it's looking more Pinterest-like, isn't it? At this point you can add a description by tapping on 'Describe your pin…", pick which board you want to use, add a geolocation pin or not, and even simultaneously share it on Facebook and/or Twitter. You can see what I did above.
Ready to proceed? Tap on "Pin It" on the top right and…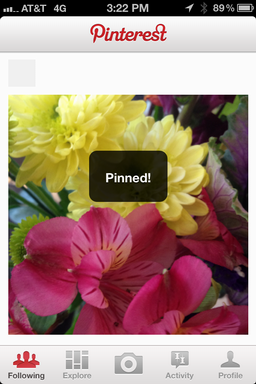 Now when you log back in to Pinterest with your Web browser, you'll see the new image show up just like any other Pinterest pin:
Pretty, eh?
Now, while we're talking about Pinterest, do make sure you
follow me on Pinterest
too. Thanks!