I love Pinterest but only use it on my PC. Can you show me how to pin photos from my iPhone 6 Plus too?
The first thing I'll say is that you're an unusual person in that you are mixing up the Microsoft ecosystem with a PC and the Apple ecosystem with an iPhone, and not asking about that. Well done! Most people find that it's easy to be in one camp (for example, Android & Google online) than to mix things up, though as you demonstrate, it certainly can be done.
In the same way, the experience of Pinterest is also surprisingly different on a desktop versus mobile device, logically since it's a photo-based service and, well, your phone is just a smaller screen, even the iPhone 6 Plus. That also means nifty interface tricks like the floating "+" button on the Web page isn't a part of the mobile interface. In fact, it's rather tricky to figure out how to upload a photo to Pinterest from the iOS 8 / iPhone app…
To start, here I am looking at the latest pinned images and photographs from my friends with the iPhone Pinterest app: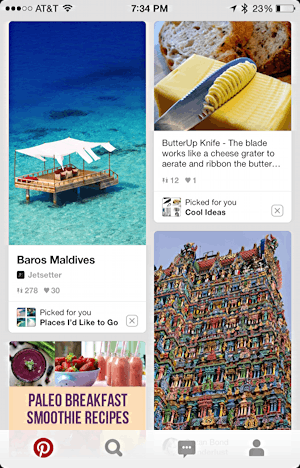 Nowhere on this screen is the "add new photo" or "upload" button, unfortunately. To get there, you need to switch to your own profile first – which, yeah, is a little weird. Tap on the silhouette on the lower right corner.
That's my profile page. Oh, and you can find me on Pinterest if you're interested too. Please feel free to follow some of my boards. 🙂
But back to topic! See the "+" on the top just under the current time? Tap on it and you'll have a choice of where you want to find the image you want to post:
In this case, I'm going to grab a photograph from my camera roll, so "Photos" is the choice.
Tip: I always recommend taking photos with the camera app, editing them as desired, then going into a photo sharing program like Pinterest or Instagram to post them rather than using those apps to take your pics too. 
The app will then show you the latest photos on your Camera Roll: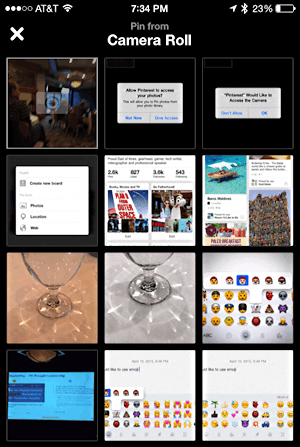 In this case, I want to post the photo of the water glass light reflections on the tablecloth, so I tap it to proceed.
I get to see the picture up close: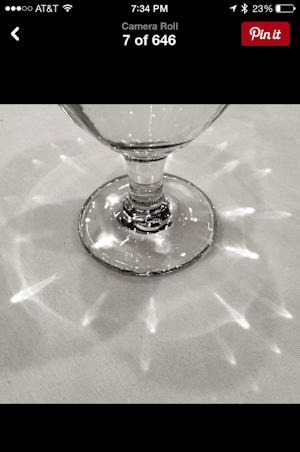 That's the one. A tap on "Pin it" on the top right and Pinterest shows me a list of boards and gives me a place to add a comment: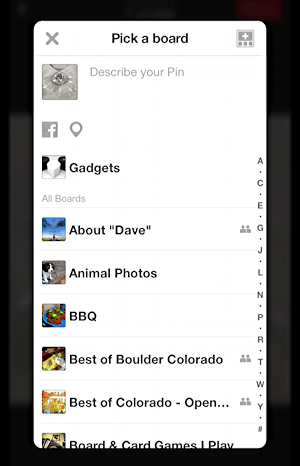 Pay close attention to the "Describe your Pin" spot because I find that I often skip that in my zeal to pick the perfect pinboard, just to realize that I've now posted something without any comment. Not so good.
So take a minute or two to describe your pin properly!
When you do then pick out a board, it's quickly posted and goes online, ready for everyone else to admire: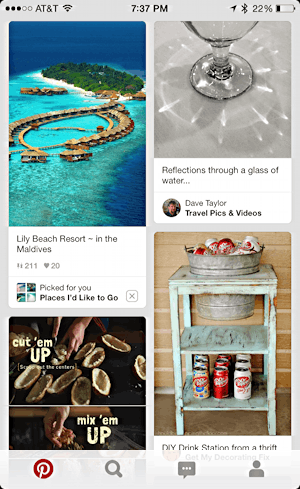 Simple enough, actually, once you learn that you have to navigate to your own profile to find the upload image "+" button required.