Now that GPS apps like Tom-Tom are showing up on the Apple iPhone 3GS, I'm wondering if I really need to buy those expensive apps when Google Maps that's included with the iPhone does such a great job? I know I can get directions, but can I get turn-by-turn directions like I would in a handheld GPS?
We think alike. I have a built-in navigational system in my Toyota Highlander and I definitely have fallen in love with it. I never get lost any more, even in cities with complex road systems, one-way streets, bizarre on-ramps and highways that change identity two miles after you hop on them. What makes it work, of course, is that the system keeps updating both its location on the map (e.g., your location on the map) and the next turn you need to make to continue traveling towards your destination.
On the other hand, the Apple iPhone 3GS does a pretty decent job of helping you with directions, though it's not quite as sophisticated. I often find that just having the directional path shown along with the little blue dot of my current location is plenty enough to find places.
But the iPhone mapping application from Google Maps is more sophisticated than that. Enter a start and end point (and don't forget the special location called Current Location that starts – or ends – where-ever you currently are located) and you'll see a map with the top portion like this: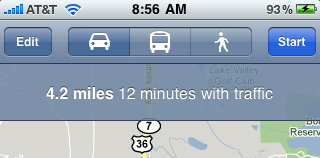 What a lot of people I know never do is actually tap on the "Start" button. Do that and suddenly you're getting driving directions along with the map: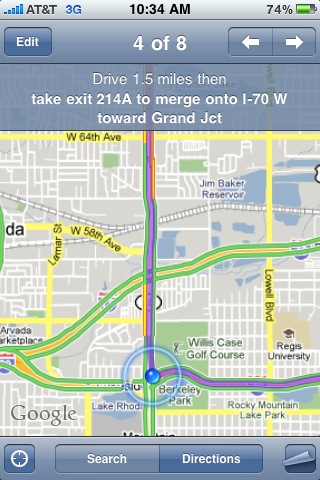 That's more like it!
Now, what's really cool is that you can replace the map with a full listing of all the steps involved in getting from point A to point B. This is done by tapping on the curled-box icon on the lower right. You can then see the iPhone mapping app preferences:
We're currently looking at "Map", as you can see is selected along the bottom row. Instead, tap on "List" and tap on the curled-box icon again. Now you've got something that looks like yet another nav system display: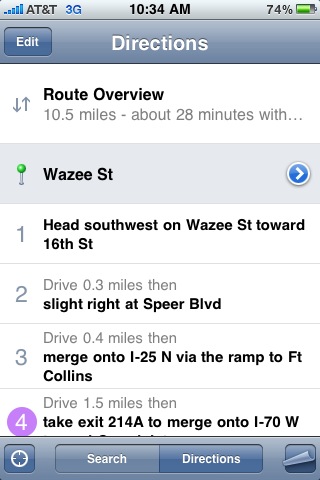 Now I should say that while this is really useful, I have found that the iPhone app doesn't always update as you proceed down your path, so the map view is probably a bit better in terms of ensuring you arrive at your destination without any missed turns.
Still, $99 for the
TomTom navigational app
[iTunes] is not cheap, especially when the phone already has many of its capabilities built in. Is it worth it? Well, here's a screenshot from that app: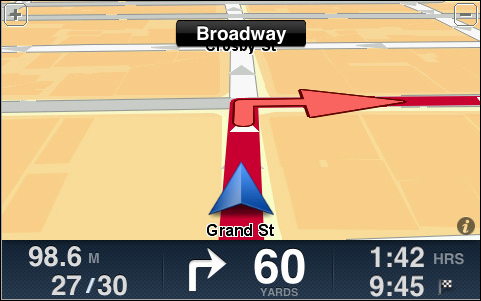 Yeah, that's still pretty darn cool, and you can't get that live perspective view from Google Maps on the phone. $99 is a lot, but if you drive a lot, it's sure nice to have your GPS in your pocket rather than as a separate device, and doubly-so if you use rental cars where they charge $10-$20/day for a GPS rental anyway.
If it weren't so darn expensive, I'd definitely buy it because the one time it helps me find a place with even less hassle, especially in an unfamiliar city, will more than pay for the cost.