I find Steam to be really demanding on my iMac when I'm playing games. Which is fine. Except when I'm done with a game, I want Steam to quit too. More importantly, how the $#@% do I stop Steam from launching when I start or restart my Mac?
Steam is an extraordinary platform for gameplay on Mac, Windows, and Linux, but you're right, it is annoyingly persistent. Most of that is related to where preferences and settings are located in the app, but it's a solvable problem, don't panic. First, though, did you know that Steam started being developed back in 2002 and had an initial name of Gazelle? While we're looking at stats, Steam has over 30,000 games and is the world's largest distributor of PC games, up 75% of the global market. Think about this: 50 -70% of the world's PC game downloads take place through Steam. Finally, Steam measured  24,535,923 concurrent users on April 2020 and has over a billion accounts. In other words, it's not just you. 🙂
Having said that, it's pretty darn cool to be able to access and easily buy, download, and play thousands of games on the Mac, all with the same user profile and account. But you're right, Steam is weirdly enthusiastic about starting up automatically when your Mac starts, restarts, or reboots. So let's fix that problem so you don't have to manually quit every time you restart.
HOW TO CUSTOMIZE YOUR STEAM SETTINGS ON MAC
Fire up Steam on your Mac system…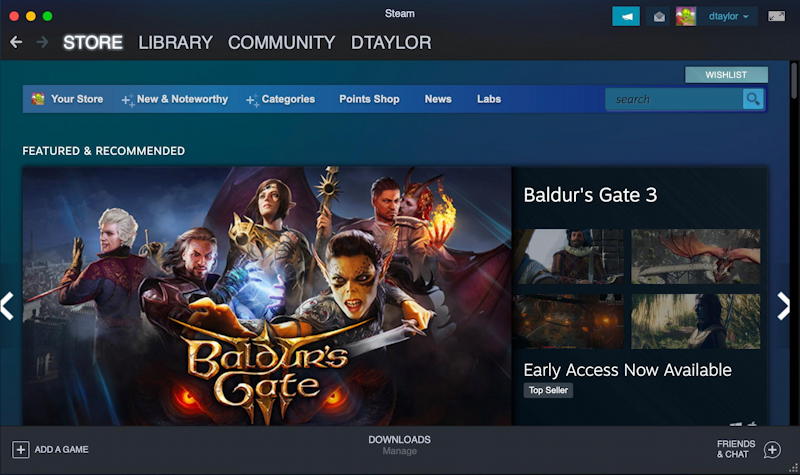 Now click on your account name on the top right to bring up the Steam settings menu: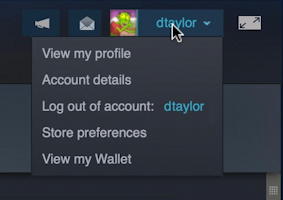 From here it's not entirely obvious where to go, because your profile and account details are focused on your Steam account, not on Steam the app on your computer. Store preferences, well, that's for the store, right? But… let's go to Account details.
At this point, click on "Preferences" on the left and you'll see all of these options, settings and preferences: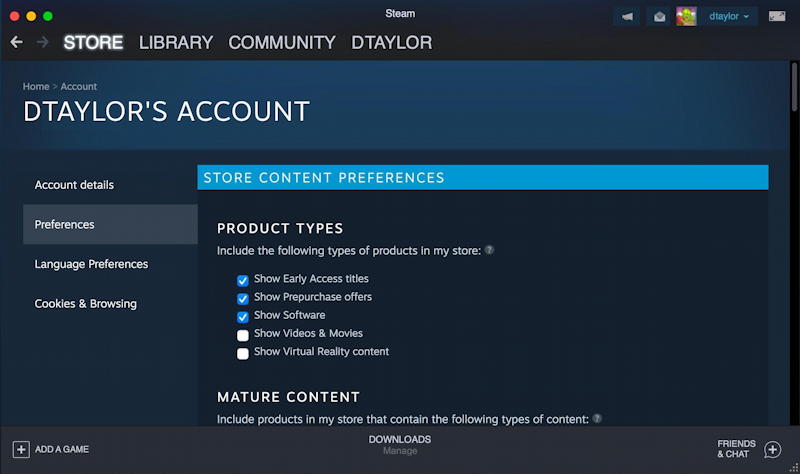 This is very helpful for fine-tuning your experience within Steam, but it still hasn't solved the problem. Because we're looking in the wrong area entirely…
SET STEAM PREFERENCES IN MACOS X / MACOS 11
Instead, go to the Apple menu on the top left (while you're still running in Steam) and click to choose "Preferences…"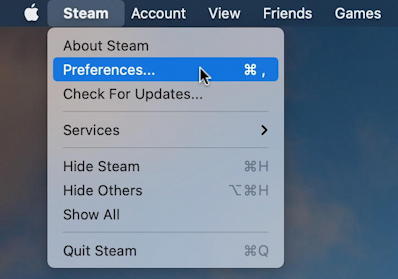 Once you choose Preferences, you're now changing the preferences for the Steam program on your Mac, not your profile within Steam's online world. Which is good. 🙂
Not only that, but this then gives you the ability to change the status of "Run Steam when my computer starts" once you move into the "Interface" section on the left: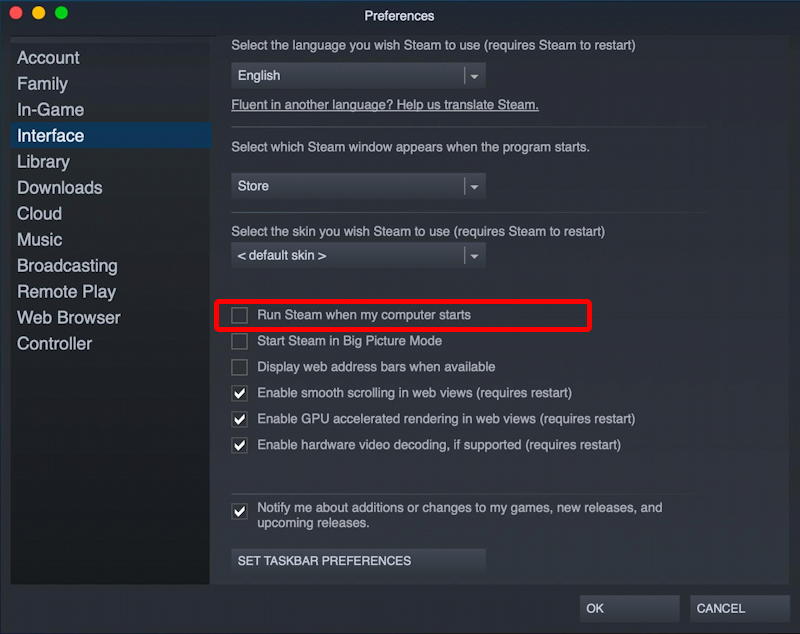 And so, finally, click "OK" and you've disabled the default setting of having Steam automatically launch when your computer otherwise starts up.
Then again, there's a shortcut too…
THE QUICK SHORTCUT TO STOP STEAM STARTING ON LAUNCH
Don't want to mess with all of these menus? While Steam is running, try doing a long-click on the program's icon in your Dock. A menu pops up at the bottom of your Mac screen:
Choose "Open at Login" so that it is not checked (in the above, notice that it is currently checked), and you're done.
CHECK WHAT PROGRAMS AUTOMATICALLY LAUNCH ON MAC STARTUP
Curious about what programs you do have starting up when you start up your system and login to your Mac account? That's easily ascertained through Apple > System Preferences… From that panel of icons, choose "Users & Groups":
Then choose your account and click on the "Login Items" tab along the top. It'll show you exactly what's queued up to launch on login:
As you can see, I have a pretty slim lineup for performance reasons: iDrive, Dropbox, and the super helpful Clipy utility. That's it.
With all of this information, I hope you can tame that wild Steam app and get back to work!
Pro Tip: I've been writing about MacOS since the days of Multifinder! Please check out my huge Mac help library for hundreds of useful tutorials and how-to guides while you're visiting. Thanks.