My friend sends me photos from his late night parties via text message [actually, it's MMS, the multi-media message service that he's using] and I want to send him pics too, via text message, but I don't know how. Got some tips for me?
It must be a lifestyle difference or something, but usually when I'm text messaging and sending photos, it's of animals. Still, whether alcohol and loud music is involved or not, the basic concept is certainly the same. 🙂
Though you can take pictures while you're in the midst of text messaging, I have to say up front that I have better luck using the camera app on my phone to take pics until I get one that's really good and ready to share.
Once I've done that, I go into the "Messages" app and find our conversation.
From there I typically start a new text message…


then tap on the little camera icon. This pulls up a menu with two choices:


If you want to take photos at that very moment, tap on "Take Photo or Video", or, if like me, you already have a photo (or video, though be careful, they can be huge!), tap on "Choose Existing".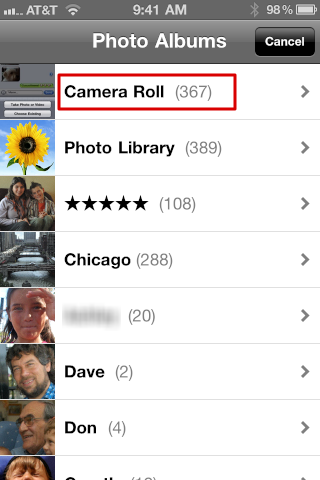 Pictures you have taken with the iPhone's built-in camera are stored in "Camera Roll" (the rest have come from my computer when I sync my phone and my Mac)


Find the picture you want to share from the thumbnails – my demo is of my cat! – and tap on it. Now you'll verify that's the picture you want to send:


Looks good? Tap on "Choose" on the lower right and it shrinks right down to show up in the text message window:


You can add more text if you'd like, or just tap on "Send".


A reasonable size photo is sent, though the iPhone (and most MMS text messaging friendly phones) show a small thumbnail in the text message app: you have to tap on it to get a larger view. If your friend doesn't have MMS-capable text messaging, note that they'll get everything but the picture, and be baffled.
Now, back to those parties with you!