I have lots of MySpace friends and know that a bulletin is supposedly an efficient method of sending a message to 'em all at once. But I'm not entirely sure how to send a bulletin, and don't want to look like a n00b by doing something wrong. Can you take me through the steps, please?
The first step to issuing a bulletin is recognizing that most of the denizens of MySpace ignore 'em, as far as I can tell. If that's cool, then here's how you proceed…
Log in to your MySpace account and scroll down to where it tells you about new messages, friend requests, etc: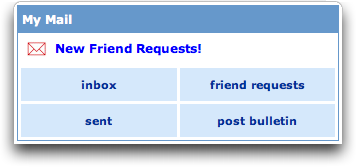 Click on "Post Bulletin" and, confusingly, you'll see a list of the bulletins you've received along with yet another chance to select "post bulletin". Click on that and, finally, you'll see an empty input box: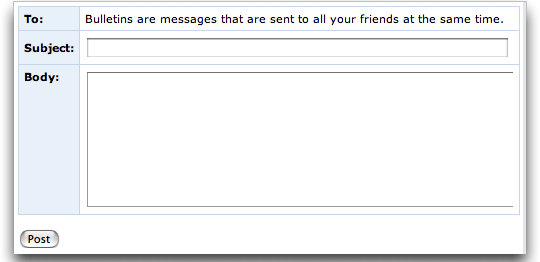 Type in your bulletin message, making sure to pay attention to the title (if it's not catchy, people won't open it) and remembering that you can use basic HTML to jazz up your message too, including using background colors, different size fonts, and more. Personally, I suggest you minimize your use of graphics since it slows down rendering the message and also tends to encourage crass marketing drivel that probably isn't going to work well anyway.
Once you think it looks good, you'll get a preview after you press "Post". Here's one I recently sent out: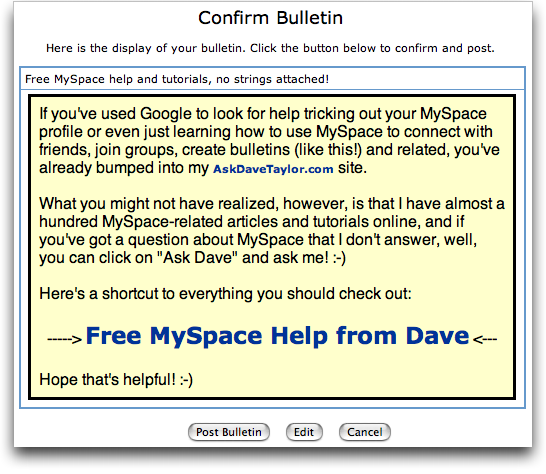 Ready to go? Click on "Post Bulletin" and you'll get a confirmation message:

That's all there is to it. Hope that was helpful. If you seek additional information, don't forget I have lots of
MySpace Help
here, and if you need a friend (and don't we all!) feel free to visit my own
myspace profile
and 'friend' me.