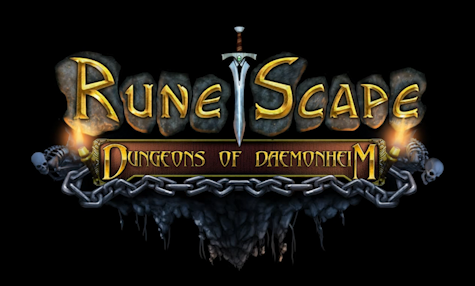 So you want to know how to be good in Runescape? How to train your account after you just started? Well this is the perfect guide for you. Today I will tell you how to make money as a level 3 player, how to train for certain skills etc. So let's get on with it!
Getting a weapon and training combat
When you come out of Explorer Jack's house you should be able to see a building with dummies in it which you can hit for combat training. Talk to the melee instructor and get a free training sword and shield. Go to the nearby general store and get all the free stuff there including the bronze dagger.
Go the fishing and axe shop which are in Lumbridge too and get the free tools there. It will all come in handy. Now for combat training, cross the bridge near the furnace and you should see a paddock with cows in it. Go in there and start killing the cows for combat training. Don't pick up their bones which you could of course sell but I'll tell you how to make money with those later.
Now you know how to train combat I'll tell you how to make money…
Money making for low-levels
Several good ways to make money for low levels is to kill cows for cowhides and sell them at the Grand Exchange for around 200 coins each. Another way is to kill chickens for feathers and sell them for 14-16 coins each. Chickens drop up to 15 feathers per kill. Another good idea is to fish crayfish with the crayfish cage you have if you haven't dropped it. If you've dropped it get another one from the fishing shop and fish crayfish behind the shop and bank them in the Lumbridge castle bank.
Other ways include mining. When your bank is full of goods ready for sale you can go to the Grand Exchange in Varrock north of Lumbridge and talk to the Grand Exchange tutor to start buying and selling.
Then go to the bank at the Grand Exchange and click the note withdrawal button. Withdraw all your cowhides, crayfish or whatever you had banked and talk to the Clerk and click sell. Then just offer your noted item and wait until it sells, of course it might sell right away. You don't need to be logged on while the items are selling.
As you level up your skills and complete certain quests you will be able to use faster and more reliable ways of making money. Never sell your items at a general store because most items don't sell at a good price there and the price lowers even more the more you have already sold. I hope you will have fun making money because it is usually boring.
Magic and Summoning
These are both very useful skills to train but Summoning is members only. If you are a free player I still highly recommend you to train magic. This skill allows you to cast fiery powerful combat spells at your enemies, teleport quickly to the main cities and towns of Runescape, turn other items that you have into gold, charge obelisks to make battlestaffes (members) etc. But doing all this costs money because you need to buy lots of runes to cast the spells.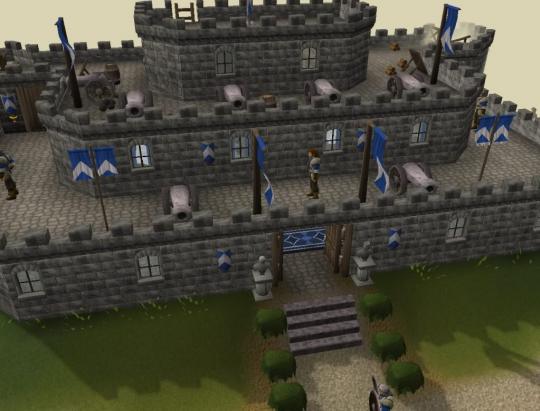 Runescape: Lumbridge
If your magic level is only 1 then the only spell you will be able to cast is air strike, the most basic combat spell. Go to the Grand Exchange and buy lots of air and mind runes (these are fairly cheap) and go back to Lumbridge or teleport back there using the Lumbridge Home Teleport Spell (no magic level required) then go cast air strike at the goblins in Lumbridge.
As you level up your magic level you will be able to cast better spells to level up your magic. See how you're supposed to do that in another article as this is a beginners guide.
Summoning is also a useful skill but you have to be a member to train it. After you finish the wolf whistle quest your summoning level will go up to 4. Then you can buy summoning puoches of level 4 familiars and summon them. All familiars will help you fight and carry some items for you so they are really useful.
To train summoning you have to make summoning pouches. This Is rather expensive but if you want to summon better familiars then you have to do it. Summoning also allows you to get pets. Go to the pet shop in Taverley and buy a pet that you can take care of at your summoning level. When you buy a pet it should appear in your inventory. Drop it and it will follow you around. You will have to feed your pet before its hunger level reaches 100% or it will run away. The pet shop should give you instructions on how to feed your pet and what to feed it. Hope you have fun with summoning.
Runecrafting
Runecrafting is also a highly useful skill, especially if you cast tons of spells and as runes are expensive in large amounts I highly recommend you train for this skill. Before you can start you will have to complete the Rune Mysteries Quest (very easy). After you finish the quest the head wizard in the wizard's tower will give you an air talisman which is required to start runecrafting.
If you don't want to buy the rune essence yourself then you can mine it. Go to the magic shop in varrock and have Aubury teleport you there. You will need to bring the best pickaxe that you can wield but put the talisman in the bank. Once there mine a full inventory of rune essence and find the portal to exit.
From the magic shop run to varrock east bank and deposit the essence there. Repeat until you have at least 500 essence in your bank. Then go to the grand exchange and buy a plain tiara. Go to varrock west bank and fill the rest of your inventory with essence. Run to the air altar. Go west from the bank until you see the mysterious ruins. Enter them and you will see an altar. Click on it and look in your inventory. You will see that the essence has turned into air runes and the talisman into an air tiara.
Wear the tiara and go back to bank to deposit the runes. As you level up runecrafting you will be able to craft higher level runes. Although if you are a free player you will only be able to craft the four elemental runes and mind and body runes. If you are a member you can craft every rune in the game so it will be very useful for magic.
Combat
Wondered why you don't hit very often or very low or get hit a lot?
Well in melee combat Attack, Strength and Defence determine that. The higher your Attack level is the more times you will hit. Strength determines how high you hit and Defence of course increases your chance of blocking an Attack. In ranged and magic only the one skill is important. Constitution is important in all types of combat. It determines how many life points you have. So always get your combat skills high before fighting high level monsters.
I also want to explain one more thing before I'm done:?
All the skills in the game can be leveled up to 99 and dungeoneering can even go up to 120. It will take you a very long time to do this, depending on how much you play. Also members can get skillcapes when they reach the highest level in any skill so they can show everyone else that they achieved that.
I hope that you will have lots of fun playing RuneScape and become a member someday when you finished all the F2P quests or just when you just get tired of being a free player. Membership has tons of benefits in-game and it's only $5.95 per month.
This Runescape article is a guest submission by matthewdj9. If you like it, let us know so we can add more to the site.