I recently purchased a new iPod; the Apple Nano 8GB, in silver. I don't use my iPod very often. But when I do…I do!! It is billed as the most popular music player in the world. I can understand why…
The iPod is a very versatile entertainment center when I travel. I had a long delay, and flight to LA a while back. And having the iPod really helped cut down on "stuff" to bring on board. Normally, I bring a few books, and some work to keep me busy on a flight.
I simply loaded my iPod with music, several classic books I've been meaning to read (I missed The Great Gatsby in school). I also loaded up a videotaped conference I needed to take notes from for work. That would have been an extra 10 lbs of luggage to deal with.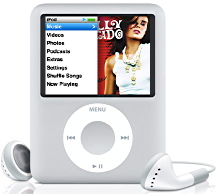 The iPod cut all that out. It is very light, and easy to travel with. It weighs in at an anorexic 1.74 ounces. Its other vital stats are: 2.75 x 2.06 x 0.26 inches (H x W x D).
The displays are very clear and easy to read. I am not blessed with good eye sight, but can easily read and access the menus. The Nano has 320 by 240 resos, which makes it 65% brighter than before.
I am very impressed with the sound quality of the iPod Nano: from the music, the video, and the audio books I have loaded and listened to, or the videos I have watched.
The menus are easy to organize and navigate. With single finger dialing, I could go from Gatsby to Beethoven in no time at all.
A quick word about styling: I think the polished silver and aluminum casing is beautiful and stylish. I think silver is a very sophisticated, and modern look.
My only negative toward the iPod is the ear buds. I find them to become uncomfortable when used for more than 15 minutes. I try adjusting them in my ears, but I cannot seem to be able to find a comfortable position.
I would highly recommend the Apple iPod Nano 8GB. Especially when traveling.
What else do you need when chomping down on airline pretzels, and the complimentary can of pop they give you?
Bernie Tague is an award winning screenwriter, who was born in Scotland. He moved to the states when he was a wee lad of two. He now lives and works in Southfield, Mi. The next movie capital of America.