If you're not using a utility or two to keep your Mac clean of junk, malware, and unneeded programs, you're not getting everything you should out of your Apple system. The solution? MacKeeper, from Clario Tech…
I've been running Mac systems since the introduction of the very first system, the 512K. Look at it now and you'll be hard-pressed to imagine how it was useful at all with its little 9-inch screen, but at the time, it was the cutting edge. The Mac operating system was so much simpler then too, it wouldn't even let you run more than one program at a time. Then "Multifinder" was released as part of Mac System Software 5. By System7 it was integrated, and by Mac OS9 Apple's developers could anticipate the increasing complexity of the operating system and switched Mac OS to a Unix foundation, MacOS X, released in 2001.
The system has indeed continued to become more complex every year and now it's almost impossible to keep on top of every utility, every folder, every potential malware attack, without help. Enter Mac maintenance utilities. I've previously reviewed CleanMyMac X and found it very useful, so when Clario Tech invited me to check out MacKeeper, a direct competitor, I was up for the challenge and curious to learn what would be different.
Turns out that MacKeeper is a solid option for all Mac users, whether you're sophisticated and babysit your OS or whether you're a hands-off user who doesn't care to know about the internals of your operating system. It runs all the time and is accessed through a simple icon on your menu bar that highlights its three key features:
The program is focused primarily on three areas of your Mac system: cleaning, boosting performance, and user privacy and security. Perhaps the most interesting aspect is that MacKeeper also includes a Virtual Private Network (VPN), something I've been paying separately for through ExpressVPN for many years. An integrated service is a win (though it's a bit slower than ExpressVPN based on the tests I've run).
What's a VPN? It's a way to ensure the privacy of your Internet connection, of particular benefit when you're on a public wifi network. Otherwise, someone else could be secretly monitoring your Internet traffic, the images you download, even the information you share on insecure Web sites (like your login credentials). You can read more about VPNs on Mac in this article if you're curious: VPN on Mac? Here's the Scoop.
When talking about Antivirus and malware, it's tempting to echo that some Mac people say our systems aren't susceptible, but that's just not true. Particularly when you remember that malware can include file and document viruses too: I've definitely been hit more than once with Microsoft Word script viruses on my Mac computers over the years.
A click on "Open" on the top right and the full MacKeeper program is launched, with all of its many, many features: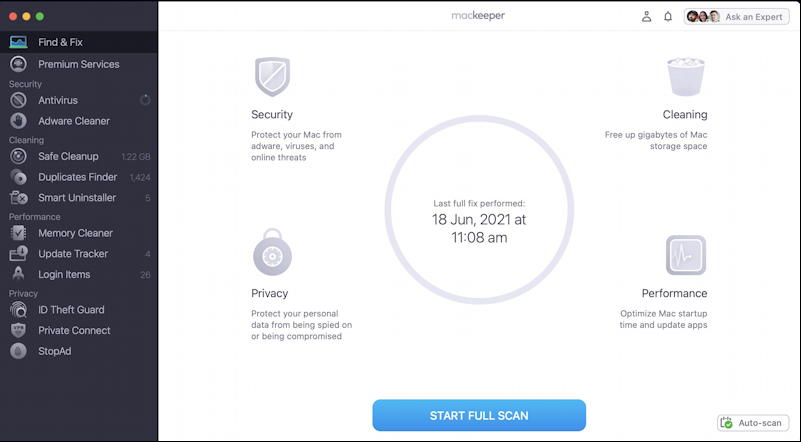 If you look down the left side, you'll see the main areas are: Find & Fix, Premium Services, Antivirus, Adware Cleaner, Safe Cleanup, Duplicates Finder, Smart Uninstaller, Memory Cleaner, Update Tracker, Login Items, ID Theft Guard, Private Connect and StopAd. Quite a lot of features, but since the program's always scanning your system to keep your Mac safe, you can just utilize the Find & Fix feature, as shown above.
The Premium Services are worth mentioning: If you need live hands-on assistance with your Mac system, this offers 24/7 access to Clario/MacKeeper technicians who can dig deep and help with any technical issues you might have with your Mac, iPhone/iPad, Windows PC, Android tablets, printers, scanners, microwave, garage door opener, thermostat, etc. Think of it as your own technical support team. Priced separately from MacKeeper itself.
Rather than run the central utility, I'll show you some of the individual components instead. Let's start the tour with Safe Cleanup:
Check the left side for details: While 931MB of the files identified are in the Trash, another 300MB are spread across log files that I never check, caches for programs that are old and unnecessary, language files for languages I don't have enabled, and so on. The very first time you run Safe Cleanup don't be surprised if you have 10GB or more of space that you free up. Log files and similar can definitely grow without bounds if you're not maintaining your Mac.
Smart Uninstaller is interesting too, because it can show apps and programs on your computer that you have never run. Why would you have programs you don't run? Because you forget to remove things once you stop using them. Here's what Smart Uninstaller reports on my system:
In case you can't see, it's reporting five programs that are unused: GoToMeeting, Automower @ IZEA, PIX, Blackmagic Disk Speed Test, and ApowerREC. I might use a few of these in the future, but a program like GoToMeeting? That's easy to check and "Remove Selected" to free up space. You can also sort by app size to see which app on your Mac is the biggest. For me, it's 24 Hour Wallpaper, tipping the disk space scale in at an impressive 11.29GB. If I was having a disk space crisis, that might be one to uninstall to free up space!
Once I uninstall a few of these unused applications, MacKeeper reports the result:
I should note that the MacKeeper user interface is full of cheery icons like the above, even if the program itself is rather less UI daring than the eye-popping CleanMyMac X program.
The addition of the App Store for MacOS was rather late in the game, so most of the applications on my Mac system are not from the Store but rather directly from the developer. All good, but it does make keeping apps up-to-date challenging if you don't routinely launch every program, A to Z, to check for updates. Except MacKeeper has an Update Tracker! When I ran it I learned that I have three programs that have available updates:
The updates are easy to apply: Just click "Update" and MacKeeper will do all the work. Super easy. It doesn't know how to check for updates for every single program on your computer, of course, but it's a helpful addition to your toolbox. It also replaces an old program called MacUpdate if you've been running that forever.
One of the best utilities for people trying to clean up and improve the performance of their Mac is Login Items. I keep a lean system but it still launches twenty-six programs every time I start up my MacBook Pro:
I recommend that you be careful removing anything without doing some research to find out what it is, but if there's any malware on your system, this is one place you might find it. My list includes 1Password, 24 Hour Wallpaper, Clipy, Dropbox, Google Chrome, iDrive Monitor, and Spotify. Quite a lot, actually. If you're frustrated that your system restart is slow, this is where you look to clean things up!
This brings us to the MacKeeper Virtual Private Network (VPN), which you can access off the shortcut menu from the menubar, or the Private Connect link on the MacKeeper system. Here's what it shows when I'm running the VPN to protect my data while at the local Starbucks:
It can pick your closest server, but you can also choose to use a VPN server in any of dozens of countries around the world, ranging from India to Mexico, Ireland to Germany, Russia, China, Israel, and many, many more. Why? Some services check to identify your location before allowing you to utilize their services and this also then lets you pretend to be anywhere on the planet. Handy!
There are more features in MacKeeper, but these are the key capabilities in this super useful utility that I find myself using time and again. I'm impressed, it works well, includes lots of features with a single unified interface, and will keep your Mac safe, fast and clear of junk. What Mac user doesn't want a 'bot doing that behind the scenes for their system?
Finally, a word on pricing. There are basically three pricing plans. A 3-Mac system license which prices out to $62.40 per year (that's $1.73/mo per Mac if you want to calculate it that way), a single Mac annual plan that costs $60 per year, and a month-to-month single Mac system plan that costs $10.95 a month. All three of these plans include everything I've discussed, including the VPN, with the exception of the separately priced Premium Services.
If you don't already have a maintenance program on your Mac that you run every day, this is a fine option that will definitely improve your MacOS experience, whether you're still on MacOS X or have jumped to MacOS 11.
MacKeeper, approximately $20-$60/year, from Clario Tech DMCC. Learn more at MacKeeper.com
Disclosure: Clario Tech sent me a license for MacKeeper in return for this review. Thanks, CT!