However obsessive you are about keeping your Mac system lean and fast, unneeded files creep up and steal space, extensions stick around after you need them and utilities fall behind the update cycles. The Mac has its own cleanup that happens behind the scenes, but you can accomplish a lot more with CleanMyMac X from MacPaw. I tried it out and here's what I found…
As a long time Mac aficionado, I always found it amusing that in the Windows community a common recommendation was that you wipe and re-install your Windows OS about once a year. The intent was to get rid of all the unnecessary junk and unneeded files that otherwise cluttered up and slow down the system. Surprisingly, it turns out that Mac systems also get cluttered and slow down over time too! Perhaps it's just the nature of personal computing, especially when we keep trying different programs and switch from task to task.
MacOS X includes a variety of cleanup scripts that work behind the scenes on at daily, weekly, and monthly basis. That's one reason you should occasionally leave your computer running overnight; to ensure these system scripts have a chance to work. But is that enough? That's where utilities like CleanMyMac X can prove to be invaluable. If they work…
MacPaw sent me a license to try out CleanMyMac X so I installed it on my main workhorse 2019 MacBook Pro system. From the very first screen, one thing that strikes you is the beautiful, carefully designed user interface. This is one of the most attractive programs I've used on my Mac system for quite a while. Even the opening screen: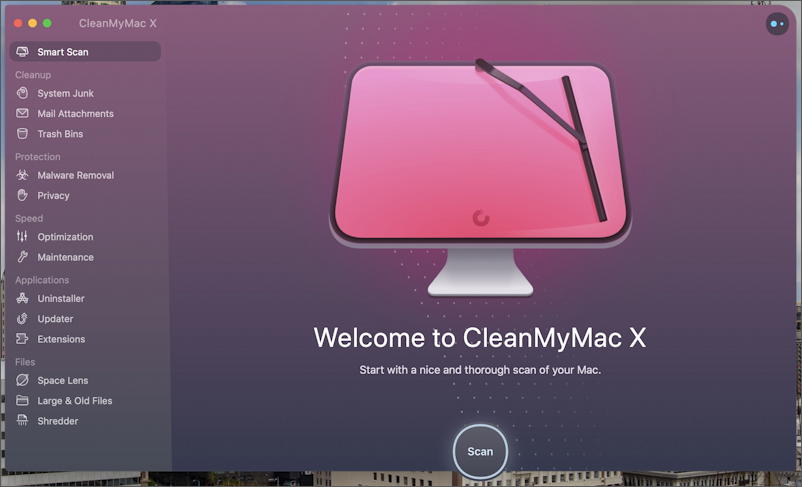 Notice that the Scan button actually extends below the rectangular frame of the app too. Fancy!
The main functional areas of this extensive program are shown on the left side, and yes, it includes a realtime malware scanner you can enable to help keep your Mac clean of viruses and other cruft. I'll get back to that in a bit, however.
For now, a click on "Scan" spins up the main featureset which offers up three categories of results: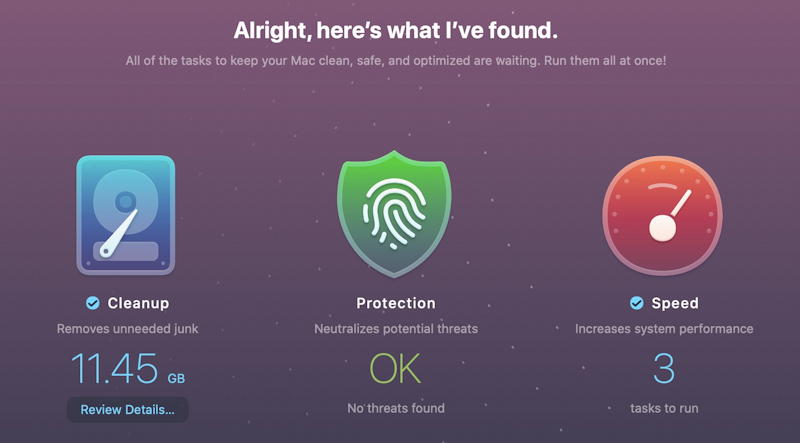 As you can see, it's found over 11GB of junk files that I can safely remove, scanned for malware and found none (yay!) and identified 3 tweaks that can offer up better performance. All darn interesting to learn more about, right? I'll start by clicking on the Speed recommendations, actually, since I try to keep a lean system. Here's what it suggests: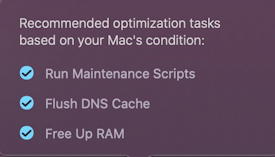 There are those maintenance scripts I talked about earlier, the daily, weekly and monthly MacOS X cleanup programs. Flushing the DNS cache might speed up my Mac a bit, but freeing up RAM is definitely good as not every program releases its memory correctly.
How about that 11GB of wasted files and system junk? A click reveals a more detailed listing: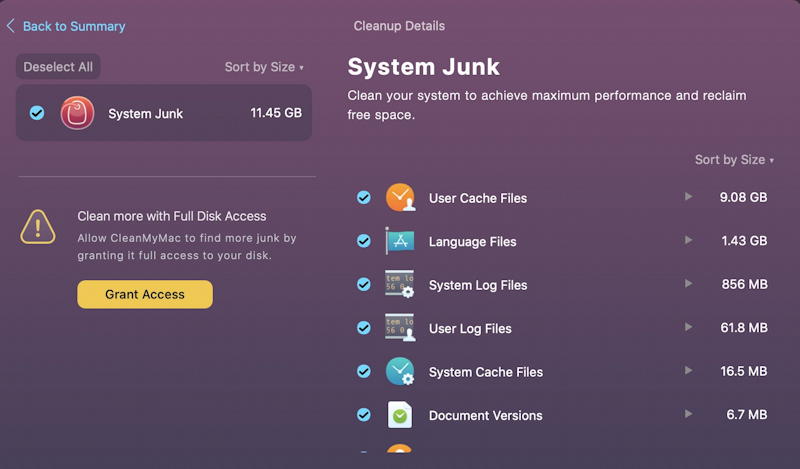 I have 9GB of user cache files? Sheesh, what a waste; these are temporary files that aren't intended to stick around but clearly are eating up valuable disk space. In fact, all of these files are indeed junk (with the possible exception of the Language Files if you're polylingual). Notice the warning "Clean more with Full Disk Access". I encourage you to set that up — it's a setting you'll have to enable in System Preferences — but if you want to have CleanMyMac X just scan your own files and the system files you have access to, that's okay too.
Back to those Language Files. Turns out you can click into any of these categories and not only learn more, but selectively skip files or folders when otherwise cleaning up the mess. For example: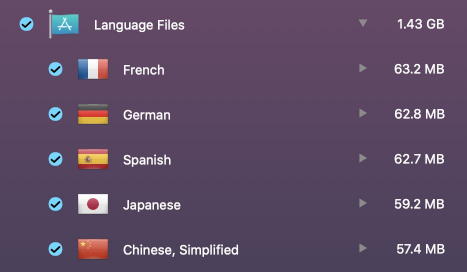 You can even go further into it and delete, say, German from your creation tools but not from your Web browser. Or you can just say "heck, let's just delete it all!" and proceed. That's what I did. I mean, hey, 11.4GB is a useful amount of space to recover, and while I don't anticipate that the performance improvement tasks are going to actually speed up my Mac, there's certainly no risk to running 'em either.
If you're really hungry for disk space, there's more you can explore. For example, email attachments: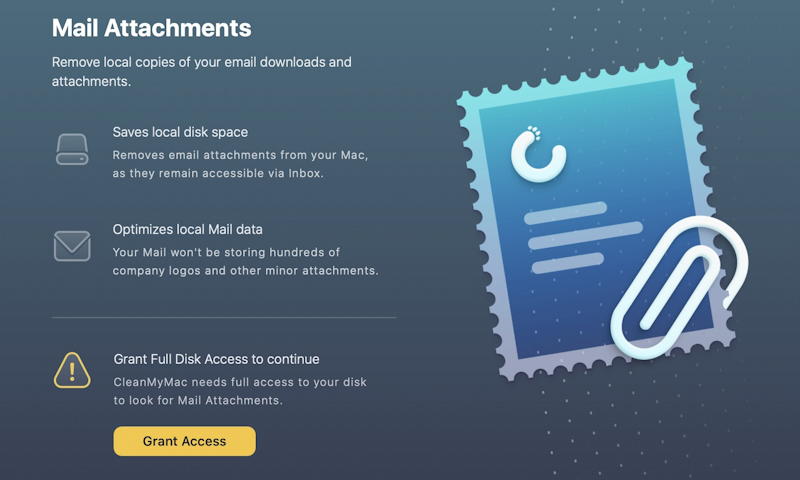 More interesting to most people, however, is the ability to scan your Mac system for viruses and other malware that could be lurking, waiting to cause trouble. There's a common refrain of Mac users that Macs are invulnerable to malware, but more and more that's proving to be false. Apple has an informative article talking about what's built-in to MacOS X to help you avoid malware, but it also implies that if you really want to be safe having some dedicated anti-malware software is a smart idea. Check it here: Protect Your Mac from Malware.
One of the features of CleanMyMac X that surprised me, actually, was that it includes not only a malware scanner, but a real-time malware protection feature that I have running right now as I type this, with zero discernable impact on computer performance. The Malware Removal page has more info:
Do I wish that there was no such thing as malware and that bad guys found some other avenue for their malicious creativity? Yes. Is wishing going to keep me safe? No. So a scan is a smart idea. Hop into the CleanMyMac X preferences and you can ensure that the real-time protection is enabled too:
Back to the program, though. Another common way that people put their Mac systems at risk is by not updating all their software. It's easy to do, particularly if the programs don't check for updates when launched. My challenge is programs that I rarely use: How can I ensure it's up to date if I haven't launched it in a year or more?
That's where the Updater feature in CleanMyMac X can be darn helpful, as it explains: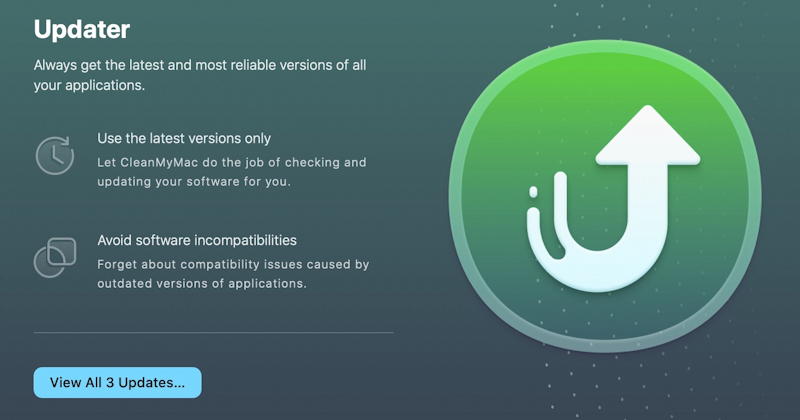 I had unapplied updates to my Apple Pages, Apple Numbers and Apple Keynote programs, all of which were easily applied directly from the Updater page. Easy. Useful.
Speaking of useful, a click on "All Files" in the program and you can see every file on your Mac system, sorted by size. Yes, I have some pretty big files, particularly my Final Cut Pro X video archives: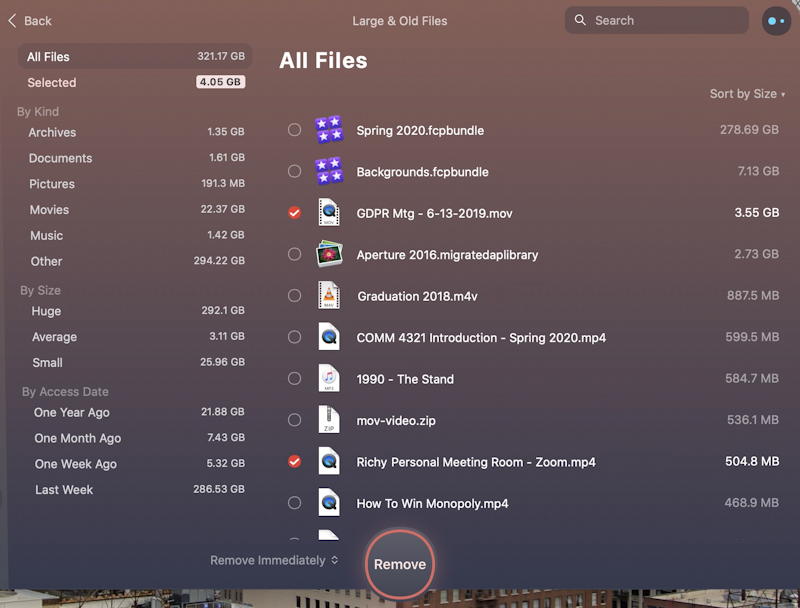 As you can see, there were two files I decided were safe to delete too, adding up to over 4GB of additional space. They were tucked into a folder for a project that sputtered out so were really just consuming way more disk space than necessary. Take your time with this sort of file removal, however, because it's possible to inadvertently delete something important. Slow and steady here, ace!
I didn't initially notice it, but CleanMyMac X also adds a menu to the menu bar on the top of the Mac screen, and this one's a doozy, jam packed with useful and interesting information: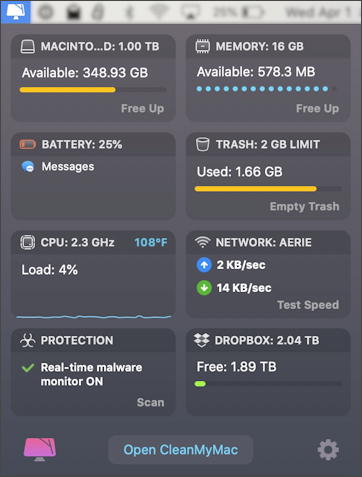 I've granted the program permission to view my Dropbox account (lower right, and yes, I have a lot of space in my Dropbox account). Overall, my computer is doing just fine, with 4% CPU utilization, 348GB of free space and 500MB of available RAM. Notice the confirmation in the lower left that the real-time malware protection is running too. Very cool!
In fact, after spending a few hours exploring all the features of CleanMyMac X my main question was "how did I live without this utility for so long?" The combination of useful features, solid analysis and beautiful user experience really add up to making this as must-own addition to any Mac system. Definitely recommended.
CleanMyMac X from MacPaw. $34.95 for 1 Mac up to $79.95 for 5 Mac systems. Be aware, that's a one year subscription, not a lifetime license. But that's still only $0.67/week for something that will undoubtedly help your Mac run better, faster and with more disk space.
Disclosure: MacPaw sent me a single use license for the purposes of this CleanMyMac X review. The included links are also affiliate links: You pay the same, but I earn a small commission if you decide to purchase the full licensed program. Thanks!