Public wifi is risky, even when there's a password: If other people at the library, coffee shop or even shared office location are using the same network, you have access to each other's traffic. Enter a technology called virtual private network or VPN, that secures your connection regardless of network.
And while some are tricky to work with, I tried out ExpressVPN on my MacBook Pro and was impressed with how easy it was to use…
The basic idea of a Virtual Private Network is that it establishes a "tunnel" between your computer and the VPN server someone on the Internet. From their server your queries and requests are on the net, but for those dastardly hackers sitting two tables away at Starbucks it's all encrypted and impossible to sniff and read. Security, and it's easy.
In fact, the vast majority of large companies, certainly all the Fortune 1000, expect their employees to always use a corporate VPN of some sort when accessing data remotely, and there are even VPN solutions for tablets and smartphones. Yeah, it's that important.
The good news is that ExpressVPN is an example of a multi-platform solution that's so insanely easy to work with that there's no excuse not to use this even if you're just checking your bank balance to see if the latest check to the yoga studio cleared.
Start on the Web site and you'll see the same activation code works for Windows, Mac and even Linux systems:
Yes, and iPhones, Android phones, tablets, Kindle devices and even the Apple TV. They're serious about helping you keep all your data secure and private.
Here's the entire setup process: Click "Download" (above), launch the program once it's downloaded and enter your activation code: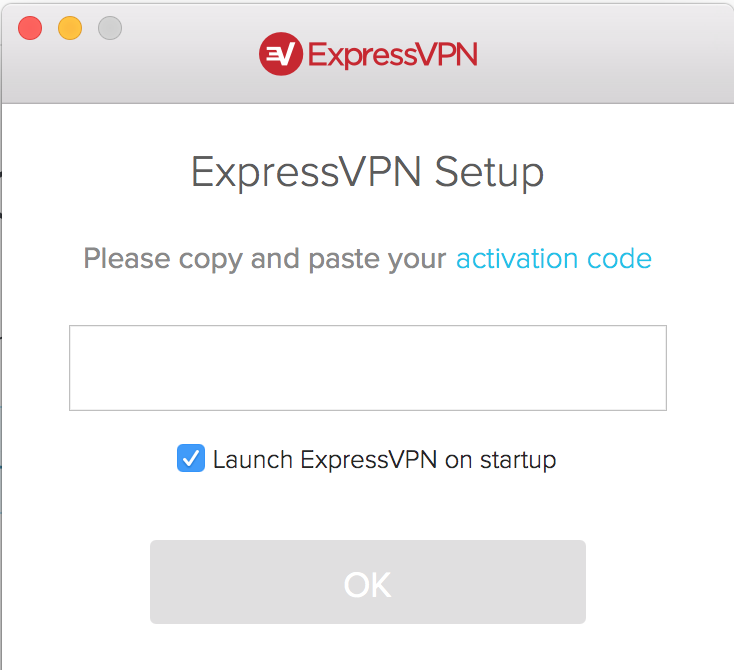 That's it. Done. Now the program's ready to run, you just have to click on the big "Start using the app" button:
By default ExpressVPN does a decent job of figuring out where you are so it can use one of its own VPN servers that's geographically (and therefore Internet connectivity-wise) close, but you can also pick and choose if it does a poor job of its default selection. My first time using it the program chose Chicago as the closest VPN server location, but a bit of digging around revealed that Denver, Colorado was an option too, and Denver's at least 800 miles closer to my office.
Subsequent invocations of ExpressVPN were with Denver as the default server, so there's some smarts in the app too, which is nice. And the launch button? Could it be more overt and obvious?
"Smart Location" is when you let the program choose, while "Choose Location" lets you, um, well, choose location. 🙂
Or just click or tap on the power button!
This can take a few seconds or longer as it establishes a secure protocol tunnel with the Express VPN server. In this case, it's only in USA – Denver so it's not too far, but you could ostensibly use a VPN far, far away if you want. From a performance perspective, however, closer is definitely better.
A few moments later, I'm safe, encrypted and secure!
At this point you're done and can just bring other app windows to the foreground, including Safari, Apple Mail, or even your favorite games or utilities.
ExpressVPN just hangs out in the menu bar, just another icon. A click and you can choose "Connect" if you're not running the VPN or, as you can see below, "Disconnect" to drop the VPN connection and just go straight onto the Internet:
Which leads to the question: how much of a performance penalty is there when you're running a VPN? The answer is, it depends. I use the slick speedtest.net utility to analyze network connectivity in two different open wifi coffee shops and found quite different results. The first time, without ExpressVPN running, the network clocked in at

Decent performance indeed! But when I ran the test through the VPN tunnel, it slowed down quite a bit:
A download speed drop of about 75%, though ping time remained the same and upload speed took only a minimal performance hit.
To add confusion, the second time I ran it, at a local Starbucks, the non-VPN speed was:
and with ExpressVPN:
In this case, a minimal performance penalty.
In either case, however, the most important issue is the penalty vs benefit: Even with a slower connection, the fact that you can work knowing that no-one else can sniff or steal your data and that your packets are safe, whether you're checking the latest corporate financials or just exploring Wikileaks, is hugely valuable. I know that I'd rather have a slower connection through a secure VPN than worry who might be accessing my data.
This is particularly true in hotels: you really have no idea who else is on that network and what kind of gear they might have just a single wall away from you! And overseas? In a scroungy Internet Café in the middle of some third world nation? You'll be glad to know that ExpressVPN has VPN servers in 136 cities across 87 countries.
Which leads us to the final question: How much? The answer is that if you make the commitment, it's $99.95 for a full year (which works out to $0.27/day for solid, fast secure Internet connectivity, even when you're overseas). Not sure you want to make that commitment? You can also pay monthly at $12.95 or $59.95 for 6 months.
I'm using it even as I type in this post on a public network. I don't see any noticeable slowdowns and the security it offers? A huge win, particularly when hackers and crackers can download all sorts of network sniffing software with the click of a Google search.
Looking for a second opinion too? Check out this Express VPN review for another perspective.
Finally, if you do decide to check it out, I'd appreciate if you would use my affiliate link to learn more and purchase a license for ExpressVPN if you don't mind: You pay the same, I make a buck or two. Win, win.
Disclaimer: ExpressVPN gave us a year's free access to the service so we could review it for the site. In addition, the above link is an affiliate link, though the other links to their site are not.