Ever wanted to listen to your Apple iTunes music on devices that don't have iTunes? You're stuck. Or are you? My review of the slick Apple Music Converter that can turn anything in your iTunes library into plain old Mp3 tracks…
I've always been a proponent of buy once, play anywhere with my music and movies, but unfortunately most of the digital distribution systems have a very different philosophy, choosing to dramatically limit the functionality of the music, audio books and even movies and TV shows you purchase to within their own little world. Rent a movie on your Apple TV and it's no big deal: you rent it, watch it, and you're done.
But what if you want to listen to that brand new album on something other than an Apple product? To do that, you need to defeat what's known as the Digital Rights Management (DRM) system, and that's a bit of a gray area unfortunately. And yet this issue came up again when I was test driving the brand new 2016 Mazda CX-5, because it has support for something that is only usable if you have music without DRM: USB plugs perfect for a flash drive full of music!
Look at all modern cars and you'll find a USB 3.0 slot or two where you can plug in your phone and charge it, or you can plug in a device that just contains your music collection. On the Mazda the slots were just tucked in a recess of the dashboard, next to the microSD card reader (that's only for the navigational system data, unfortunately):
The idea of copying my favorite 100 albums onto a flash drive and then having them always available for listening, whether I have my phone or not, is very appealing.
But all my recent music are purchases from the iTunes Store. It is, of course, important to support musicians, composers and production companies so that we will continue to have great music down the road too, but that means all the music I've purchased is locked down and only playable within iTunes, and only that after I've logged in to my Apple Music account. No bueno for this particular use case.
Enter the easy to use Apple Music Converter program. There are versions  for either Mac or Windows PC systems, both available through a quick download from their site. I opted for Mac and here's the main window once launched: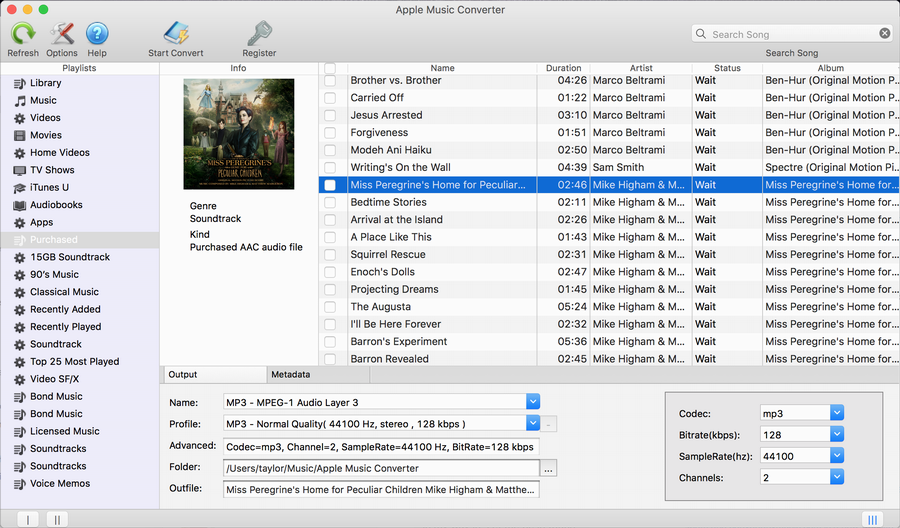 To be fair, it's not particularly elegant with its interface, but everything you need is shown. In the above, notice on the left that I've chosen my "Purchased" playlist, and from that I've clicked on the title track. The program shows the cover art, genre and kind. In this case, it's "Purchased AAC audio file". If it's already in MP3 format, of course, no conversion is needed and it's ready to copy onto my microSD card.
The lower region shows the output parameters: I've chosen MP3 which is really "MPEG-1 Audio Layer 3", with normal quality (high quality produces bigger files and I can't really differentiate, personally), specified my output folder and the name of the resultant file.
All looks good, but what other audio formats are available? Glad you asked! A click reveals:
The full list of output formats is longer than this and includes: MP3, M4A, AC3, AAC, AIFF, AU, FLAG, M4R and MKA. Don't know what's what in this alphabet soup? No worries, just pick Mp3 and know you've got the right format for 99% of use cases.
The above shows how to split out the DRM. What about if you just need to convert an audio file without digital rights management? Well, I often record meetings with the useful iPhone app Voice Memos and those all end up in Apple's AAC format. No worries, Apple Music Converter can handle that too: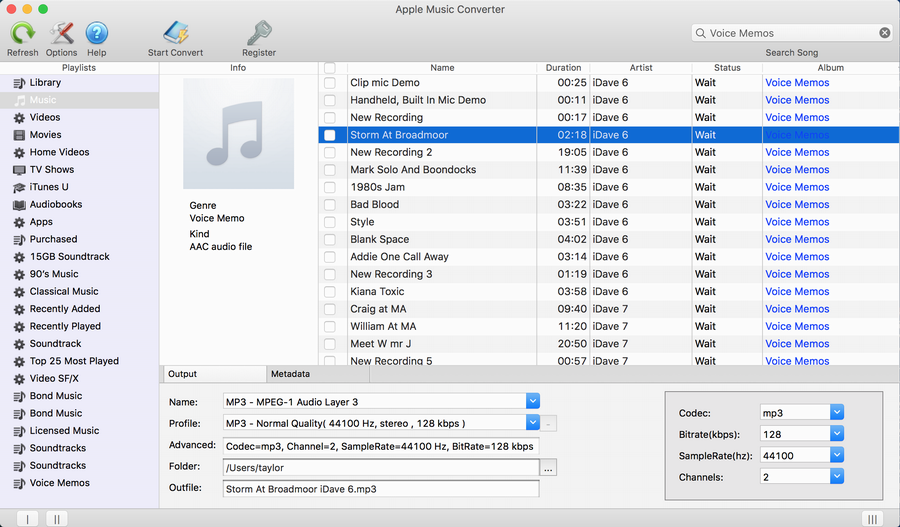 One thing to realize is that you have to actually check the checkbox adjacent to the track or tracks you want converted. Once you do you can dig through your iTunes library and pick more, from a single track to dozens of them from widely disparate spots. Heck, you can even extract just the audio track from an MP4 movie if you desire.
Ready to convert everything? Double checked that the output folder is correct? Then click on "Start Convert" on the top bar and it starts to chug along…
The conversion zips along pretty darn fast too, so you won't have time to pop into the kitchen and grab a cup of tea. Sorry!
Once they're converted you can see that everything is copied across, including all music meta-data. A preview of the non-DRM MP3 file from Miss Peregrine's School for Peculiar Children Original Motion Picture Soundtrack shows what I mean: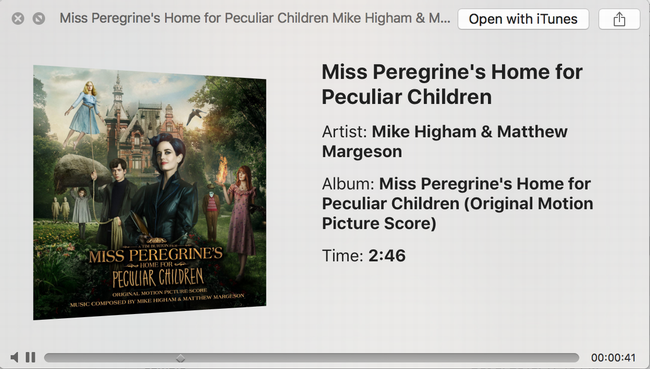 Perfect. Fast and easy.
The only complaint I have about Apple Music Converter is that once you've converted the selected tracks, there's no easy way to "unselect all" so that if you don't quit the program and restart it, you'll find that your previous tracks are still in the queue the next time you click "start conversion". That's an easy fix that would help with usability.
And I also want to come back and address intellectual property and digital rights management. My perspective about "buy once, play anywhere" is not shared by everyone in the music industry, so you'll be using these sort of software on your own recognizance. I further highly, highly encourage you not to use this to share purchased music with friends and family: If musicians and other artists aren't paid for their work, they'll stop producing it and we'll all end up the poorer for that.
Note: ConvertAnyMusic sponsored this post. My views and opinions are my own, however.