All of a sudden some of the function keys on my MacBook Pro don't control iTunes any more. The volume keys work, but play/pause and track forward / track backward are both ignored. This is crazy-making as I have become quite accustomed to using them to control my listening. Is something in iTunes broken or what?
Nothing in iTunes is broken, I can start by telling you that. In fact, Apple iTunes doesn't even have the ability to set or ignore function keys on your keyboard, whether you're on a big iMac or a tiny MacBook Air. What's most likely happened on your system is that you've run another program that wanted to use those specific keys on your keyboard — functions keys f7, f8 and f9 — for another purpose and they've overwritten their meaning to the operating system.
Again, nothing to panic about and the fix turns out to be surprisingly easy. In fact, it's a single click repair job!
Start by going to the Apple menu on your system and choosing "System Preferences…"
Then choose "Keyboard":
You can see it here, third from the left.
Choose that and a big window pops up:
You can see the needed check box above, but let's zoom in a bit:

As you can see, it's not checked, which is what you want. If you check this box, then other programs can redefine any or all of these helpful function keys to mean something else. Not good.
The fix is simply to ensure that the box adjacent to "Use all F1, F2, etc. keys as standard function keys" is not checked.
Done.
If that doesn't work? Check to see if you're running Microsoft Office as I've found those can monkey up the function keys…
Now when you use any of the function keys related to iTunes:

(as you can see, F7 is a shortcut for previous track, F8 alternates between play and pause, and F9 is next track, along with F10's mute, F11's volume down and F12's volume up features)
You can still have all the controls show up in iTunes or in the iTunes mini window, as shown: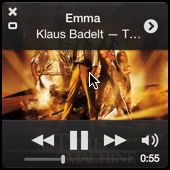 but now you don't have to use them. Me? I am constantly listening to music, so F7-F12 are critical to my zen state! 🙂