My Apple Mail program used to have an audio alert (a bell) when new email arrived. Now it doesn't. What's happened to my iMac and how do I fix it?
Audio problems with computers can be difficult to diagnose because there are a number of things that can go wrong, any of which will drop a Cone of Silence on your gear like a big red MUTE switch. But we got this. To start, the most obvious question to ask is whether you're using external speakers: If you have an audio device plugged into your iMac, try unplugging it and seeing if that fixes the problem. If it does, then your problem is related to the external speakers: Make sure the wire is good, properly plugged in, the speakers are still functional and powered on. You could also plug your speakers into a different audio device – like an iPad – and see if that generates sound.
That's the easiest problem to diagnose so if that doesn't fix things, well, we're going to have to go into the software side of your Mac system. There's a chance that your audio jack has gone bad and is messing up the system completely, but since you said that your alerts are missing, I surmise that the rest of your audio from TV shows, YouTube videos, etc, are working just fine. That's good data!
So let's look at software. First off, fire up Apple Mail and go to Preferences from the Mail menu. You'll see this: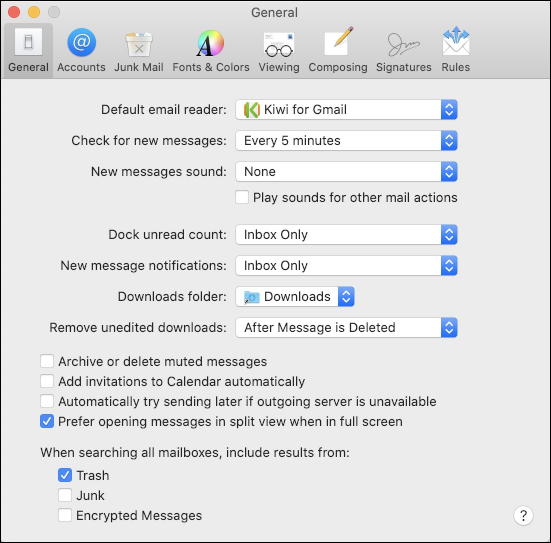 The third entry is what's critical: "New messages sound". If, like me, you have it set to "None" then, well, you ain't getting no alerts! Change it to an alert sound – and possibly try a different one if it's set to your favorite, just to help debug things – and close this window in Apple Mail.
Now, getting those audio alerts? Yes? Great. Done.
If not, let's check out the overall system audio settings. Go to System Preferences… off the Apple menu on the top left of your screen. Look through all the icons shown for "Sound":

Hard to miss with that speaker graphic. Click on it, then choose "Output" from the three tabs:
Again, notice mine won't generate audio because I have "Mute" checked. Not useful in this instance! Make sure the output device is valid (probably "iMac Speakers" on your computer), that Mute is unchecked, and that your audio volume isn't all the way to the left. Get any sounds? Hopefully.
If you're still getting email but no audio alerts, even though other sounds on your computer are working fine, it might be time to quit and restart Apple Mail to see if that helps, or restart your computer entirely. Good luck!
Pro Tip: I've been writing about MacOS X since OS 9, if not before. Please check out my extensive Mac help tutorials while you're on the site!