I know how to post photos on Instagram and love doing so. But how do I post a gallery or set of pictures so people can swipe through and see them all?
Instagram calls the new ability to post a group or collection of photos with a single caption an "Instagram photo album", actually, though I'm with you, I think about it as an Instagram photo gallery instead. Seems a bit more upscale, like an art showing in a chic SoHo gallery or something!
To use this new feature in Instagram you'll want to start by ensuring that you have the very latest version of Instagram on your device, whether you have an Android or iPhone device. You'll also probably want a collection or group of photos that have a consistent theme or narrative point, though of course Instagram demonstrates every day that random images can work just as well, depending on your audience and followers.
Now, in Instagram, tap on the usual "+" to add a photo. You'll see the usual options, but there's a new one too: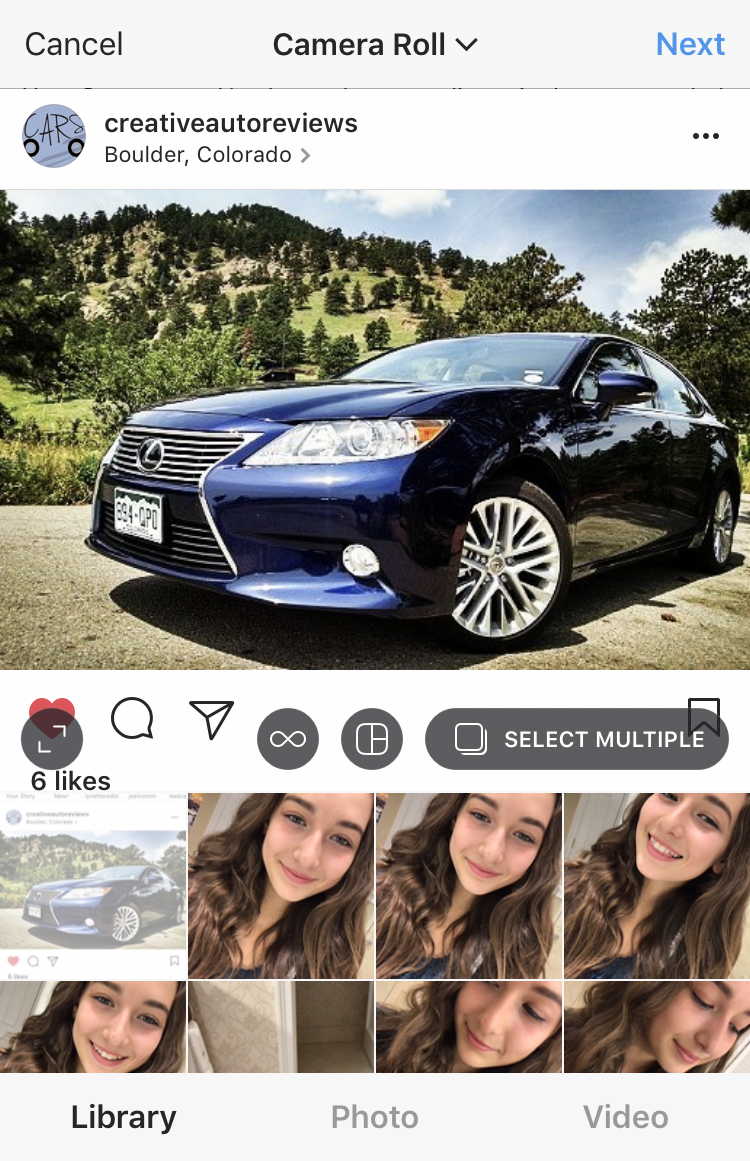 You can see it on the right side, just below the feed image (in this case, a sweet Lexus posted by Creative Auto Reviews). The button is labeled "Select Multiple". Choose it. Now you'll see your image selection options and a handy tip that you can share up to ten photos and videos in a single post:
The order you choose images counts, because image or video #1 is what's shown to people who don't swipe to see the rest of your album / gallery, so be thoughtful about that. You can see that I've swiped down a bit and chosen three images that comprise a sort of panorama – left, middle, right – of my view: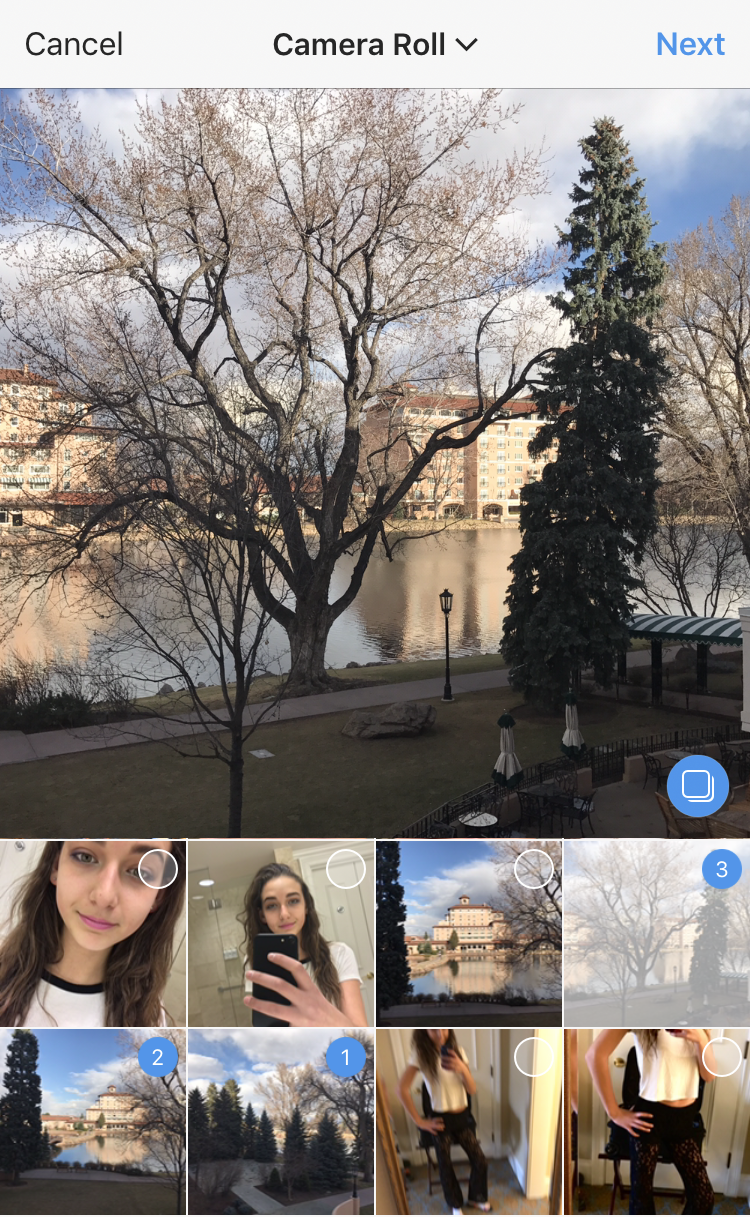 Got the set you want, in the right order? Great. Tap on "Next" in the top right corner of the window to move to the next step. Filters: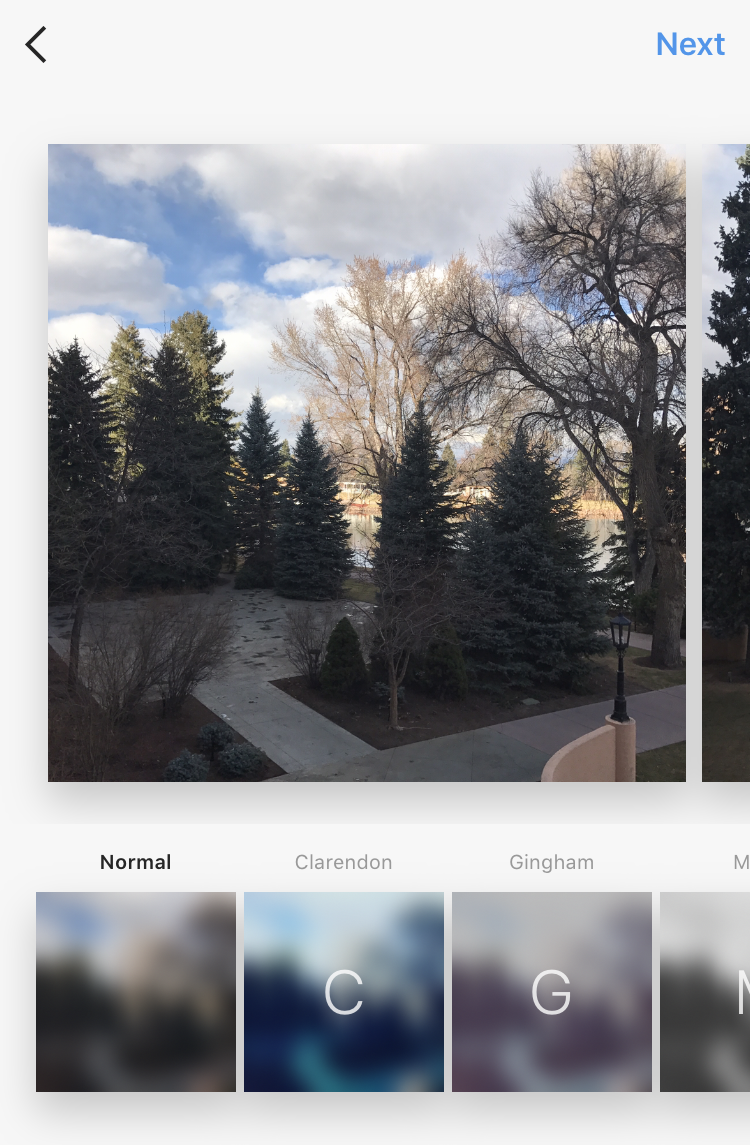 Since you're working with a group of images, Instagram only lets you apply pre-defined filters en masse to all the images in your collection. A tiny bit disappointing. Still, pick the one you want, if any, and tap on "Next" again. Now you can enter all the usual description, location tags, share info, etc: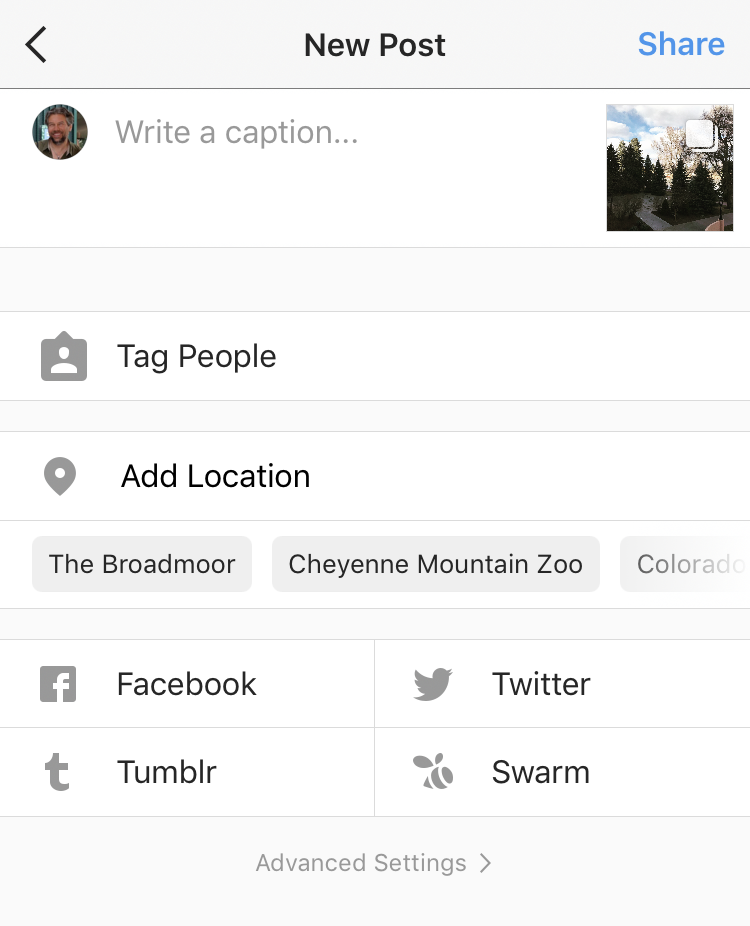 I'm actually at the beautiful Broadmoor Hotel while I post this particular set of images on Instagram, so I'll tag that location.
I also want to share them to Facebook while I'm at it, so here's the final setup, all ready to go:
That all looks good, and I've added a few obligatory hashtags too. Time to jump? Not quite…
See that tiny "Advanced Settings" link on the bottom? Tap on it and you'll learn how you can Turn Off Commenting for Instagram: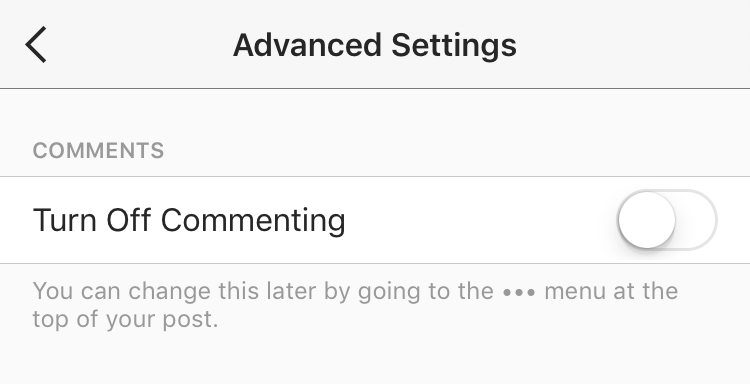 You don't have to do that, of course, but it's good to know how to accomplish it if you ever do want to block comments!
Now we're ready to go. A tap on "Share" and it's posted!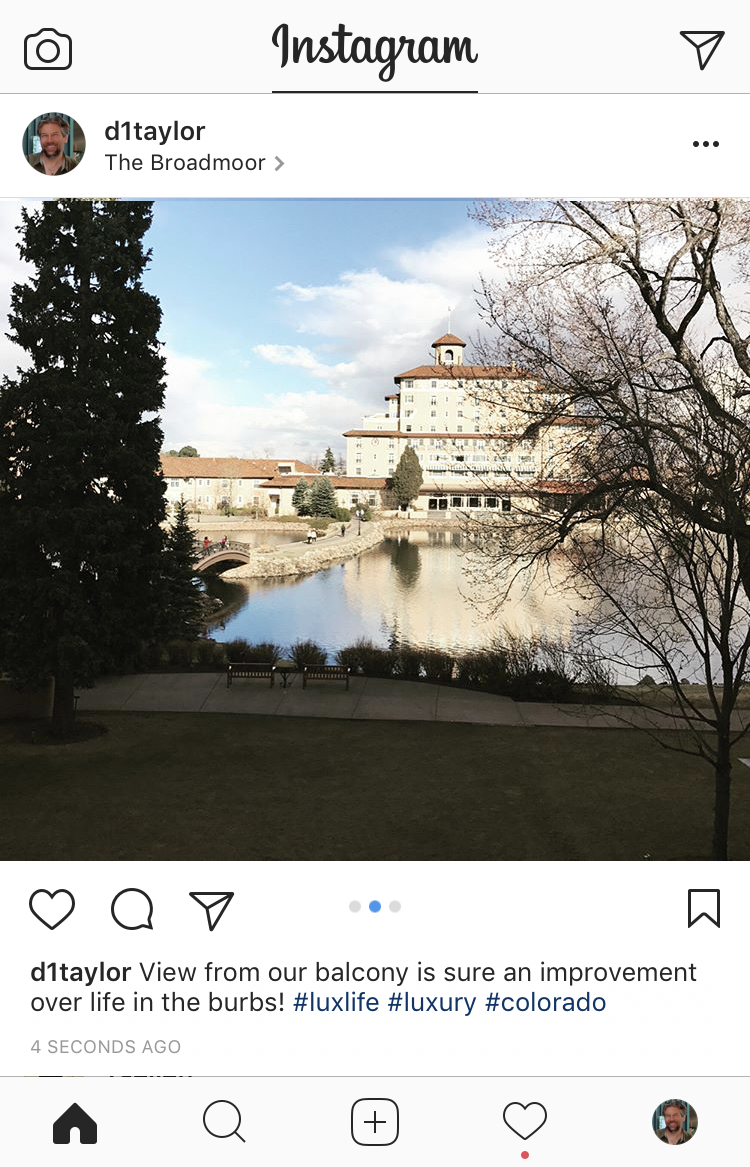 That's all there is to the task. Notice in the above the three tiny dots: that shows there are three images / videos in this particular Instagram photo album, um, gallery, err, whatever it's called!
And while we're here, I invite you to follow me on Instagram too: Dave Taylor on Instagram.