Hi Dave. I get really frustrated when I'm on a Zoom call and people refer to me as "she" or "her". Not my preferred pronouns. Problem is, my school won't let me change my display name. So what's the solution? Is there some way to specify my preferred pronouns in Zoom?
You're in luck! In the very latest version of Zoom – you'll probably have to update to get it – you will find that Zoom has just added an area in your profile where you can specify your preferred pronouns. Heck, even if your preferred pronouns are he/him/his or she/her/hers, it's helpful to specify your pronouns in some contexts as a show of solidarity and support. You're right, though, that in some situations it's easy enough to change your display name to whatever you want, "Princess Leia", "Marcel the Magnificent", or even "Soshana (they/them/their)" as desired. But that doesn't always work.
A number of other online social networks and communication services have been working on adding a field in the user's profile for preferred pronouns too, and props to Facebook for being way ahead of the curve with a lot of this too. I will say that to get this to work you do need an actual account on Zoom, so if you've always just clicked on a meeting link without ever setting up your own account and profile at zoom.us, it's time to change that. Once you're set up, here's how to set up your preferred pronouns in Zoom…
SET PREFERRED PRONOUNS IN ZOOM PROFILE
Fire up the Zoom program on your computer, Mac or PC, and go into Settings, then choose Profile. You'll see something like this:
With all the settings possible on your computer, it's a smidge confusing that the actual profile settings are on the Web site itself, but that's how they have it set up. Click on "Edit My Profile" and you'll be taken to your profile page on the Zoom Web site, in your favorite Web browser. Most likely, it'll look like this:
A click on the "Edit" button and you'll find out that there are quite a few options and a lot of additional information you can include, however! One obvious one is your display name:
Again, be aware that some institutions don't allow you to change your display name so that might be grayed out.
Immediately below that, however, is what you seek:
You don't have to enter anything here, but if you do have pronouns you prefer people use when referring to you, this is where you can enter them. The standard in the LGBTQ community is to use three values separated by slashes, so I'd specify "he/him/his" as mine.
Once you enter some values, the adjacent menu activates. Click on it and you'll see there are three possible values: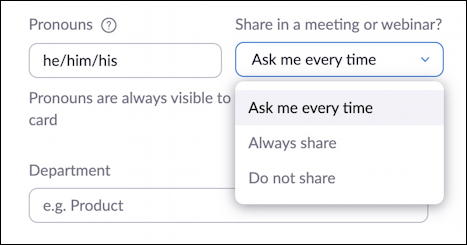 You can choose, the alternatives are pretty obvious, I think! I like "Ask me every time" so that if it's a meeting or webinar where that's not something I want to share, I can skip it at the point I'm about to join the meeting (which you can't easily do if you change your display name, of course).
I added a bunch of info to my profile, actually, as you can see:
You can also see the default option I chose for pronouns by my name. What does that actually look like in practice? I'm glad you asked…
DISPLAY PRONOUNS WHEN YOU JOIN A ZOOM CALL?
In that instance, when you go to join a Zoom call or meeting, this prompt will appear at the top of your screen:
If you do opt to share, then it's automatically appended to the end of your display name:
That's it. Easy enough. You can now go and change them as you prefer, then hope that people are respectful enough to use them as you desire. But that's another story entirely.
Pro Tip: I've been writing about Zoom and video conferencing systems for years. Please do check out my growing Zoom help area for lots more useful tutorials while you're visiting. Thanks!