I tried and tried, but I can't seem to get the hang of typing with any sort of speed on my iPad. I love the thing, and it's great for class notes, etc, but I need to be able to type quickly too. So I bought an Apple Wireless (bluetooth) keyboard. How do I pair the two?
I can definitely relate to what you're talking about. In fact, I'm typing in this blog entry on my iPad courtesy of the slick Apple bluetooth / wireless keyboard and it is a rocking' setup, especially when you can touch type as I can. The keyboard is really nice, a bit "clicky" but has a nice keystroke feel so if you're a fast typer, you'll probably be even faster with this!
Which leads to the dilemma of how the heck you pair the two up. The iPad doesn't have System Preferences like your Mac might. Or does it? 🙂
What you need to do is go to Settings on your iPad. Once you tap on that, look on the left side for "General", because that's where the Bluetooth settings can be found:


Tap on it and notice that part way down the first screen is "Bluetooth":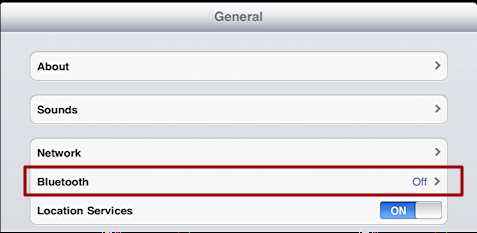 If you're like me, you probably have that set to "off" because you aren't yet using a bluetooth device. You need to turn it on (obviously!) so tap on it.


Okay, once you turn on bluetooth it'll start searching for devices. At this point, push the button on the right top corner of the keyboard. A tiny green light will come on for a second or two to indicate it's been seen. Give it a few seconds — or more — and you should see this:


My keyboard already has a name because of when I paired it with my Mac Mini a few days ago, so it pops up as "taylor keyboard", as you can see here:



A few more seconds and a window pops up asking you to type in a confirmation code so that the iPad and the keyboard know they're supposed to pair up: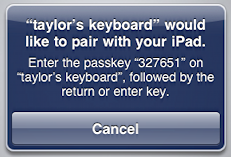 Do that and once you press Return it should instantly switch to being paired:


Nice! Now you're good to go. If you ever want to unpair it, then tap on the keyboard in the Bluetooth screen in settings, then you'll see:



Oh, and one tip. When you're using the wireless bluetooth keyboard with your iPad, if you want the on-screen keyboard to show up too, just push the "eject" button on the physical keyboard. Done with it? Push that button again. Easy!

Glad I could help out. Now, if you're looking for more iPad help, you've found the right place, and if there are iPad questions that I haven't fielded, please don't hesitate to ask me!