I want to be able to use my Amazon Echo as a speaker for music coming from my iPhone. Is that even possible via Bluetooth?
The Amazon Echo is a remarkably flexible device, whether you have a big Amazon Echo or a tiny Amazon Dot. It's so flexible that sometimes it can be quite complicated to figure out how to work with it, and pairing via bluetooth is one of the most confusing of its capabilities. The problem is that bluetooth works with a "source" and "receiver" model, and your Echo, Tap or Dot can be either in that chain.
In other words, you can pair your Amazon Echo with a bluetooth speaker if you want, and you can also use it as a bluetooth speaker with the music source coming from any device that can serve as a bluetooth source. This includes not only your smartphone – Android or iPhone – but also your computer too!
Which leads to all the confusion.
The other thing that can be tricky is to remember that you won't be saying anything, you won't be telling your Echo what to do for this process, it's all about working within the Amazon Alexa app on your smartphone.
Let's start by opening up the Amazon Alexa app on my iPhone: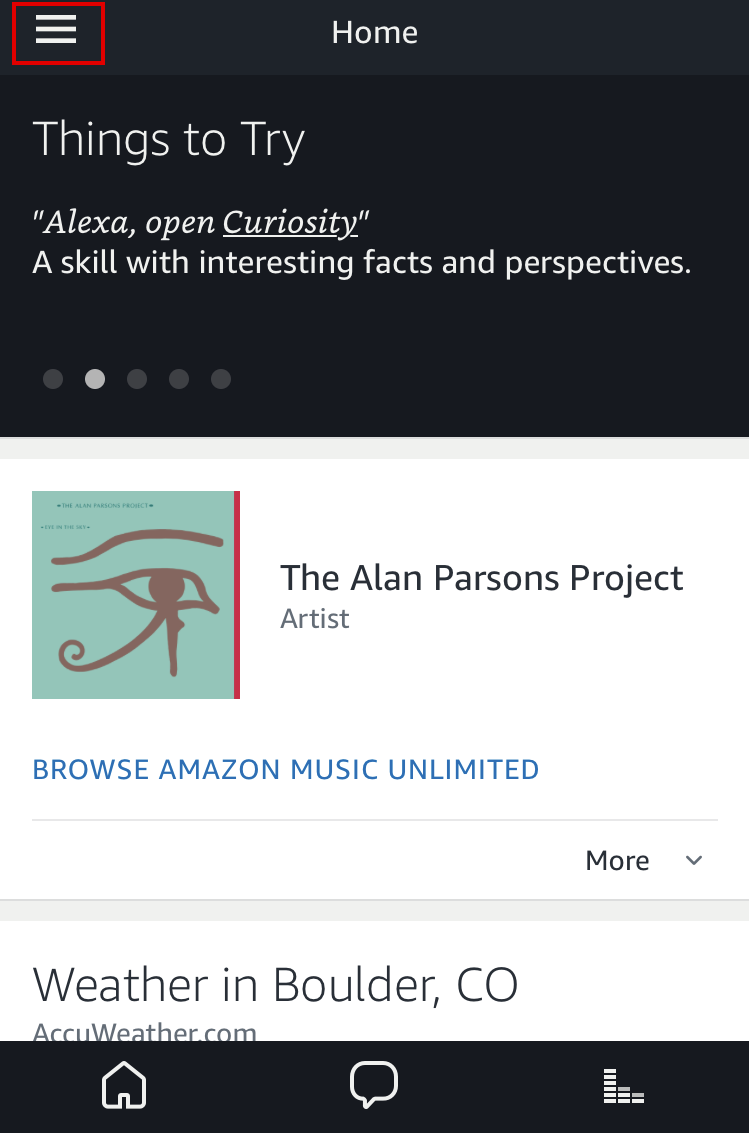 You can see the most recent commands – listening to The Alan Parsons Project and, before that, asking about the weather in Boulder, Colorado – but more importantly, notice the three horizontal lines on the top left. I've highlighted it with a red box in the screenshot to make it easier to find.
Tap on it. You're now in the main menu.
Choose "Settings" and you'll see a list of all your Amazon Echo devices:
I have quite a few, but for this demo, I'll pair my Apple iPhone 7 with the Amazon Dot in my bedroom called "Master Bedroom". To do that, tap on the device name.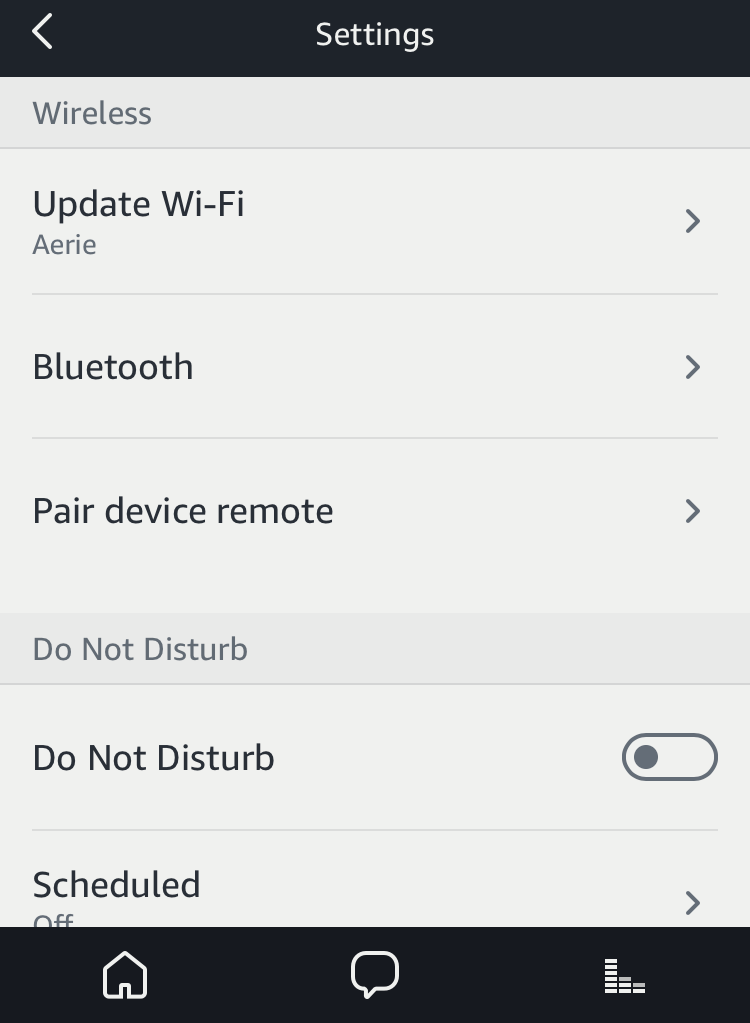 Lots of options, actually, but since we're pairing bluetooth I'll want to tap on the "Bluetooth" entry. That reveals a list of known Bluetooth source devices: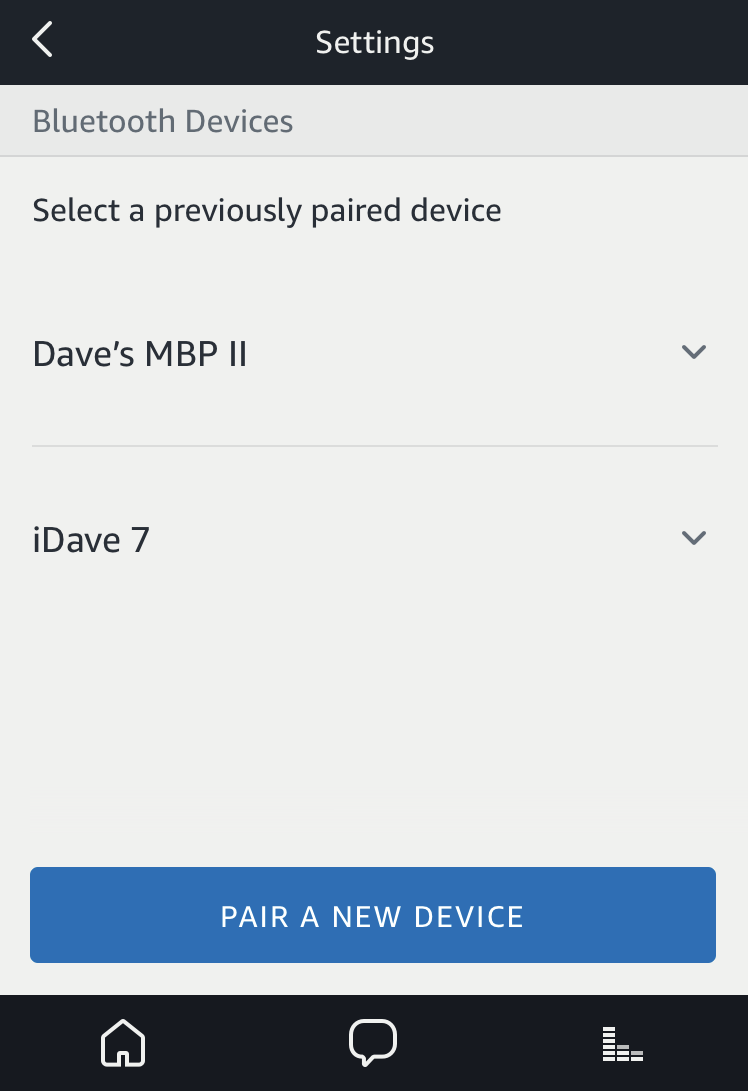 The entry "iDave 7" is my iPhone, so it's easy: a tap and it's paired. But what if my iPhone wasn't paired or I wanted to use a source that wasn't listed here? Then tap on "Pair a New Device", the blue button near the bottom.
It'll then show you a list of speakers you can pair the Amazon Echo device with:
Here's where it gets confusing: These are options if you want to have the Amazon Echo be the source for audio content. You want it to be the receiver, however, so leave this screen as-is and tap on the home button on your iPhone (or the Android equivalent) to get back to the main home screen. Then choose the Settings app and go into Bluetooth.
Now look for bluetooth devices you can pair with on the smartphone. On the iPhone, it'll look like this: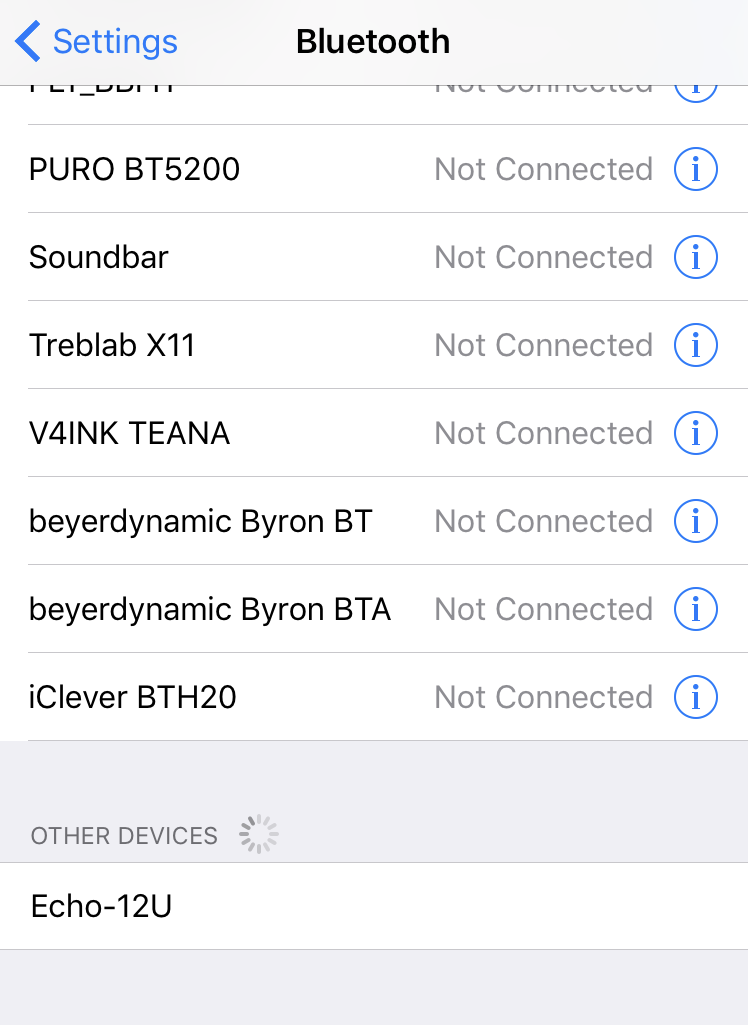 It's on the bottom – Echo-12U – while all the others are different speakers, headphones and other devices that my iPhone has paired with at some point or other. I have a lot, I know. 🙂
Tap on the Echo device here in the bluetooth settings and give it a few seconds to make the connection. Sometimes I find I have to do it 2-3 times for it to work, so if it fails the first time, well, you know the cliché, right?
Eventually it'll move from the "OTHER DEVICES" section at the bottom into your list of all known bluetooth devices. And it should say "Connected", as shown: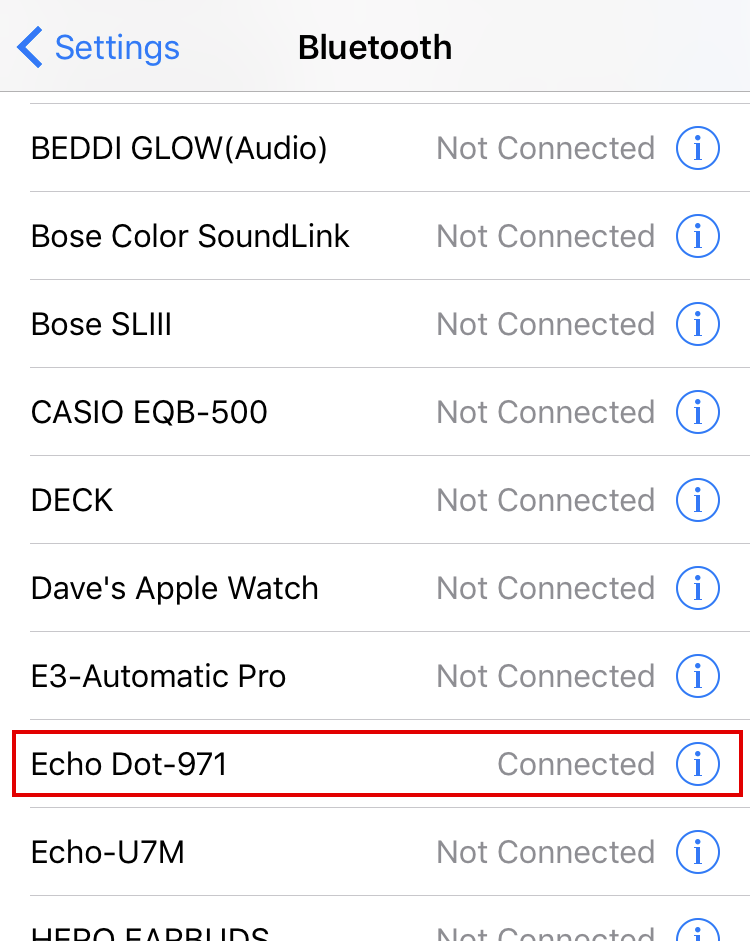 If it doesn't say "Connected" tap on it and let it try again. Eventually it should work!
Now double-tap the home button or otherwise move back to the Amazon Alexa app and your phone will show up as a previously paired device and should have the little blue bluetooth icon to show it's currently paired with your Amazon Echo, Amazon Tap or Amazon Dot: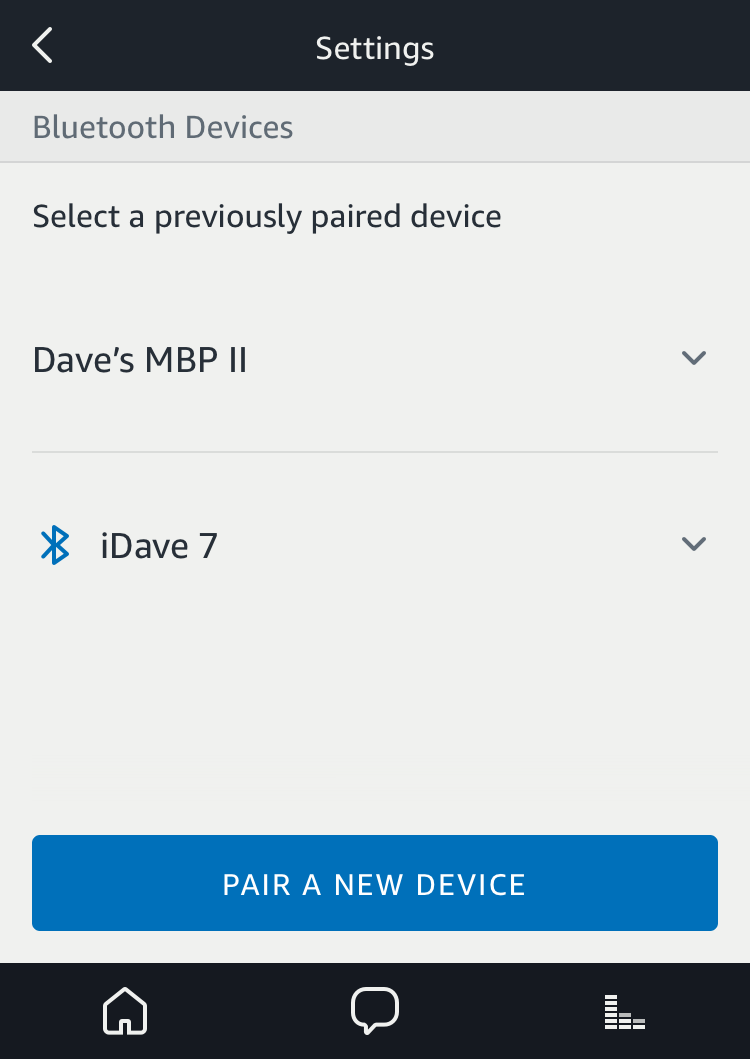 Play some audio on your iPhone or Android phone and it'll come out of the Amazon Echo speaker!
Cool, eh? That's how I listen to my own iTunes music on the Echo without worrying about how to have Amazon and Apple corporate play nicely together.