I'm a huge fan of the Starbucks iPhone app [iTunes link] and use it as my digital loyalty card. Saves me carrying money and it accumulates points and then free drinks. What's not to love? Recently, however, a friend gave me a $5 gift card to Starbucks. I could just use it, but I'm wondering, is there a way to just transfer its balance onto my main card so I get credit for the drink purchase?
Another addict. Really, given that Starbucks is accumulating our purchase data through its savvy, high-tech loyalty program, they should probably just auto-enroll us in Caffeine Consumers Anonymous or some other sort of help program. Or upsell us on decaf. Or both. In fact, since they know the various stats associated with each drink (mg of caffeine, calories, fat level) and have purchase data across long periods of time, the company could email me a note informing me that "In the last 12 months, you have had 3,403mg of caffeine, 48,203 calories and 5,403mg of fat in your 285 Starbucks beverages. Can we interest you in a "lite" beverage next time?" Then again, that might not be good for business. 🙂
Let me stay a bit more focused, though. I think it's the caffeine that's talking…
So there you are in your Starbucks iPhone app, looking at the following screen:


To add the new card (the necessary first step), tap on the ~ez_ldquo+ez_rdquo~ on the top right and then add it. You'll see how, it's straightforward.
When you're done, you'll now see something like this: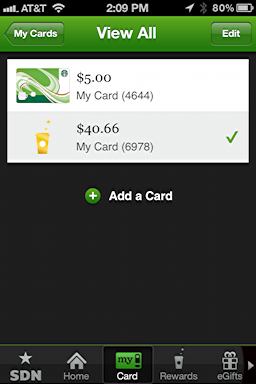 The first step in transferring the balance from the new gift card to your main card is to choose the gift card. Here mine has a $5.00 balance too. I tap on it and it's the selected card: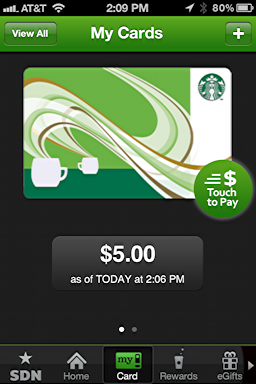 There's no visual indicator it's a button, but where it shows you the balance, that's a tappable region. Tap on it and you'll see a bunch of options: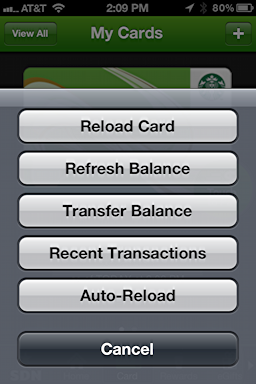 Tap on "Transfer Balance" to transfer the balance onto the main Starbucks card…


As the screen explains, click and drag the image of the card onto the destination card. In my case, I only have two so I'm not sure why it's not automatic, but whatever, it's easy enough to accomplish. Drag it, let go and a confirmation dialog pops up: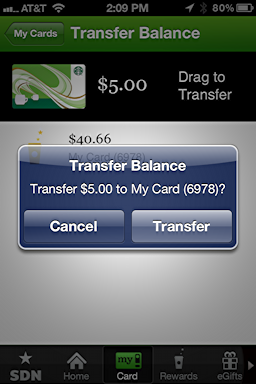 Tap on "Transfer", count to ten and suddenly both balances are updated as you'd hope: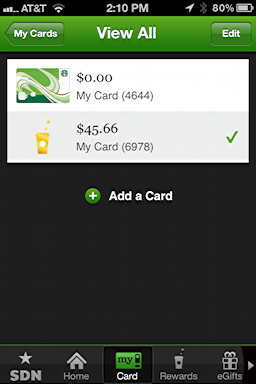 That's all there is to it. Now tap on your main card to ensure it's selected next time you use the iPhone app and you're done. Simple and easy!
Now where's that soy chai I've been drinking?