Just loaded my first video up to YouTube and it came out great, except that for some reason, Apple's iMovie 11 program has it marked to be "private" even though I specified "public" when I did the upload. What's up? How do I fix it?
I've seen the same thing and it appears to be a subtle bug in iMovie, as you suggest. The good news is that like so much in YouTube, it's easy to fix the access setting if you are willing to monkey around a bit behind the scenes.
First off, you'll need to have your movie already uploaded and available for this to work, because if that's not the case you can't get to these settings on the site.
Ready?
Good. Now, just below your video, you should see something like this:


You can "learn more" or you can just follow what I do and solve the problem without any boring expository warnings. Your call.
Still with me? Great. Here's what you need to do…
On the top right where it shows your account name, click on the double-angle button. A menu of options appears, and you want to click on "My Videos". Now you'll see all the videos you've uploaded to YouTube: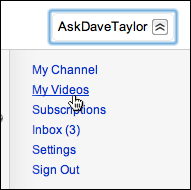 To fix this one particular video so it's public, not private, simply click on "Edit info"…

You'll see one of the many options is just what we seek, YouTube video Privacy: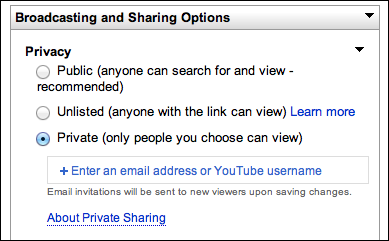 You can specify just an email address or two if you want to narrowly limit who can see the video, or you can specify unlisted (which is an interesting option: it doesn't show up in YouTube search results, but if someone knows the URL they can see it) or, what we seek, "public" access to the video.
To change it, simply click on the radio button adjacent to "Public" then click on the "Save" button at the bottom of the page.
Now your video should look like this:

Hope that helps you out!
If you're curious about this RAM upgrade video I've used as the demo for this article, it can be found easily enough at:
http://youtu.be/bfu_ovhefMw
.